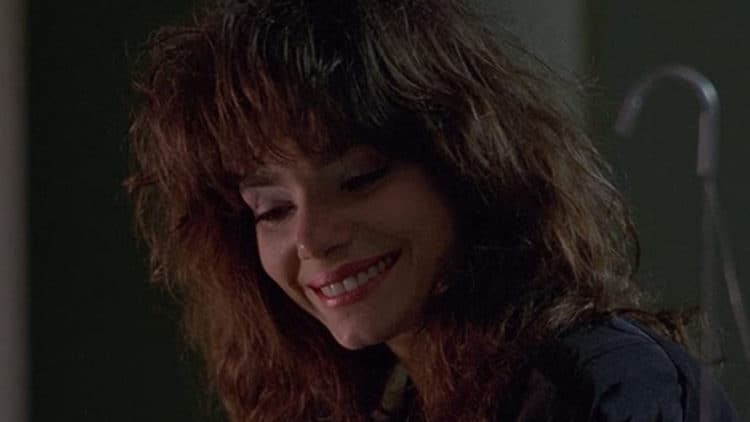 It might be interesting to take a poll and see just who remembers Laura San Giacomo these days and who might look at you funny for asking about her. As someone that came up through theater acting and became pretty popular at one point, it's kind of hard to think that she's been relegated to being noticed every now and then, but hey, that's what happens to some folks when they get older. But over the course of her career, she's taken on a few roles that people can easily remember and recognize, and it's been a lot of fun to watch her since in some roles she's been a little over the top, while in others she's been great. In a way, Laura is one of those actors that was great for a decade and then cooled down for a while only to keep moving forward and gradually gain the experience and wisdom that was needed to keep her relevant and make her even more interesting at some point. Seriously, this appears to be how her career has gone, kind of up and down in a very measured way that isn't so increasingly negative that people wonder how she fell so hard, but it also hasn't been seen that she's ever been one of the most prominent A-listers in Hollywood either, even though she is an award-winning actress that's been around for a while.
There are a few of her roles that have stood out over the years, such as her time as Kit De Luca in Pretty Woman. Playing the part of Julia Roberts' erratic and impulsive roommate and the woman that teaches Vivian (Roberts) how to be a prostitute. This role was kind of an odd one since Kit was Vivian's best friend but definitely appeared to be a little too wild at times, and even a bit resentful when it appeared that Vivian had become a little too upscale for her liking. But she played the role well and it was easy to think that as risky as Kit could be, she was the type that could also be a great friend and someone that had Vivian's interests at heart sometimes. A couple of movies later she was playing the part of Crazy Cora in Quigley Down Under with Tom Selleck, and if her character in Pretty Woman was eccentric and erratic, Cora was downright nuts since she was the type that simply couldn't stop moving sometimes and was definitely operating without all the lights on upstairs. But she made the part look good and she was definitely convincing.
One role, in particular, has to do with a miniseries that just finished up on CBS All Access, The Stand. The original miniseries that aired back in 1994 was a bit different than the most recent version, and Laura doubled up as Nadine Cross, but she also played the role combined with aspects of Rita Blakemoor since she was a pill-popper and she met Larry Underwood in New York while they were both on their way out. It's fair to say that she played the part a little better than Amber Heard in some ways, but there were a couple of ways in which Heard was superior simply because both miniseries were different enough that they offered up a slightly altered experience. Nadine Cross didn't get nearly as much screen time in the original miniseries, and she wasn't even close to being as welcome by Mother Abigail. There were plenty of similarities since Nadine was still favored by Randall Flagg, and she did try to get Larry to take her back. And yes, the death scenes were both still very similar, but the death scene in the original wasn't nearly as graphic, and she said much more to Flagg before jumping from a balcony, not shattering a window. But one of her best lines was something that some of us might have been hoping for in the new series, but was left out, as it goes "We are dead, and this…is…hell!" At that point, she was already pregnant and wasting away, but she had her moments of lucidity. But yes, there were many ways in which Laura was far better than Amber, especially when it came to seducing Harold. If she were 20 years younger she would have been a perfect addition to the most recent series.
Her TV roles have also been a lot of fun to watch since one show that was a lot of fun to watch, Just Shoot Me!, was only made better by the fact it had a great cast to help back her up when needed, such as David Spade, Wendie Malick, George Segal, and several others, as well as a number of guest stars. To say that she's had a great career and is still doing her thing would be accurate, but kind of an understatement.