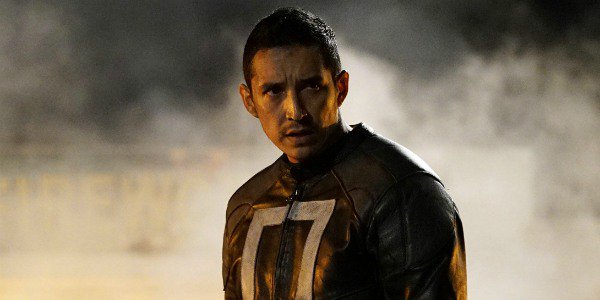 Fans of Gabriel Luna rant endlessly about this Ghost-Riding, crime-solving, exceptional actor. He's taken Marvel by storm, but that's not all. Gabriel has been onscreen for over a decade, and he has some pretty impressive credentials. We went digging to see what else we could turn up about the 36-year-old Houston native for the fans. Here's our carefully curated list of ten things you might not know about him.
1. Huge Repertoir
The sheer variety of the roles Gabriel has taken on is mindblowing. He's been a border patrol agent, a detective, a motorcycle racer and plenty more. We'd expect no less from a man who started on the small stage in college. His first role was starring as Romeo in the Shakespearian classic. It's not hard to watch him bounce from a horror-comedy like Gravy to being a villain in Terminator: Dark Fate. Not every actor has real range. While there's nothing wrong with being a specialist who always gets typecast. However they fill the credits, we enjoy a good show, and it seems Luna can undoubtedly deliver, no matter what a director asks him to do.
2. Award-Winning
Gabriel hasn't been nominated nearly enough for our taste, but he has won a couple of awards. Back in 2010, he won the Austin Critics Table Best Actor award.
3. Freckles
Stage and screen makeup will cover a lot. Sometimes we don't get to see the accurate details because of it, just the carefully crafted image Hollywood portrays. If you look closely at his off-screen portraits, you'll notice that Gabriel has quite a few freckles. It adds to the charm and overall appeal of his youthful good looks.
4. College Graduate
Some actors discover their passion and give up traditional school. Others don't get the acting bug until long after they graduate in an often unrelated field. Gabriel Luna found his place in the spotlight while attending St. Edwards University. He didn't immediately run right over to Hollywood though. Instead, he sensibly graduated in 2005 and then took up professional acting.
5. Happily Married
Sorry ladies, this actor is taken. Gabriel married Smaranda Ciceu in 2011, and they seem to be a very happy couple. No doubt some of their marital bliss comes from their shared passion for acting. Experts do say it helps to share your hobbies and interests. It's not hard to figure out what he sees in her. The Romanian actress is a multilingual world traveler with a refreshing perspective. We haven't met her, but by all reports, she's a lovely woman with a great sense of humor and clearly easy on the eyes as well.
6. Likes Golf & Loves Theater
Who doesn't like to unwind after a long shoot? According to his Facebook page, Gabriel gets his game on down at the golf course now and then. However, he also enjoys being part of live theater. He was in Black Snow with the Tutto Theater company, which contributed to his Best Actor win, and he's never really given up the stage since his time as Romeo in 2005. Gabriel even co-founded the Paper Chairs Theater Company.
7. Net Worth
We didn't turn up a whole lot of information on Gabriel's earnings per film. He's also done some other work, like his voice roles in the video game Blacksite: Area 51. Celebstrendnow.com estimates it at anywhere from $100,000 to $1 million. That's a pretty significant difference. Suffice it to say he gets paid well for his roles, but probably not as much as he's worth.
8. Social Justice
In addition to his on-screen vengeance-seeking, Gabriel also cares about real-life social justice. He posted to his twitter account about the migrant detention camps. It wasn't just a fluff piece from the news or a personal opinion, but rather real gritty footage from when Rashida Talib spoke to Congress.
9. Love For the Fans
Luna has traveled internationally just to attend fan conventions as a speaker. He knows how to show appreciation for the fans and genuinely seems to appreciate their support. Some actors never bother with the convention circuit, but Gabriel isn't one of those people. He takes the time to get out and meet the people who make his career worthwhile. We love anyone in showbusiness who understands that the fans need to see them get active.
10. Private Life
Other than the fact that he's married and some occasional semi-personal posts, you won't see much from him. He posts and talks a lot about his time on set and stage, but he's not the oversharing type when it comes to his personal life. You might catch an occasional reference to something he likes, or a concert he enjoyed seeing. He may raise hell on screen, but in real life, Gabriel is not so outgoing. You won't find tabloid post about him getting drunk at the club or even pictures of his wedding. We always admire someone who knows how to keep their work separate from their personal life.
Final Thoughts
So far we've enjoyed everything Gabriel Luna has been in. He's a dynamic actor with a vast range and a lot of experience. Whenever he's on-screen fans are riveted and cant wait to see what happens next. Though he's only won a couple of awards to date, we expect great things from Gabriel, and we'll be watching his career with interest. What's your favorite role he's played so far? Leave a comment below and let us know.