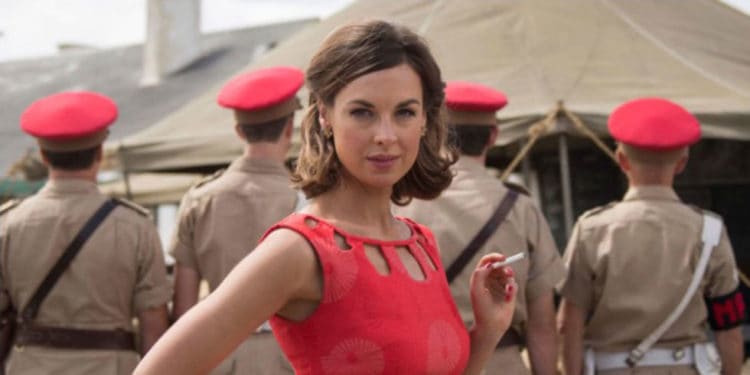 Jessica Raine might strike you as one of the many actresses that started out with a dream and realized how much work it was going to be when she finally got there. But obviously she didn't let that deter her since she's been going steady ever since she decided to start. She's the kind of woman and actress that simply doesn't bow down to pressure even though she feels it and does acknowledge that it exists. She's very realistic in her approach to her job and won't shy away fro what she has to do. This is how she's managed to create a career that has seen her rise from non-speaking roles and even as an extra to someone that can take the lead and take over a show if she needs to. Her reputation has grown quite strong to this day and is only increasing as the years continue to go by.
Here are a few things you might not have known about her.
10. She had a desire to be an actress since she was 13.
Kids have a lot of ambition so long as it's not stomped on and ridiculed by the adults they look to when it comes to fostering that kind of desire. A lot of us can probably remember what we wanted to do as kids, and whether we reached it or not the act of supporting us was something our parents were expected to do as it only strengthened that need to be great.
9. She taught English as a second language in Thailand.
This was during a brief hiatus in her desire to become an actress but it's still a worthwhile pursuit since kids and older folks that can speak more than one language have a lot more prospects in the world today when it comes to interacting with others.
There have been a few renderings of Robin Hood throughout the years and decades and all of them have taken their own unique direction with the character, but this movie created an entire time period that made use of just about every major and minor character in some way to tell the story and create the overall plot.
7. She did an episode on Dr. Who.
This is one of the many shows that can be the metaphorical feather in ones cap when it comes to accomplishing something in TV since Dr. Who is a huge phenomenon that has stretched for decades now and is still one of the more popular science fiction tales.
6. Her career started in 2008.
She got in just a couple of years before the end of the decade and so is probably coming to true prominence even now as her career continues. The group that began in the 2000s, the LARGE group of actors, is at this moment starting to show their true potential in some ways.
5. She was born and raised on a farm.
You could say that she learned about the birds and the bees and the circle of life from a very young age since farm life doesn't often breed weak people and it does teach kid a lot about a lot of things by the time they're walking and able to understand them.
4. She was in The Woman in Black.
Revenge stories are often the best for ghost stories since they inspire people to paranoia and the type of fear that really makes the movie work. In this film that hidden terror never seems to stop as it continues to build and build until one thinks that the characters must go mad soon.
3. She was kind of bored of life on the farm by the time she was in her teens.
This seems to happen to a lot of people that are born and raised on farms as the daily pace of life isn't for everyone, especially a teenager that wants something different out of life. But it did manage to give her a lot of perspective on life and allowed her imagination to blossom and grow.
2. There are a few things she'd like to do in film.
She's said that she would really like to focus more on comedy and in science fiction. Those are both very popular genres that could help to carry her career to new heights if she really wanted them and was willing to work a little harder to get the nuances of such genres.
1. Her first acting experience was a non-speaking role.
She was dressed up as a robot and didn't have any lines, but she was still too nervous to go out on stage and just stand there for the part. She did eventually get over it but like a lot of people it took some time to move forward.
Thankfully at this juncture her confidence is there and she's ready to take on just about anything that comes her way.