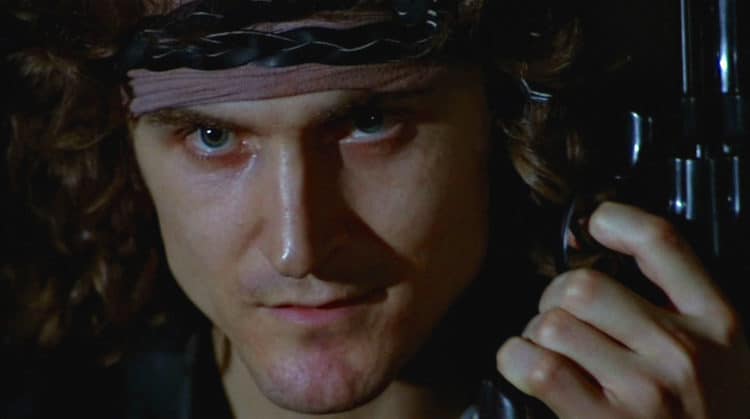 'The Warriors'…what a movie! Teen angst at its finest, cool speeches and even cooler fight scenes, and a cult following that can only be described as 'classic'. From the good guys to the bad guys, many from my generation remember, with great fondness, both the characters from the film and the actors who played them. David Patrick Kelly, the actor who portrayed the film's antagonist, is one of the most prolific characters in the flick, and the fans will all agree on this point.
But now, thirty-one years after movie was first released, many of the original fans wonder about the actor who played 'Luther', a member of a New York City gang which rivaled another gang in a turf battle that stretched all the way from Coney Island to the Bronx. he character was memorable for both his bizarre personality and the now-famous line, 'Warriors, come out to play!', which he more or less screeched in challenge to the good-guy gang. Well, a lot of years have passed since the movie first hit the screens, but those who have seen it can easily recall both his face and the sound of his voice: Actor David Patrick Kelly.
But whatever happened to him? He didn't just disappear from the earth in a puff of smoke, after all. Did he die? Well, the good news is no. Okay, so just what DID happen to him? Did he take a job as a school crossing guard or a nursing assistant? Maybe he works for the parks department in a small town in Michigan. Actually, none of those are true. The fact is that David Patrick Kelly has been around all along, working, contributing to the work of others, and staying active in the business. But how?
Well, that's what we're here to find out. So, join us as we take a walk over the sand of time that have made up David Patrick Kelly's life since 'The Warriors'. We'll find out what he's been up to both personally and professionally, touching briefly on some of the more familiar (or more known) points of each. Sit back, relax, and fill your brain with nothing but knowledge about an actor that most of us really thought was nothing more than a brief flash in the pan, but has really been living life on one of the front burners all along.
After 'The Warriors'
When Kelly landed his part as Luther in the movie, he was about 26 years old, which is fairly young to know how far you really want to go in show business, if you want to proceed at all. The film did fairly well, having a budget of $4 million and grossing $22.5 at the box office; not a bad haul at all, especially in those days. And Kelly himself had a lot of opportunities before him. After all, as an undergraduate student he had actually graduated from the University of Detroit as magna cum laude, with a bachelor's degree in Fine Arts. He had also been lucky enough to have studied under both Mira Rostova and Marcel Marceau. With continued work he could succeed with no problem. But it was actually his own persona that kept David working after the success of the 1979 hit.
According to his biography on IMDb, it was his ''tight-lipped' expressions and attitude' that kept him working, and after 'The Warriors' he was able to land plenty of jobs which required these specific attributes, including roles in '48 Hours' with Nick Nolte and Eddie Murphy in 1992, with Arnold Schwarzenegger in 1985's 'Commando', and David Lynch's 'Wild at Heart' in 1990. In 1994 he scored another part in his second cult classic hit playing 'T-Bird' in the film 'The Crow' with Brandon Lee.
But even these roles weren't the limit for this actor; they proved to really be only the beginning. Though many of us may not remember the following, all of the credits listed have contributed to both Kelly's comfort and fame, not to mention providing him with a pretty impressive resume. See, the actor didn't disappear or die after all.
Keeping Busy In the Limelight While Staying Cool In the Shade
For the last twenty-six years Kelly has really been at it, whether he was recognized by fans or not. First he played Tony Eyes in 'Crooklyn' in 1994 and Charlie in 'John Wick' much later in 2014. In between he caught a variety of film roles, as he was in the casts of 'Madso's War', 'In Too Deep', and 'Last Man Standing', among others. But film wasn't the only media form he was active in.
During the course of his career David also work in television and music. He played the role of Jerry Home in both the original 'Twin Peaks' series and its revival counterpart from 2017. The audiobook form of 'The Secret History of Twin Peaks' featured Kelly as the reader. He also guest starred and made other appearances in shows like 'Moonlighting', 'Miami Vice', 'Law & Order', and 'The Blacklist', which are only a few of the television productions he has participated in over the years. David was also active on the stage, participating as an actor in several productions.
Kelly is also very talented musically. In 1964 his mother gave him a Saint Patrick's Day gift: A mandolin. David said that it turned out to be the greatest influence on him when it came to the artistic side of his life. Not only did he later write the four musicals while in college, but after 'The Warriors' he was active in both cabaret music and the rock scene in New York. He played the Lower Manhattan Ocean Club and Max's Kansas City. The, in 2008 David put out a compact disc consisting only original music. The CD was entitled, 'David Patrick Kelly: Rip Van Boy Man', which had both music from his day of playing the clubs in 1975 and new recordings.
So What Is He Doing Now?
Recently, Kelly starred as Larry in 'OG' in 2018, and he played Paul Chambers in an episode of 'Succession' in 2018. He is married to Juliana Francis, who he wed in 2005, and the couple have one child. He is active on Instagram and other social media platforms, and also has a website, which fans are welcome to check out if they want more information on what he is up to.
So, the bottom line is that David is alive and well, and he seems to be living the good life after many years in the limelight. He is known for his role in 'The Warriors', yes, but his face is one that many simply recognize due to all of the parts he has played over the years. He is definitely a beloved actor in his own right, and we are glad he's still around. Best of luck to him in his future endeavors.
Tell us what's wrong with this post? How could we improve it? :)
Let us improve this post!