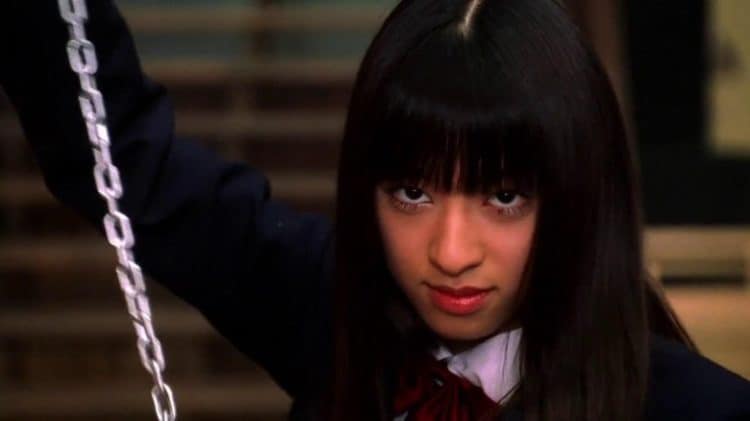 To a lot of American viewers, Chiaki Kuriyama is a name that might not register since the fact is that she did play one memorable character in America that a lot of people were into when Kill Bill vol. 1 came out, and that was kind of where her popularity picked up and then died down when it came to her presence in this country. Likely as not if people have noticed her in other roles they would have said something and been just as amazed since to date, Chiaki has amassed around 90 credits to her name, which is nothing to sneeze at, and has managed to become a pop star in the process, even though she's focused intently on her acting and not so much her singing these days. But her turn as Gogo Yubari in Kill Bill is where a lot of people are going to remember her the most since she was the young schoolgirl that was able to go megaton on anyone at the drop of a hat. That was kind of proven when she disemboweled a guy at the bar in a flashback after asking if he wanted to have sex with her. Of course, some buck-toothed, ugly-as-sin individual that probably had no chance would say yes, but Gogo took that as an opportunity to show the guy what penetration really was when she stuck him and then let his innards out for a bit of air. That's the kind of crazy that Gogo was, so it was kind of irritating to think that she lost to the Bride, even if Uma Thurman's character was supposedly that awesome. Did anyone happen to notice that the supposedly deadly Black Mamba managed to get roughed up or nearly killed each time she went up against someone on her list, and even those not on her list?
Let's take a quick count: she got sliced up pretty good going up against O-Ren, got cut and beaten with Vernita, was shot point-blank in the chest by a load of rock salt by Bud, and then was pummeled by Elle before she plucked the woman's remaining eye out and left her writhing in Bud's trailer. That's not even to tell about the fight between her and Gogo, which Gogo could have realistically won had she not been playing around. The young woman's skill with the meteor hammer was beyond impressive and if not for a nail-studded piece of wood nearby, Beatrix Kiddo wouldn't have made it past her first encounter. But of course, since this was the Bride's story Gogo had to be a little too cocky and not watch for anything that might happen and didn't snap the Bride's neck as has happened in so many movies when such a situation is presented. Gogo was a villain, after all, her story couldn't have a happy ending. But since her turn as Gogo, Chiaki has been doing quite well it sounds, and has been keeping busy throughout the years as she's continued to build her reputation. She's even starred in a Japanese version of 24 which is called, wait for it, 24 Japan. Okay, so maybe it's not the most imaginative title, but it does keep her busy and in the spotlight which is where she's been trying to stay all these years. One thing about Chiaki is that's she still fairly young as she's just reached her upper 30s and is bound to have plenty of years left to keep up with her career and climb the ladder as far as it will take her.
It's actually too bad that Gogo had to die in Kill Bill since she would have made a great villain elsewhere down the line as well, but the movies made it pretty clear that the Bride wasn't leaving much behind her but corpses and maimed victims that were missing limbs thanks to the keen edge of her blade and her lack of desire to kill everyone. The character of Gogo was crazy, there's no doubt about it, but she was a fun and engaging kind of crazy that could have easily had her own limited series that people probably would have enjoyed since despite the idea that it would have been coated in blood, guts, and all sorts of unpleasant fluids it's also possible that finding out more about Gogo would have allowed people to see why she was such a headcase and why murder and mayhem were things that she enjoyed so thoroughly. Seriously, a lot of people are worried about a pinprick if it bleeds, but this young woman appears as though she might have bathed in crimson and called it a nice, relaxing evening. Maybe that's an exaggeration, but a Gogo Yubari limited series would have been interesting all the same since it could have answered a lot of questions about her.