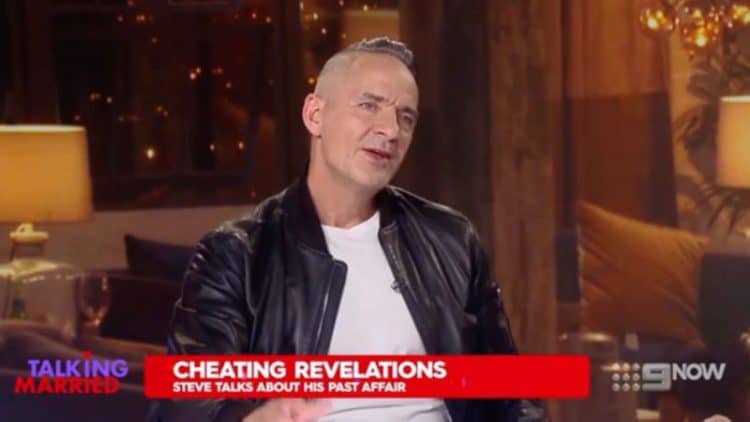 In 2000, Steve Burley arrived in Australia with only a small suitcase and business suit ready to start his life all over after selling everything he owned and leaving the UK. Life has been good to him because he was able to start a business, a barbershop, which is doing quite well. However, his only wish is to find a woman who can be his companion till death does them part. Therefore he applied to be on "Married at First Sight" where he met and married Mishel despite admitting at first that he was not attracted to her. As we wish them the best in their marriage, read on to find out more about the man who wears his heart on his sleeve.
1. He is not family-oriented
Steve is not the type of person who will be held back from doing whatever he wants just because he has a wife and children. He proved to his son many years ago that he is not interested in maintaining a relationship with neither him nor his mother. When Steve and his wife divorced in 1991, he left his son, Tony, behind and returned two years later to promise him he would take him out for a pub lunch. Tony kept waiting for his father that day, but Steve never showed up. Therefore even though he tears up on television, whenever he says that he loves his son and cannot see his grandchildren because they are miles away, it is only for the cameras.
2. His son does not want to be reunited with him
Of course, once you realize that your father abandoned you, it leaves you feeling neglected, and that is what Tony felt for a long time. He, however, was hopeful when his father visited him to tell him to get tested for testicular cancer and then promised that he would keep in touch. Once again, that was an empty promise, and Tony realized that Steve only cares about himself. Consequently, even when the show producers reached out to Tony to surprise his father on the show, Tony was not interested. As far as Tony is concerned, Steve has shown him the kind of father he does not want to be for his two children; thus, he is a full-time single dad.
3. Why he dated young women
Currently, with his appearance on "Married At First Sight," Steve believes it is time to date women who are close to him in age, unlike before when he dated those in their twenties. The 52-year-old admitted that although he is in his fifties, he is young at heart, specifying that he feels like he is in his mid-to-late twenties, therefore, needed someone who would match that. The fact that he was ready to marry 32-year-old Diana is proof of his interest in younger women.
4. He has been in another television show
Some couples have been lucky to find love on television shows, and Steve was also looking to find his soulmate on "First Dates." He confessed that he found the idea better than Tinder, so he kept searching for a woman. On "First Dates," Steve had been paired up with Fiona, a 48-year-old who wanted to go on a second date with Steve, but he declined, saying he did not get the fun element in her.
5. Why he refused to be intimate with Mishel
Mishel had continually made sexual advances to Steve, but he kept turning her down, which had her confused; after all, it is rare to hear of a man refusing to have sex. Mishel was desperate enough to add that she was not interested in foreplay, just sex. According to Mail Online, Steve however defended himself saying that he is 52, not 22 thus when he decides to be intimate with Mishel, it will be to make love not to have sex with her.
6. He believes he will never be unfaithful again
It is strange that despite being together for a while, Steve only came clean about his cheating past on the day of his wedding. What makes it worse is he told Mishel's daughter, Ava, instead of Mishel. Still, Steve defended his actions saying that Ava asked him point-blank if he had cheated before, and he admitted because he is not a liar. However, anyone who is truly not being economical with the truth would have come clean before to allow Mishel to make an informed decision considering that she had been cheated on seven times by her previous partners. Still, Steve said that is all in the past, and he is looking into a future without any cheating scandals.
7. He was accused of being controlling
Mishel revealed that she found Steve to be a bit controlling, going as far as telling her which words were acceptable. For instance, swear words were not welcome, and other vulgar language was not welcome; thus, she had to say she was going to the bathroom.
8. He had testicular cancer
Eight years ago, Steve experienced pain around his groin area that refused to go away. He thought it was an infection thus ignored it for a week before going to the doctor's office, where he was asked to have an ultrasound. The ultrasound revealed he had testicular cancer, causing the then 44-year-old to breakdown and cry. Luckily he had a supportive girlfriend who accompanied him in all his oncologist visits, and today, any bump or lump makes him think that it is cancer. He has, however, been in remission, but he worries that it will come back.
9. He was previously engaged
After Steve and his ex-wife went their separate ways, Steve went to live in Australia, and one night, he met Diana Chan. He told Now to Love that they began talking and immediately connected; thus, a relationship was born. For five years, they dated, going as far as getting engaged. However, they called it off, and Steve blames himself, saying that perhaps he changed after his experience with cancer.
10. He only married his first wife because she was pregnant
We are always told to marry for the right reasons; otherwise, it will end up in a divorce. In his audition tape, Steve confessed that he was married many years ago, clarifying that the girl fell pregnant, and he had to do the right thing. Seeing that Tony is now 33, Steve by then was only 19, and most likely, the girl was much younger but of legal age. Teenagers do not have the mental capacity to properly maintain a relationship since they are yet to fully grasp the responsibilities of parenthood. It is, therefore, no surprise that by the time Tony was four, Steve and his wife had split up.