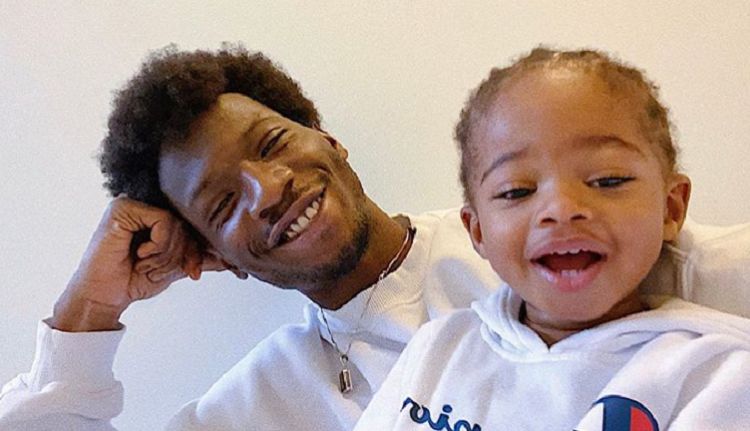 Adonis Bosso has had a modeling career that most people can only dream of – and he's done it in a relatively short amount of time. He isn't even 30 yet and he's walked run ways all over the world and gotten the chance to work with some of the biggest names in the business. Despite all of the success he's had, Adonis has remained humble and eager to learn. It it these qualities that have made many companies eager to work with him. However, there is much more to Adonis than modeling. He's got some other tricks up his sleeve, and that's something he hopes to eventually share with the world. Continue reading for 10 things you didn't know about Adonis Bosso.
1. He Has A Son With Slick Woods
In the fall of 2018, Adonis welcomed his first child into the world. His son's mother is none other than Fenty model, Slick Woods. The two are no longer together, but they seem to have lots of love and respect for each other and are doing a great job working together to raise their son.
2. He Makes Music
Adonis is most well-known for being a model, however, he's recently become a musician as well. He grew up around music and has always loved to sing, but he lacked the confidence to take it seriously. In 2017, he shared that he was going to start working on music. However, it doesn't look like he has released anything to date.
3. He Was Born In Ivory Coast
Adonis was born in West Africa and spent the early years of his life there. He eventually relocated to Canada where he was primarily raised. He said, "I was born in Cote d'Ivoire and grew up there before moving to Canada, so I've seen and experienced what it's like to be in a country where everyone looks like you. Being in Montreal and living uptown, I was in a really multicultural area."
4. He Has Worked With Major Brands
Working with major brands is a dream come true for every model. Fortunately, it's something Adonis can say he has done several times. Over the course of his career, he's gotten the chance to work with several brands including Dolce & Gabbana, Yeezy, and Moda Operandi.
5. An Ex-Girlfriend Got Into Modeling
For Adonis, getting into modeling was actually an accident. He told Complex, "I was dating a girl who was a model and one time I went to her agency to drop off her book, and they signed me on the spot. It wasn't a very good agency and they closed the following year, but that was the start of it. When I do something, I try to give it my 100 percent. As a model, you can't really do much to work more or work harder, but I try to do things the right way."
6. He Loves Thrifting
Since Adonis is a model, lots of people would assume that he has expensive taste in clothes. After all, he's built an entire career out of walking up and down runways wearing outfits from the most high end designers. However, Adonis actually enjoys shopping for clothes at local thrift shops.
7. He Wants To Get Into Acting
As much as he loves modeling, there are other things Adonis would like to try at some point. Acting is one of the things he really wants to get involved with. He was actually passionate about acting before he got into modeling. Prior to his modeling career taking off, he was actually studying to be an actor.
8. He Used To Work With Kids With Special Needs
Becoming a model wasn't something that was always in the plans for Adonis. Instead, he imagined that he would spend his career working with children. For several years, he worked with special needs children. This is a cause close to his heart because one of his brothers has autism.
9. He Likes To Skate
Adonis currently lives in New York City and he likes to use his skateboard to get around instead of taking the subways. He says, "I like to skate around and often I'll skate from uptown all the way down to Battery Park. I have a secret route through Central Park."
10. French Is His First Language
Adonis can speak both English and French fluently with French being his first language. French is the official language in Adonis' home country, and it's something he hopes to teach his son. In general, he wants to make sure his son is proud of his African heritage.