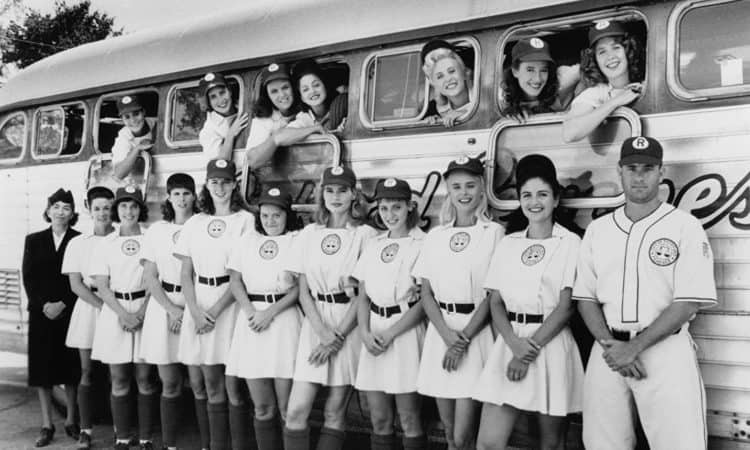 A League of Their Own still stands as one of those movies that you can watch over and over and never really get bored with since there scenes that are funny no matter what and scenes that are still touching years after the fact. The cast helped make this one of the most endearing baseball movies that's ever been made largely because there was such a wealth of talent and depth to the lineup that no one ever had to stand alone or take it all by themselves. The great thing is that several of the cast members could have done just that and not suffered in the least for having to take on a film all on their own, but along with their costars this became something of a legendary movie that current and future generations seem ready to enjoy and talk about as the years go on. Now that the cast members have long since moved on however it's still a fond memory that can be discussed and even fondly remembered.
So what happened to the cast?
Jon Lovitz – Ernie Capadino
Jon Lovitz is one of those guys you either love, hate, or tolerate since he's pretty funny but at the same time his humor can be kind of hard to take at times. However, during the film he was pretty important since he was the scout for the women's league and had a hand in bringing a lot of them to the game. After the film it seems like it's been business as usual, being funny and showing up anywhere he possibly can.
Megan Cavanagh – Marla Hooch
Considering that A League of Their Own was Megan's film debut it would have seemed that she was primed and ready to be a breakout star, but in truth she only did a few other movies and then went back to the theater. So far as her career has gone Megan hasn't been one of the biggest names in show business, but the role of Marla has been one that has stuck with her.
Lori Petty – Kit Keller
Lori Petty has been around, and in a good way since she's been one of the lesser-known actresses and one of the better known personalities in her time. She's one of those actors that's kind of like a surprise waiting to happen but you're never fully ready for her when she pops up. One of her most surprising and prominent roles as of late has been her appearance on Orange Is The New Black.
Rosie O'Donnell – Doris Murphy
Rosie has been, as you might politely say, quite vocal about many things during her career. She's been more of an activist than an actor in previous years and has really been heard more than seen at times when it comes to her views on politics and humanity. There are a great many viewpoints when it comes to her and many of them are as virulent as they come while others are glowing in their support and admiration. Amidst it all Rosie does her best to stand tall, and she does pretty well in fact.
Madonna – Mae Mordabito
It kind of seems like Madonna has done whatever she wants throughout her career and with her fame and platform she's managed to keep it that way. From her star status to her ability to speak out in a voice that people will listen to it almost seems as though she could lead her own movement if she so desired. Her acting and her music have carried her a long way since the film, but her recent forays into protesting have tended to net her just as much criticism as praise.
Tom Hanks – Jimmy Dugan
Tom Hanks is what you would call a living legend. Even though he's made a few films that didn't do quite as well throughout the years and has been criticized for those and a few other things in his career he still keeps pushing forward just like everyone else. His past successes still keep him more than relevant and his continued work manages to make people continue to believe in what he can do.
Geena Davis – Dottie Hinson
She's still been around in TV and in film but it really feels like Geena Davis has slowed down throughout the last several years, as though she's taking more time to herself in order to enjoy life. In her heyday though she was easy to find on the big screen since she had the kind of star power that made people love her and want to see more. In truth she's still a star and her presence is welcome whenever she decides to show up. It just doesn't seem to happen as often these days.
There were a lot of memorable cast members in this movie but obviously listing them all would take quite a while. It's enough at this point to realize that they all came together to form a movie that was special not just in its own time but for the years that would come as well.
Tell us what's wrong with this post? How could we improve it? :)
Let us improve this post!