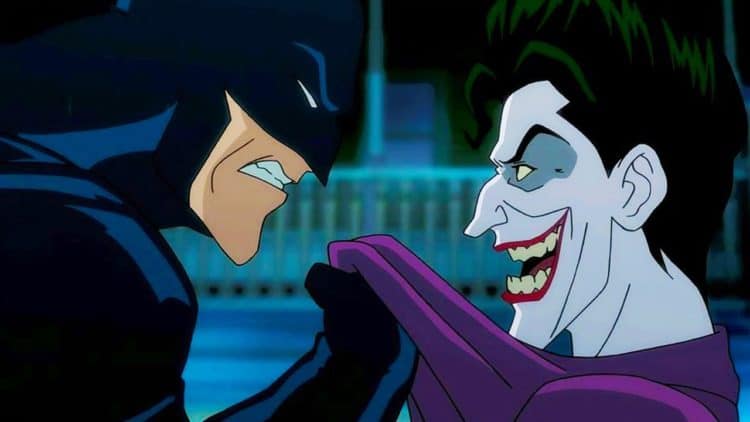 Aside from Christopher Nolan's success at bringing Batman to the big screen and yes, Tim Burton's first attempt, it's kind of safe to say that Batman has seen more success when he's been animated than at any other time. Being that he's able to do so much and has so many different vehicles, toys, suits, and other items that are best suited to animation for practical purposes it's usually a lot better to see him on the screen as a cartoon rather than a live action person. Plus, the animated Batman doesn't exactly disappoint his fans nearly as much. There have also been more animated Batman films than live action so it's even easier to state that people have responded a lot better to keeping Batman as a cartoon rather than trying to find the perfect fit in the real world.
Here are five of the best animated Batman movies. Keep in mind the list is subjective and feel free to add what you think should have made the list.
5. The Dark Knight Returns
Batman as an old man isn't something you see all that often since just about every other cartoon you see puts him in as a man in the prime of his life. This is after all what a lot of fans want to see, not a diminished Batman that has trouble taking on criminals. But in this film he's been retired for about a decade after the death of Jason Todd, and is brought out of his funk by a band called the Mutants that are laying waste to Gotham in his absence. Eventually he defeats them, is confronted by the Joker, and even has to take on Superman. It's a nonstop thrill ride from start to finish that sees the 'death' of the Batman, only to see him rise again at the end.
4. Batman: Mask of the Phantasm
Batman has never had a stable love life and there are many reasons why, but there are also some that are beyond his control. When the love of his life, Andrea, up and moves away with her father without a word as to why he is then prompted to become the Batman full time. However when a mysterious figure starts killing off gangsters without any seemingly valid reason for doing so he can't just stand aside and let it happen. When he finds out just who is doing the killing however he can't help but be shocked when he realizes it's Andrea, and that she's taking revenge for the death of her father.
3. Batman Ninja
As much of a mishmash as this film seems to be it does manage to incorporate a lot of very cool elements that make it into something that fans of Batman can easily enjoy and get lost in since the hits just keep coming as the film moves forward. Stuck in feudal Japan thanks to Gorilla Grodd's time displacement machine, Batman and the Bat family must battle the villains of Gotham, who were also caught in the machine's effects and have now become feudal lords. When the Joker and Harley Quinn attempt to stage a takeover as many people could likely see coming Batman and the Bat family finally defeat him and get Grodd's machine up and working again.
2. Batman Beyond: Return of the Joker
Some things seem to come in cycles. Despite the death of the Joker at the hands of Robin, whom he tortured mercilessly in the past it's revealed, a new Joker emerges on the scene in Gotham and starts to cause all kinds of trouble. Despite Bruce's insistence that the Joker is dead, the new Batman can't help but argue since he's seen the man and knows very well that he is alive and kicking. However, the twist is that the same Robin that was tortured and beaten by Joker so long ago was implanted with a chip that carries the clown prince's genetics and consciousness, meaning that he essentially becomes the Joker.
1. The LEGO Batman Movie
Despite any and all doubts about how good this movie was going to be it became a standout hit since the story was something that people love and, well, Lego's are still extremely popular and the celebrity list of voices was so well picked that people responded in a very positive way. Batman is kind of a vain jerk in this movie but he does change after he finds himself trapped in the Phantom Zone. Upon being allowed to escape the zone he then goes on to work alongside his allies and friends to right the wrongs that have been caused by the Joker and save the world from the insane amount of villains and dangerous creatures that were released from the Phantom Zone.
Any way you look at it, Batman as an animated character is a lot more popular than the live action characters so far.