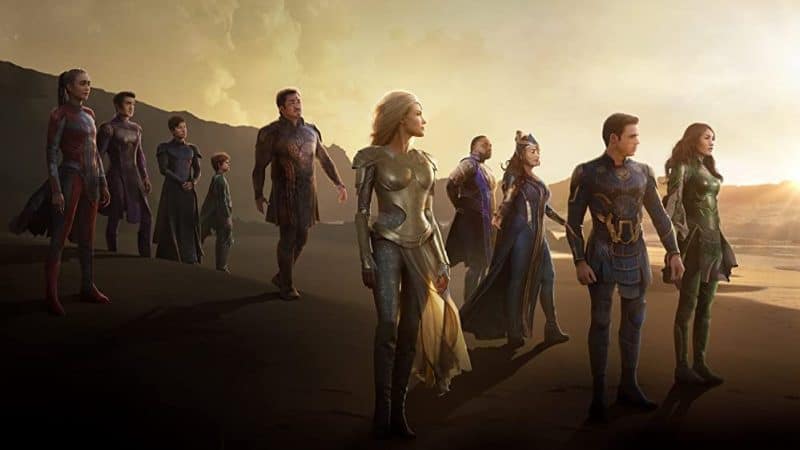 It might be nice to see flashbacks to other worlds and other species that the Eternals have dealt with in their long, long lives, but it does sound as though any prequel series that might come to Disney+ would focus instead on earth and the individual Eternals. That might also be nice to see since there is a lot of stories to get through, and one movie, no matter how long it was, didn't feel adequate. It would also be interesting to see if Thena suffered any other fugue states in the past that were devastating for those around her. Seeing as how the Eternals helped to shape human history, it would be kind of fun to see how they did this over the centuries. And yes, it would even be kind of interesting to see a young Thor following Kingo around, especially to see if it was like the vain Eternal said or if the MCU would show this in another light. However it might happen, this could be an intriguing show that people might likely watch since it would help to expand the MCU just a bit further.
The Eternals are fully capable of being the next level of the MCU, creating an expansion that can take things in a direction that a few MCU movies have already done, but to an extent that hasn't yet been experienced. The Guardians of the Galaxy movies took things to the cosmic level, as did the Thor movies, but The Eternals took things to a level that hasn't been seen quite yet but has been anticipated for a while. Giving them a prequel series after another movie or two would be a logical step, but it would also be something that could open up the MCU in another way if the level of connectivity could be taken to such a degree that it wouldn't matter what multiverse everyone is located in, there would be familiar characters aplenty in one story or another. The idea with the Eternals however is that to each one of them, several of the MCU characters would be looked at as one looks at children that have come into their own after a while.
After all, if Kingo could talk about Thor as a child, think about how many other characters in the MCU must appear as kids to the Eternals and how they might talk about them. There is a certain level of arrogance with the Eternals however that is hard to take at times, but in many ways, it's one they've earned through dint of being alive to see how humanity came to be what it is in the movie. In other ways, however, it's fair to say that their arrogance and their attitudes are a little juvenile since they believed in humans and helped them to become what they could be. The incident with Phastos and his guilt over the events of WW2 make this more than obvious since for an advanced and superior race, the Eternals are still incredibly naive at times since having been through so many different instances when they've expected humanity to behave in a certain way only to realize that for all their guidance and teaching, humans are still going to follow instincts that the Eternals simply don't have, at least not in the same measure.
One hope is that this prequel series would also show how the Eternals evolve as well since like it or not, people tend to emulate and become more like those they're seen to hang around at times if they're around them for long enough. There is a reason why Ikaris and Sprite fought to bring the Emergence on, and it's because, in Ikaris' case, he kept himself apart from the humans as much as possible, meaning that he didn't feel for them the way the others did. Sprite's case was born of frustration at being seen as a child so often because of her form, which would be extremely irritating no doubt. But the rest of the Eternals came to understand humanity far more and as a result knew that the Emergence would be a negative occurrence that couldn't be allowed. Seeing how the Eternals changed from being mere servants of Arishem to becoming the saviors of the human race would be a good way to build them up within the MCU fanbase since right now there are still a lot of people that don't know enough about them.
Getting everyone back for the prequel series would be nice since switching out actors at this time really doesn't feel like something that fans want to see unless there's a reasonable excuse for it. But seeing further development for a few of the characters does sound like a great idea that a prequel could help bring about.