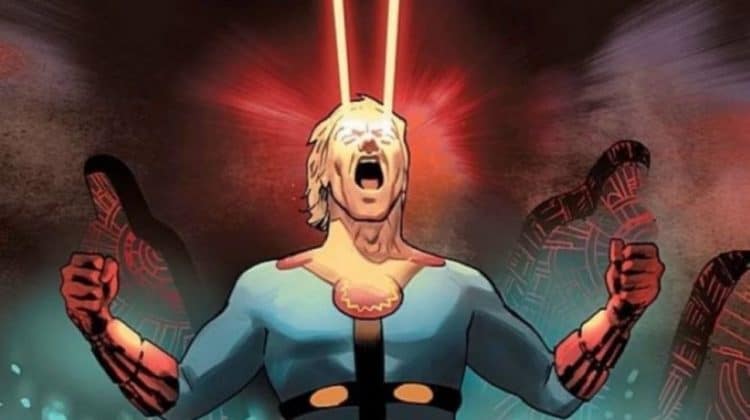 With The Eternals movie on the way, it's pretty easy to think that we're going to be focusing more and more on the individuals that make up the group that the audience will see on the big screen, hopefully. Ikaris is perhaps one of the only members of this group that could pull off a solo movie without really needing to introduce him beforehand, but of course, The Eternals will be coming out before any possible solo movies could ever happen. It might even be that a solo run would be better served as a Disney+ series, to begin with since it would allow people the chance to see just what these characters are all about. Ikaris is what is known as the Prime Eternal, a character that is stronger than most Eternals and has a greater sense of responsibility to his kind as a result. He's also another immortal that's been around long enough to have interacted with humans and helped shape their history as they've created legends and myths that have gone along with the feats that the Eternals have helped to create. For those that love to think that our world was populated by aliens, The Eternals would definitely be a great story since much of their history has to do with how they've helped to shape the human world in various ways.
Among the lot of them, Ikaris is perhaps one of the more courageous individuals that actually act the part and seeks to do more good than anything as he willingly fights the Deviants and seeks to better humanity. He's not a perfect character of course but he does tend to be a little nobler than some as his goals are usually to safeguard one secret or another and help out where he can while still keeping the secrets of the Celestials and his own race. Imagine being around for 20,000 years and watching as humanity struggles from living in caves and among the wilderness to see what they've become later on. Many Eternals have had something to do with human history, but it would be fair to say that a lot of them might have felt that humanity was a bit slow on the uptake. Despite all that the Eternals were meant to help and advance humanity, even if they forgot this purpose, and it drove most of them insane later on. Ikaris was among those that passed on eventually due to in-fighting between the Eternals, but apparently he did pass on his secrets to Iron Man according to certain sources.
Trying to argue for a solo movie for anyone in the Marvel universe is a bit tough at this point since trying to anticipate what the studio is going to do is even harder given that they apparently already have a plan and don't tend to listen to the fans too much. But putting that metaphorical bug in their ear could at least be seen as an attempt to tell the people at Marvel that it would be wise to start using everything they have at their disposal. Using too many heroes and villains all at once would definitely over-saturate the market and it's likely that the fans would turn away after growing bored with the over-stimulation. But introducing a new character every now and then while finding a way to integrate them with other heroes that have already come along would be an interesting proposition since it's been done in a few movies, and it's worked out pretty well so far. Remember, the Black Panther was a part of Civil War before he was given his own movie, and Spider-Man made a big resurgence in the MCU before really taking off on his own again. Considering the longevity of the Eternals there's no telling just how many stories could be told using these characters since they predate humanity in a big way.
Whenever the solo movies are given the consideration it does feel that Ikaris should be in the lineup since among the many heroes in the MCU he definitely has the potential to be one that people might want to learn more about considering his role and his place in history. To some, he might be kind of a heretical character since he is connected with the fabled ark that was created before the massive flood that wiped out so many, but from an entertainment standpoint, it does still feel that he might carry more importance than many of the other Eternals. It's fair to think that his solo movie might have to wait and that it might be better off appearing on Disney+ where it might get a few more views, but showcasing heroes that haven't been given a lot of exposure as of yet would be something that Marvel might find is more lucrative than they thought.