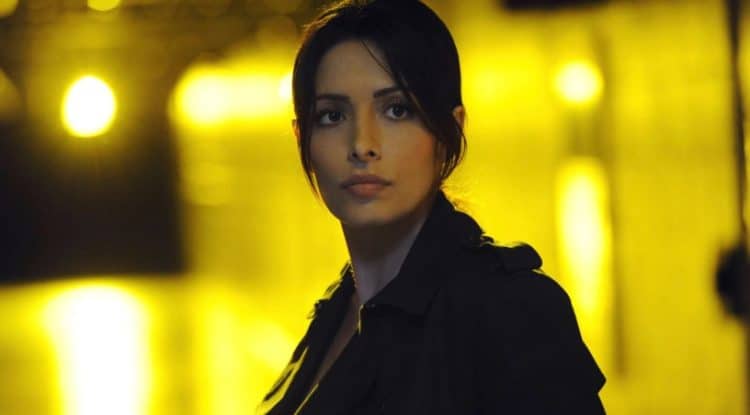 There are a lot of pretty faces in the world and Sarah Shahi is one of them obviously, but what's great is that so many of those pretty faces have shown that they're capable of doing more than just standing around being attractive. Sarah has been in show business since 1997 so you could say that she's found her stride and has been able to keep things going for a while no matter if she shows up as an extra or someone that's helping to drive the story. At this point her career is something that's better known to those that might have been following her for a while, but there's no doubt that she's been doing what she wants to do for some time and has the talent to keep doing it. She's showed up in various shows and movies that have been rather popular over the years and it seems that it might be fair to say that we'll continue to see her for a while.
Here are some things you might not know about Sarah.
10. In 2000 Sarah was a calendar covergirl for the Dallas Cowboys.
Anyone that knows anything about cheerleading knows that it's a tough thing to do to start with, but auditioning for an NFL cheerleading squad is even harder since hundreds of women try out for this. The competition is fierce and the level of fitness a woman has to possess is kind of insane at times.
9. She wasn't really sure about her role on The L Word at first.
The reservations she had about this was the fact that her character is a lesbian, meaning she would have scenes in which she would be required to make out with a woman. Despite this however she was fine once she went through it and came to enjoy the part as it stretched her abilities in a way she hadn't done before.
8. Sarah has been involved with sports throughout her life but has never really followed them.
She's admitted to being kind of nerdy in her life and doesn't really follow sports. In some regards this is kind of like an actor that doesn't watch movies but enjoys what they do all the same. It's not hard to believe but you might think that she would at least watch the games now and again.
7. She feels strongest after a workout.
In her own terms she feels sexy when she's done with a workout since it makes her feel content, powerful, and overall just a lot better about herself. There is something about working out that makes any person feel empowered, better about themselves, and even stronger in a way.
6. Sarah was raised by a single mother.
This is the life of a lot of people in this world and it's something that's impressive when witnessed since being a single parent is harder than a lot of people seem to realize. And Sarah's mom had 3 kids that she had to raise on her own. Obviously she did a good job.
5. She had a lot of practice in theater growing up.
Sarah managed to experience a lot of theater growing up and it definitely seems to have helped with her career. She's managed to take that experience and use it in a way that has allowed her to be quite a boon to the projects she's been a part of.
4. She was the first ghost seen on Supernatural.
You've got to wonder how many people remember this but honestly it's something to be proud of since a lot of folks watch this show and have come to enjoy it. Plus, even if it's just a bit part it's something she can claim on her resume as she moves forward.
3. Sarah is the great-great-granddaughter of a Persian Shah.
She doesn't have a lot to show for it save for her heritage but honestly it seems like a very interesting part of who she is. One's heritage is usually pretty interesting to find out, and in this case it's something that she can no doubt take some pride in.
2. She's been on the 'hot girl' list in a couple of publications.
You can't deny that she's absolutely gorgeous and has the kind of look that would drive a lot of men wild. But she's still a very talented woman that has a lot more to her person than just her good looks.
1. She was Miss Fort Worth in 1997.
In Texas, as she's said, it's usually seen that women with blonde hair and blue eyes tend to get a lot of attention because they represent an idealized vision of who the perfect Texas woman is. But with all honesty she does her state proud in many ways it would seem.
If you know who she is and what's she's done it's likely that you might be a fan. If not then it might be worth it to see what you're missing.