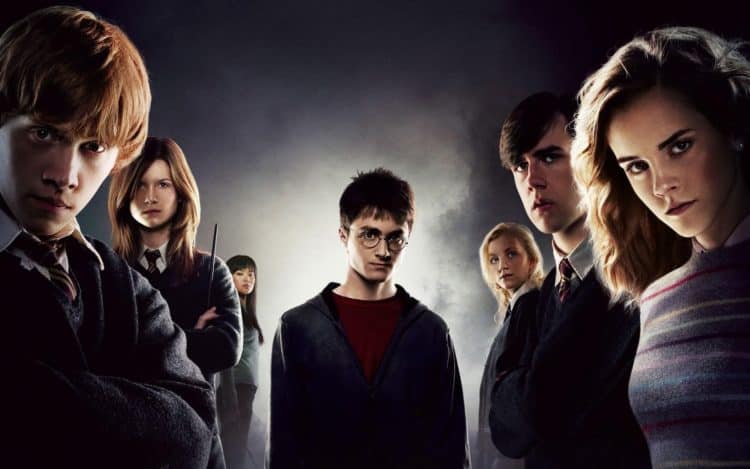 If you haven't heard it yet, there's going to be a 2022 Harry Potter reunion on New Year's Day. And no, it's not going to be one of those "reunions" where only a handful of cast members appear. It's the real deal, with Daniel Radcliffe, Emma Watson, and Rupert Grint leading the alums in the reunion. The "adult" cast will also be in attendance, with Helena Bonham Carter, Imelda Staunton, Robbie Coltrane, Gary Oldman, and Ralph Fiennes, among many others, expected to grace the grand Potter get-together. One person we shouldn't expect to show up, however, is J.K. Rowling. It might be weird for the brains behind the Wizarding World to snub her own reunion, but insider rumors say her non-attendance is less of a snub and more of an exclusion. Rowling's camp has remained mum on the matter, but many people are assuming she was not invited because of her recent controversial statements about the trans community. Her comments have received backlash left and right, with the harshest condemnations coming from Daniel Radcliffe, Rupert Grint, and Emma Watson. With the reunion only weeks away, you might be wondering what has happened to the "classmates" — you know, the other guys who also attended Hogwarts aside from the big three. Here's a roundup of what the other cast members of Harry Potter have been up to since the last movie, Harry Potter and the Deathly Hallows – Part 2, showed in theaters.
Matthew Lewis
Matthew Lewis played the geeky outcast, Neville Longbottom, in the Harry Potter movie franchise. He has since played characters in a number of major projects outside of the Harry Potter universe. He recently had a starring role in Baby Done, a New Zealand movie executive-produced by Taika Waititi. He's also appeared in Terminal and Me Before You. Matthew currently has a recurring role in All Creatures Great and Small. The actor got married in 2018 to Angela Jones, a lifestyle blogger, according to news.com.au.
Bonnie Wright
Bonnie Wright played Ginny Weasley, the Weasley family's youngest and Harry Potter's love interest. After Potter, Bonnie got involved in a number of films, playing roles in Who Killed Nelson Nutmeg? and the upcoming Those Who Wander. Over the years, Bonnie Wright has been more active behind the camera as a director. She released her first film right after Harry Potter and the Deathly Hallows – Part 2. Her directorial debut, Separate We Come, Separate We Go, starred fellow Harry Potter alum David Thewlis and opened at the Cannes Film Festival to critical acclaim. In 2018, she released Medusa's Ankles, starring another Harry Potter alum, Jason Isaacs. She has also directed music videos for Scarlett Johansson, Sophie Lowe, and Pete Yorn. Bonnie is currently living in Los Angeles.
Katie Leung
The Scottish actress played Cho Chang in the Harry Potter movies. After Harry Potter, she had roles in The Foreigner, starring Jackie Chan, and Locked Down (Anne Hathaway, Chiwetel Ejiofor). Katie Leung is currently lending her voice to Arcane: League of Legends, currently streaming on Netflix.
Evanna Lynch
Evanna Lynch's story towards stardom is straight out of a fairy tale. A massive fan of the franchise, Lynch started writing Harry Potter fan-fiction and was overall just a massive fan of the Wizarding World before auditioning for the role of Luna Lovegood, besting thousands of professional actresses who auditioned for the same role. She has since made a name outside the Potterverse, starring in My Name is Emily in 2015. She also finished third place in Dancing With The Stars Season 27. Evanna Lynch is also an activist, working with charities that support veganism and animal rights.
James and Oliver Phelps
The identical twin brothers played the lovable Weasley twins, Fred and George Weasley, in the Harry Potter franchise. The two run a podcast, titled Normal Not Normal, where they interview celebrities. Guests to their podcasts have included the wrestler Sasha Banks, former child actress Mara Wilson, as well as former Harry Potter co-stars, like Katie Leung, Evanna Lynch, and Alfie Enoch. Their most recent screen appearance was in the Edgar Wright movie Last Night in SoHo.
Devon Murray
Devon Murray played Seamus Finnigan in the Harry Potter films. His character appeared in all Potter films, one of the few characters in the Potterverse to have done so. Murray hasn't been very active on screen, only listing two acting credits after Potter. He has been in a relationship with Shannon McCaffrey Quinn since 2018. The two welcomed their first child in 2021. He announced his child's birth on Instagram, writing: "Yesterday 2/1/21 my life changed forever. Shannon delivered our beautiful little boy 'Cooper Michael Murray' weighing 6lbs 10oz. Both are doing amazing now after a very long labour and a scary few minutes at the end. It still hasn't sunk in just yet that we have our very own little boy. I can't wait to make the most amazing memories with Shannon and Cooper as we begin our little family. I'm so amazed by Shannon and she is now my Hero. I'm so proud of her for everything she has gone through. I can't wait to have you both home. It's so hard having to leave you both. I will love you both forever until my last breathe"
Alfred Enoch
Alfred Enoch played Dean Thomas in the Harry Potter series. After Potter, Enoch has been very active in theater, most recently appearing as Romeo in Romeo and Juliet. He also had a role in How To Get Away With Murder, playing a main character in the show's first three seasons. Alfred Enoch almost never made it to the Harry Potter series. According to an interview he did with The Guardian, he almost turned down the role when he was initially asked to audition for the movies. "I didn't go for Harry Potter in the beginning because I couldn't think of any black characters."
Josh Herdman
Josh Herdman played Gregory Goyle, one of Draco Malfoy's loyal henchmen. He has since found fame outside the Potterverse — and outside acting — debuting his MMA career in 2016, according to the BBC. Asked about his motivation to join the sport, Herdman said he was more interested in it than boxing, and it was the more sensible decision because of his jiu-jitsu training. "I find it more interesting than boxing although I appreciate the beauty and art in boxing. It also made sense to move onto MMA because of my jujitsu training. I would like a few amateur fights first to get me started and where it goes from there, who knows?" Herdman hasn't abandoned acting yet, however, saying that he still has an agent and goes to auditions from time to time. "I haven't fallen out of love with it, I still have an agent and still go for auditions," he says. "It's just a little bit like playing the lottery for a living." His most recent film appearance was in 2018's Robin Hood.