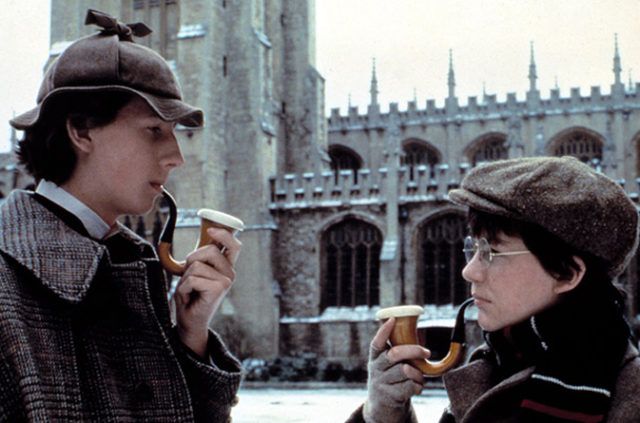 The story of the first complete CGI character comes in 1985's Young Sherlock Holmes. By today's standards the film and the CGI sequence are fairly simple and are easy to sort out and even see how everything was done, if you've done any research on CGI. But back then in the mid-80's things were a little more simple in the technological field and the knight jumping from the stained glass window looked more like a reject from the court of the Red Queen in Wonderland. At that time though the effect was mesmerizing in a way since it had never been done before. The mere thought of it was like bringing a cartoon to life in some weird, very trippy way. The whole idea was that the priest had been shot by a poisoned thorn and was hallucinating, meaning that the CGI was used for some sort of daydreaming sequence. But even if that was the case what the eyes see is usually what the mind believes and it was enough for the priest.
John Lasseter, the man who was responsible for the CGI character, was working for Lucasfilm at the time and was tasked with bringing the picture of the knight to 'life' for this sequence. I won't go into all the technical aspects of this since I don't understand a lot of it, but the point is that Lasseter didn't have the same programs to work with at are available now and had to do a lot of stuff on his own and almost create a few techniques in order to bring the character to the screen. This was ingenuity and innovation at its best for the time period and to be honest it came out wonderfully. There's something inherently creepy about visions that are bare representations of human beings. They might look human in some ways but there is a strangeness about them that doesn't below to anything of the human race.
That's a big part of what made this CGI so great and even allows it to trump some of the CGI of today. It was meant to be a vision, a nightmare of sorts, and it managed to do its job just fine since even knowing it was a movie didn't help some of us when we watched this film. It was just flat out creepy no matter which way you watched it, eyes closed with your hands over them or eyes wide open and hoping it would end soon. That strangeness of the stained glass knight was just too much, like a walking ghost that was composed of glass rather than smoke and bed sheets.
The film isn't much to look at any longer unless you want to experience a bit of nostalgia, for which it's a good fit. But the stained glass knight is still a creepy sight when you think about it. Most stained glass window scenes are meant to be uplifting and spiritual, but if you take a look at some of those from way back when, in the times when religion was a little more hardcore in its teachings, you might find a few that would make your eyes widen.