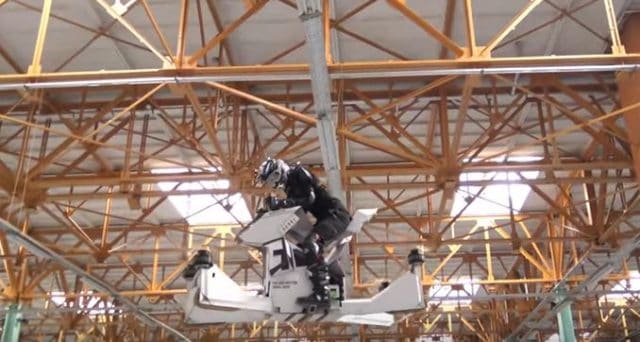 The world of lasers, ray guns, flying ships, light sabers and all that fun stuff we always dreamed of from Star Wars is not only not far off, a lot of is already here and in development. We know that flying cars are in development. We know that driverless cars already exist and are being perfected so that we never have to manually drive again. Remember when Michael Jackson flew out of the stadium in a jetpack? That's nothing compared to what we have going on right now. May I present to you the first fully-manned hoverbike. What's a hoverbike?
Flying with a Scorpion-3 hoverbike is as simple as riding a regular bike. This single-seat quadcopter was designed to resemble a compact dirt bike and runs on electricity. It can reach 30 miles per hour and ascend to 33 feet. The developers still need to work on some safety issues, but their claim that "the future is closer than it seems" looks optimistic.
I'll say. When you watch this video it's almost surreal. To know that this is an actual machine and not something out of a movie is beyond exciting. At what point are these going to replace real bikes? This is crazy.