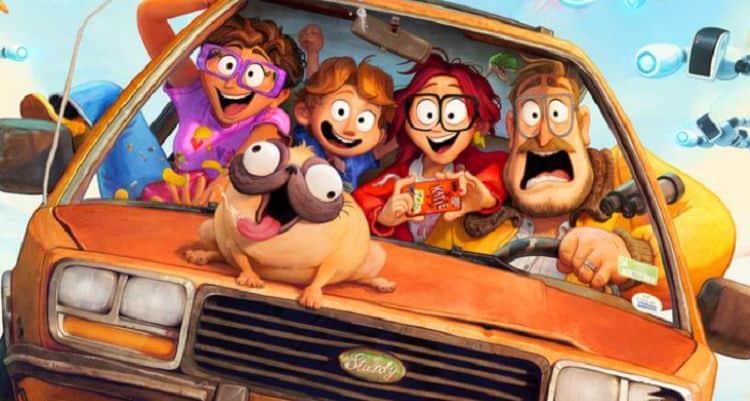 Oh, that's great. Now I'll have a nightmare about a giant Furby that wants to 'harvest all humans'. Oh well, it's no weirder than anything else a person could dream up, right? The Mitchells vs. the Machines is already looking like it will be a fun laugh riot that will also bring to mind what every father is worried about going through with his kids, watching them grow up and get to the point where they no longer need them for much of anything, apart from emotional support every now and then. But when the robot apocalypse, yeah, snicker now, comes to town and the robots start capturing every human to put them into what looks like a giant, toxic-green beehive, the Mitchells are the last family standing at one point against a legion of machines, meaning anything with a microchip in it is going to be out to get them and, well, subjugate or berate or somehow remind them that machines are more than items that need to be swiped, poked, pinched, widened, or whatever we tend to do with our devices. It's going to be interesting to see how low-tech will be able to take on and possibly take out the robots and their computerized overlord that appears capable of appearing anywhere because, well, duh, it's a program.
Like it or not, plenty of people are worried about this since the movies and the many stories of AI taking over are bound to make some folks a little paranoid given that a lot of our lives are dependent on the machines that have been created and are consumed on a daily basis by our phones, our laptops, and various other items that people are almost completely dependent on at times. There are moments when it's necessary to just sit still with a paperback in one hand and a full view of the outdoors and remember what it was like before technology started moving this quickly and our lives were consumed by the images we wanted more of and the data that we can't appear to get enough of in our modern-day world. Even looking out the window and noticing the people going by is necessary at times since while it might be mundane it's something other than the screen that people apparently can't take their eyes off of that often. The dinner scene in the trailer is absolutely painful to watch simply because it's far too true to life given the idea that people do carry their devices everywhere with them and might even plug their own brains into them if they had the chance while sleeping. Yeah, that's kind of creepy, too much like the Matrix really.
But the obvious message here is that people do spend way too much time on their devices and tend to ignore the world around them, or so it's believed. A lot of us do this pretty regularly and take the time to come up with excuses to make ourselves feel better about it, such as needing our devices for work, which is valid but is still used excessively at times. This movie already looks like something that will be a good lesson for a lot of people and an adventure at the same time that might allow families to realize what's really important and how trusting each other can be a lot easier than we think since if anyone's dug into the meaning of the trailer, the daughter is making it pretty clear that she and her father don't always see eye to eye, and this is one reason why she's frustrated and he's clueless even though he wants to connect so badly. There are a lot of fathers out there are like this and might actually appreciate this movie if they took the time to sit down and watch it, since being a father isn't something that comes with a manual, any more than being a mother might. Being a parent in general, especially to a teenager, is more akin to an endurance trial that doesn't end until both sides have learned something or one side has left the house, presumably the teenager.
So it might take a robot apocalypse for the Mitchells to come together and overcome their communication issues. Sometimes drastic times require drastic measures, which means that's the perfect time to start working on the problem and finding a solution, preferably before the last of the humans are rounded up and the master plan is finally revealed. All in all, this does look like a very fun movie that might be good for the whole family and could create a lot of laughs and even a great deal of understanding on some level for those parents that really need it. Parenting isn't easy by any means, but it's necessary without a doubt.