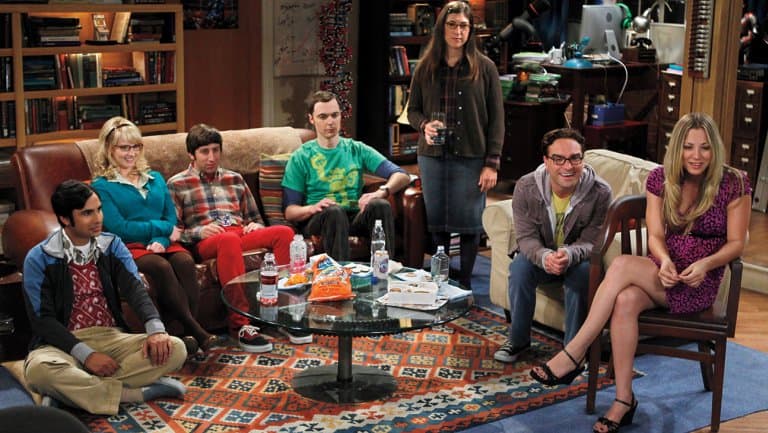 Co-created by Two and a Half Men producer Chuck Lorre and Bill Prady, The Big Bang Theory made its television debut in September of 2007 and had a 12-season run that ended in 2019. Set in Pasadena, California, it explored the lives of a majorly geeky and socially awkward cast, with the inclusion of an aspiring actress and a comic bookstore owner. During its reign, the show earned itself a total of 46 Emmy nominations, eventually bagging seven of those awards. It also inspired the birth of a prequel dubbed Young Sheldon, based on Jim Parsons' character, Sheldon Cooper. Since The Big Bang Theory came to a halt, here is what the main cast members have been up to:
1. Jim Parsons (Sheldon Cooper)
Famed for his high intelligence, a specific way of living, and precise memory, Parsons' role as Sheldon Cooper earned him a number of awards, including four Emmys. In 2018, Forbes placed him as the world's highest-paid actor, estimating his earnings to be $26.5 million, followed closely by his The Big Bang Theory co-star, Johnny Galecki. In 2020, Parsons made an appearance in the film The Boys in the Band, where he portrayed the role of Michael. He continues to voice an adult Sheldon Cooper in Young Sheldon, a spin-off of the show in which he is also an executive producer. Since the show came to an end, he has made appearances in a number of television shows, including Staged, Hollywood, and The Simpsons.
2. Johnny Galecki (Leonard Hofstadter)
For his role as the video game fanatic Leonard Hofstadter with an extremely high IQ, Johnny Galecki was once one of the world's highest-paid actors, commanding over $1 million in salary per episode and back-end cuts. As one of the three main cast members of the show, Galecki earned himself an Emmy nomination. Galecki has been missing from both the television and movie scene since 2019. His last appearance in a movie was in A Dog's Journey, where he portrayed the role of Henry Montgomery. The Big Bang Theory marked his final appearance in the television scene, alongside The Conners, in which he played the role of David Healy.
3. Kaley Cuoco (Penny)
For her role as Penny, the up-and-coming actress who moved across the hall from Sheldon and Leonard and eventually gave up her dreams to become a pharmaceutical representative, Kaley Cuoco earned herself a handful of awards. Since 2020, Cuoco has been the star of the HBO Max show, The Flight Attendant. She also serves as an executive producer on the show. In the film scene, Cuoco is currently filming The Man from Toronto, in which she plays the role of Maggie. The film is set to be released in 2022. Cuoco is also set to make an appearance in Meet Cute, whose release date is yet to be announced.
4. Simon Helberg (Howard Wolowitz)
For his role as Howard Wolowitz, the MIT-educated aerospace engineer who lived with his mother, Simon Helberg earned himself a Critic's Choice Award for Best Supporting actor. This year, the actor made an appearance in Annette, in which he portrayed the role of The Accompanist. Helberg is set to make an appearance in the film As Sick As They Made Us, in which he will play the role of Nathan. The movie's release date is yet to be announced. On television, he has voiced Squirrel on Dug Days, his character Howard Wolowitz on Young Sheldon, and is set to voice a yet to be announced character on Green Eggs And Ham.
5. Kunal Nayyar (Rajesh 'Raj' Koothrappali)
Twice in his career, Nayyar was the third highest-paid actor on television, according to Forbes. Following the end of his role as Raj on The Big Bang Theory, a role that gave him the notoriety of not being able to talk to women unless he was under the influence, Nayyar made an appearance in a number of movies, including Think Like a Dog, in which he portrayed the role of Mr. Mills. He also voiced Guy Diamond in Trolls World Tour. Nayyar has an unnamed role in Spaceman, which is currently in its post-production stage. On the small screen, Nayyar portrayed the role of Sandeep Singh in an episode of Criminal: UK. He will also play a role in Suspicion, an upcoming television series.
6. Melissa Rauch (Bernadette Wolowitz)
As Bernadette, Rauch was Penny's co-worker who at first did not have the slightest fondness for Howard. Later, they would find their way into each other's hearts and eventually get married. Her role on the show landed Rauch a Critic's Choice Award for Best Supporting Actress. Following the final season, Rauch got himself a voice role in Cats & Dogs 3: Paw Unite!, in which she voiced Gwen the Cat. On television, she has voiced Marie Antoinette on Animaniacs, and herself on Jeopardy. Rauch is set to make an appearance in Night Court, in which she will portray the role of Judge Abby Stone.
7. Mayim Bialik ( Amy Farrah Fowler)
As Amy, Bialik was Sheldon's love interest, with whom he met on an online dating platform and eventually got married. Though she considered herself and Penny as friends, Penny did not really entertain the same idea. For her role, Bialik received an Emmy nomination for Best Supporting Actress, and also landed a Critic's Choice Award for the same. Bialik is set to be the director of As Sick As They Made Us, whose release date is yet to be announced. She plays the role of Kat on Call Me Kat and has made appearances on a number of shows.  This year, it was announced that she would be the host of primetime Jeopardy.
8. Kevin Sussman (Stuart Bloom)
As Stuart Bloom, Kevin Sussman was the comic store owner with underwhelming confidence, who eventually found a home with the Holowitzs until he got his own. The actor, also famed for his appearance on Ugly Betty, has been quite silent in the movie scene. His last known appearance in a film was in 2nd Serve back in 2012. On television, he's also taken a step back and hasn't appeared in any recent productions. Sussman is set to appear on The Dropout, in which he will portray the role of Mark Roessler.