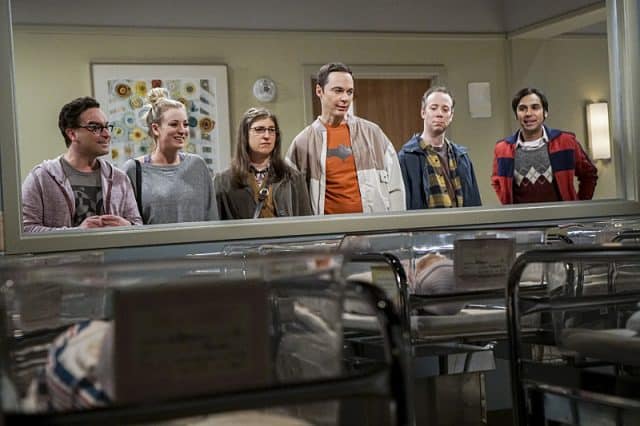 The first characters to have a baby on The Big Bang Theory have crossed that milestone. Howard and Bernadette are parents. Raj (spoiler!) is a godfather, and the rarely-but-still-sometimes-self-aware Big Bang Theory spends some time reflecting on how far all of its characters have come. They're right, and the show has (almost) evolved to meet them there.
This week on The Big Bang Theory: Sheldon and Amy are planning to celebrate Amy's birthday the same way that they did last year (bow chicka bow wow), but they are interrupted by Bernadette's labor. While everyone is stressed before the baby arrives, Raj accidentally lets the sex of the baby slip. Upon the arrival of baby Halley, the gang reflects on how much their lives have changed over the last ten years.
This episode was a mixed bag in every sense of the word. Parts of it were monumentally frustrating, because an episode focused on how much the characters have changed spent a little too much time showing how much Howard, a grown man and now father, has become dependent on Stuart and Raj during his wife's prenatal months. We've always known that Howard and Raj were co-dependent, and it ended sweetly enough (Raj the godfather was pretty adorable), but getting there was a bit like pulling teeth. It doesn't quite make sense to me that Stuart and Raj would even be interested in helping with the baby that much. I mean, Stuart wants to continue living at the Wolowitz home, but I'm not feeling Raj's extraordinary love for babies as anything else but creepy.
I couldn't quite escape this tone and mindset during the episode, but everything else worked pretty well. Sheldon's willingness to have coitus with Amy returned for her birthday, and them getting interrupted by the baby more than once didn't feel tired, but it fit well with the episode. The best part may have been Sheldon's interest in the Harry Potter costume, then his immediate outrage upon realizing that Amy went to the Wizarding World of Harry Potter without him.
A few other thoughts:
A really, REALLY beautiful moment between Howard and Bernadette, reflecting on how great a grandmother Mrs. Wolowitz would've been.
"Those are things that we think but we don't say" – Sheldon may have had the most ironic comment of the night
Reflecting on how all of the characters have grown and changed was a good reminder that, however slow, these characters have grown and changed a lot over ten years. As a long-time fan of the show, I'm hopeful that the first baby of the group will continue to foster that growth. When the growth is apparent is when The Big Bang Theory is at its absolute best, and I'm optimistic about the opportunity for that to continue.
What did you guys think? Did you enjoy the episode? Let us know in the comments!
The Big Bang Theory airs Thursdays at 8/7c on CBS
Tell us what's wrong with this post? How could we improve it? :)
Let us improve this post!