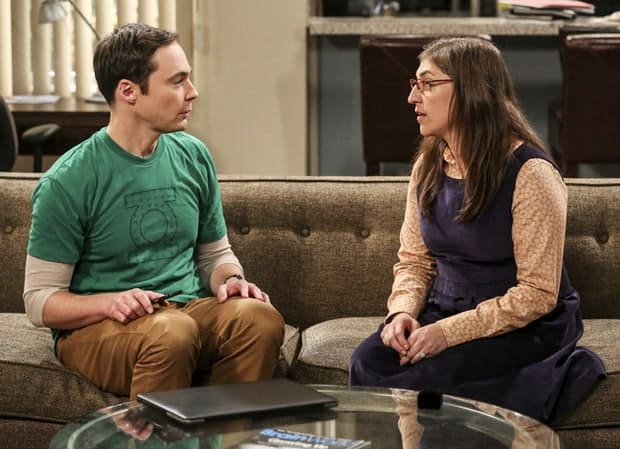 Not one person would ever argue that The Big Bang Theory season 11 hasn't been eagerly awaited by its fans during its hiatus. The truth is, everyone wondered if Sheldon would finally ask Amy to marry him or if fans were just being baited so they would tune in for the season premiere.
Without a doubt, the season premiere did not disappoint those individuals who were hoping that the two would finally decide to become husband and wife. Sheldon did indeed ask Amy to marry him, after much deliberation and plenty of fact-checking. Even after he asked her, it took awhile for her to say yes. This entire scene was something that encompassed a great deal of the show, as most people expected it would. However, there was so much action involving the other characters that one might start to wonder if The Big Bang Theory is going to remain a comedy or become a 30-minute long soap opera.
On top of the whole subject of marriage, Howard and Bernadette learned that shortly after having their first child, they are going to be parents for the second time. They are less than thrilled to learn this, so much so that Bernadette ends up trying to get Amy convinced that she too should become pregnant, just so Bernadette won't have to go through her second pregnancy alone. This is where the show starts to seem more like a soap opera than anything else. There is so much drama going on with all of the characters that it ceases to be funny in many areas.
Nevertheless, diehard fans were probably thrilled with the way it was written. After all, when a show has been on the air for 11 seasons, it can sometimes become difficult to figure out what else to do with it unless you are willing to go out on a limb and try new things. Perhaps that is what the showrunners over there are doing. Whatever the case may be, many fans of the show were thrilled to see guest star Stephen Hawking, someone who has guest-starred on the show in the past. In that particular respect, it only seems fitting to have Hawking as a guest star on a show that centers around virtually anything and everything of a scientific nature, even if it is a sitcom.
At the end of the day, it might be difficult for the casual fan to stay tuned into the show, especially if the rest of the season is going to center around the same subject matter as the premiere. Without a doubt, other fans are loving every minute of it and will eagerly tune in for each future episode. It really comes down to each individual's perspective and whether or not they are a true fan of the show to begin with or if they just watch it every once in awhile when they can't find anything else to tune into.
There is the potential for some interesting storylines in the coming season. Viewers will have to wait and see which direction showrunners decide to go with it all, but they have definitely set themselves up to have plenty of material throughout the rest of the eleventh season.
Tell us what's wrong with this post? How could we improve it? :)
Let us improve this post!