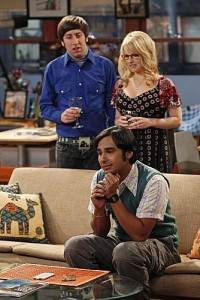 This week's episode of The Big Bang Theory dove right into the return of Penny and Leonard as a real couple. Following the events of last week's 100th episode dream what-if scenario, the two still decided to give it another go for the Beta test version of their relationship. This means working out the bugs on both ends. Meanwhile, Raj falls in love with the Siri app on his new phone. Yeah, that's basically all he gets for the rare episode that Raj has a plotline of his own.
What was fun about this episode was the way it held a glimpse into the dating lives of all four of the boys. We got to see Leonard and Penny giving their relationship another go, Sheldon and Amy's rather unorthodox but to use a phrase many find deplorable, '˜adorkable'shared activities. Meanwhile Raj struggled as he consistently remains the most socially stuck of the group. Honestly, there's something sort of wrong here when everyone, even Howard formerly the most juvenile and romantically challenged of the group, have steady relationships and Raj is reduced to falling for the sexy sounding guide voice on his iPhone. Stories like this one definitely show that there are still ways that The Big Bang Theory should grow in its coming seasons. Though to his credit, Kunal Nayyar is always game to commit to whatever wacky bit of dialog or scenario that Raj is given. Bernadette said it best when she mused out loud if his crush on Siri was, '˜cute or creepy?'
She's right to question it as some characters do unorthodox much better than others. How much do you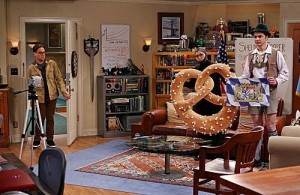 want Fun with Flags with Dr. Sheldon T. Cooper (ft. Amy Farrah Fowler and introducing Ferdinand T. Flag) to be an actual thing? There was this moment where Penny complained to Leonard that when you ask a girl over to hang out that you should have a plan. What makes Amy and Sheldon such a great couple is you're never very sure if when he asked her to come over that night he included that she'd be wearing a giant pretzel costume for the German edition of Fun with Flags. These two seem like they have a bit of a better chance than Leonard and Penny because of the fact that they're both so comfortable with their quirks. When Amy brought in the flag with a face character for their show there was an instant where it seemed as if Sheldon might be displeased at Amy as though she were treating their show as a joke. But when it turns out that he thinks the idea is a brilliant one, it shows that these two mesh perfectly. Penny and Leonard couldn't even go the full twenty-two minutes without handing each other a long list of things they couldn't stand about the other person which could be as trivial as the height of the other person's shoes.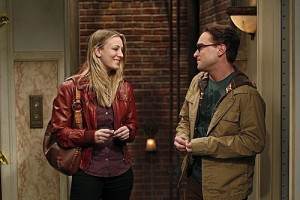 At one point during an attempt at a planned romantic date Leonard takes Penny to the gun range and shoots himself in the foot. Could there really be a more accurate metaphor for what he was doing by even coming up with the bug report idea? There's no denying the sweet and fun chemistry of Johnny Galecki and Kaley Cuoco, but I've yet to be shown how their characters could last for the long haul. Unless everything is brushed away at the end of the episode as it was last night–in that case they could have pure sitcom love for years to come.
One last thing, this episode featured the return of Sheldon Cooper's former nemesis–no not Wil Wheaton, but Barry Kripke. When you stop and think that Siri is voice recognition based software it only makes sense to have Kripke pop up for a small bit about how his Siri app can't understand him. I don't know about you, but I was pleased to see him have a few moments on the show after a lengthy hiatus. When he walked into the room the studio audience, that they film live in front of, audibly gasped and groaned at the sight of the character. The Big Bang Theory gets their fair share of flak from some TV fans for being made with the live-audience format, but when you can get as instant of a reaction from the fans as the one they made toward Kripke it shows that this format works for TBBT. It gives some energy to the proceedings that it might not have had and these performers really respond to what they're given so they can make each episode lively and purely entertaining. Clearly, the viewers have responded as this show keeps stomping its American Idol competition into the dirt. The formula is working and, with time, one can hope that the few remaining bugs in the system keep getting worked out.