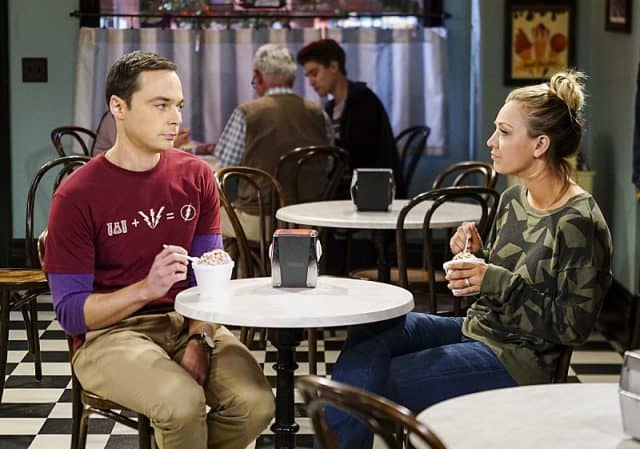 On its final (for this year, anyway) Monday performance, The Big Bang Theory explored some real, human moments through its crazy characters. I mean, who better to explore the hardships of cohabitation with the opposite sex than Sheldon Cooper? As I said last year with the "Shamy" break-up, Big Bang Theory is best when it breaks up the status quo and does something new, and Amy and Sheldon's living together certainly qualifies.
This week on The Big Bang Theory: Sheldon and Amy struggle through the hardships of couples who are first moving in together, so Leonard and Penny help them through the situation with advice and (in Sheldon's case) ice cream. Howard and Bernadette are supposed to go on their last vacation with just the two of them, but hit a snag when Bernadette gets sick. Raj and Stuart borrow the Wolowitz family hot tub.
This was a really funny episode. It was centered around those real feelings that surface when couples really move in together for the first time. Of course, when it's Sheldon, it's ten times as awkward, which usually makes it funny. Sheldon's child-like nature makes him an easy character to use to teach these sorts of lessons. The best laughs came from Leonard, though, in sharing weird little roommate quirks with Amy.
Then there was the hot tub incident. That was another entire story that was really well-crafted and original, yet told a deeper story. Stuart and Raj are both lonely, and while it was funny (and hilarious) to see Bernadette and Howard's commentary on their hot tub time, it was actually kind of sad. It isn't easy to watch all of your friends get married, have babies, and move on with their lives from the sidelines. I feel quite bad for them, and simultaneously found their story hilarious. This is what I love about comedies like this. They can get real with you and still be funny.
As always, here are some of my favorite quotes/moments from the episode:
"I think the most helpful thing we can tell you is…no backsies!"- Leonard
"I really thrive anywhere the women and the temperature are over 90"- Stuart
"The only thing I hate more than you right now is that book!"- Bernadette
"Next vomit is going to be in your lap"- Bernadette
"Can you please stop making money come out of me for two minutes?"- Bernadette was on a roll this evening
"What are you going to do? Email 911?"- Howard
"Here's the thing you need to understand about Sheldon: He's the worst"- Leonard
Everything Stuart and Raj was wonderful, but especially Stuart popping up from under the water in the hot tub.
"I told you raccoons don't say uh-oh."- Bernadette. I'm convinced that Bernadette could say anything angrily and it would be funny
"I'd say you're wise beyond your years, but you're getting up there."- Sheldon
There were a lot of great soundbites from this episode, as it was particularly laugh-inducing. Again, I think Bernadette saying anything angrily is hilarious, and it's always nice to see some of the one-liners tossed away from Sheldon. All in all, this was a great episode for exploring realistic, human truths, and still serving up plenty of laughs.
What did you guys think? Did you enjoy the episode? Let us know!!
The Big Bang Theory moves to Thursdays next week, October 27th at 8/7c on CBS
The Big Bang Theory Season 10 Episode 5 Review: "The Hot Tub Contamination"
Summary
Sheldon and Amy unsurprisingly run into problems as they first live together on this week's hilarious episode of The Big Bang Theory