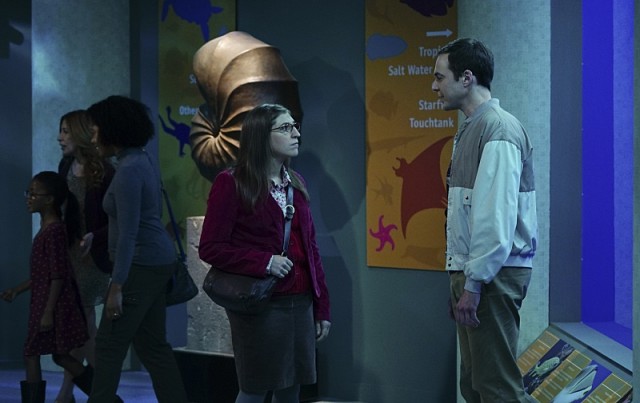 Exploring the break-up of Sheldon and Amy has been the strongest story that The Big Bang Theory has told in several seasons. The expansion of the depth of two previous caricatures in the 9th season has been phenomenal. This week, we got to see a "Shamy" reunion, and while it played out pretty much like I expected it to, that didn't make it any less compelling.
This week on The Big Bang Theory: Sheldon and Amy reunite to attend a Thanksgiving buffet at an aquarium, because Sheldon cannot find anyone else to go with him. Howard, Raj, Bernadette and Emily volunteer at a soup kitchen on Thanksgiving day. Leonard and Penny cook dinner for everyone, and they discover that Penny doesn't know Leonard's birthday, and Leonard read Penny's journal.
Obviously, the central plot to the 9th season so far has been the "Shamy" break-up. Tonight, that journey for Amy and Sheldon came full circle, as they attended an event as friends. As they interacted seamlessly, I realized: Sheldon is over her, and that's going to make her want him back. I was correct, but I still found it extremely compelling to watch. Sheldon and Amy have spent so long as a one-dimensional couple, that the depth was both refreshing and interesting. Their interactions on their aquarium trip breathed new life into their characters and the dynamic between the two of them. I was still a little surprised and sad to see Sheldon want to stay friends, though we all know it won't last. They're a perfect match. He's her lobster…or maybe her puffer fish?
I didn't particularly care for the soup kitchen story, if for no other reason than it's tired. The first thing interesting to happen through that whole story was when Elon Musk came in. Perhaps it was just a fun cameo, but I think there's a chance Howard may be the first of the foursome to leave Cal Tech. At least, I smelled a set up. Other than that the whole soup kitchen story felt a little dry.
One of the big things I noticed at the end was how much Leonard has grown as a character. Even since the beginning of the season, married Leonard seems to have improved his confidence ten-fold. I very much enjoyed all of the crap he gave Penny about not knowing his birthday. I grew worried for just a brief minute when he knew something because he read her journal (that wreaks of early seasons creepy Leonard), but Johnny Galecki's masterful portrayal was able to turn that into another moment for Leonard's confidence to shine. It was really fun to watch.
As always, here are some of my favorite quotes/moments from the episode:
"Hey Siri, show me pictures of naked grandmas!"- Howard
Loved Sheldon's pilgrim fish facts. Hilarious.
"How many grown ups have Mr. Spock oven mitts?"- Leonard
"Look at us. Our LAST Thanksgiving as husband and wife"- Penny
"Do you whittle?"- Sheldon, trying to make polite conversation with his ex
"I know you've been seeing other men. Have you had coitus with any of them?" – Sheldon, NOT trying to make polite conversation with his ex
"Nice try, NSYNC forever"- Leonard knows Penny so well, she can't trip him up.
"Just because you have that accent doesn't mean that what you say isn't stupid"- Howard
"It wouldn't be a holiday without you getting mad at a baby"- Amy
Overall, "The Platonic Permutation" was a strong character episode with some really funny stuff. It didn't all land, but I've already almost forgotten about the parts I didn't like. It was a strong installment before the fall finale in a couple of weeks.
What did you guys think? Did you enjoy this episode? Let us know!!
The Big Bang Theory airs Thursdays at 8/7c on CBS.
[Photo credit: Monty Brinton/CBS]