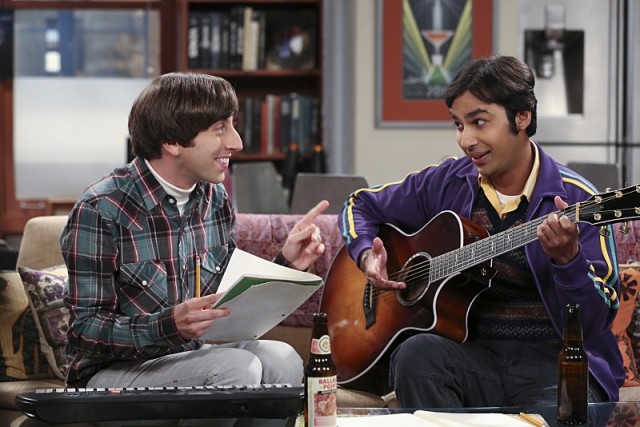 Does anyone else have "Hammer Vs. Whip" stuck in their head? I can't stop singing it…and I'm perfectly aware of how weird that is. The Big Bang Theory has lately been hitting all the right notes (pun intended, commence groaning) both emotionally and comedically, and even though the show being in its ninth season could give it a senior discount, it's still in excellent shape.
This week on The Big Bang Theory: Leonard finally officially moves out. Sheldon's abandonment issues trigger a reversion to 2003 Sheldon, before he met Leonard. Sheldon seeks Bernadette's advice. Stuart recruits Howard and Raj to start a band and play live music in the comic book store.
I've been really impressed with Big Bang Theory lately, as I'm sure you could tell if you've been reading my reviews. Of course, I've also come to appreciate sitcoms that can still make me laugh while consistently raising the emotional stakes. Everything Sheldon has been going through has put a driving force behind this show. It's still funny, and all the characters are as quirky as ever, but the emotional stakes feel higher than they've ever been. There's so much more to a sitcom than jokes, which Big Bang recognizes and I certainly appreciate.
"The 2003 Approximation" began to tackle an event that everyone's been expecting since Leonard and Penny first got together: Sheldon and Leonard's break-up. We all knew the day would come, and we all knew how (not very) well Sheldon would handle it. What I didn't expect was for it to come immediately on the heels of his break-up with Amy. When it did, Big Bang Theory created this world that's slowly crumbling around Sheldon, and he's not sure how to handle it. Now, for our readers, I would ask you if Leonard and Penny are enabling Sheldon's neuroses by caving to him? Or do they simply recognize his extreme fragility at this particular time? Personally, I lean to the latter, but I'm ultimately just impressed that Big Bang can present such conundrums.
Jim Parsons has really brought it this season. I mean, he's won a lot of Emmys and with good reason. Sheldon cannot be an easy character to play. I realize that Parsons was shut out of the Emmys this year, but even watching these first few episodes I expect to see him right back in the race next year. Even though Sheldon is (pretty much) a rotten overgrown child, Parsons portrays him with a nuance and flair that few actors possess. This is a great cast, but Parsons leads it very well.
As always, here are some of my favorite quotes/moments from the episode:
"You know what they don't sell at the container store? Something large enough to contain my disappointment. Although if anyone did it would be them!"- Sheldon
"Chris Pratt's all the rage right now." – Sheldon
"It's actually Archie versus Predator."- Raj, reading at the comic book store
Hammer Vs. Whip, The Untold Story of Thor Vs. Indiana Jones…I'd pay 99 cents for that.
"Please exit the premises before I call the police on my stylish new flip phone." – 2003 Sheldon
"I just thought you might have a pasty weirdo shaped hole in your life."- Berndatte trying to get Amy to take Stuart out of their house.
Raj and Howard give me some serious bromance goals. That hug at the end? Beautiful.
Big Bang wouldn't be in its ninth season if it weren't capable of providing solid episode after solid episode, but the series continued to prove that it belongs there with each passing week. As the show focused on Sheldon this week, it delivered another solid, funny half hour that, and at this point, I don't ever expect this streak to end.
What did you guys think? Did you enjoy this episode? Let us know in the comments!
[Photo credit: Darren Michaels/Warner Bros. Entertainment Inc.]