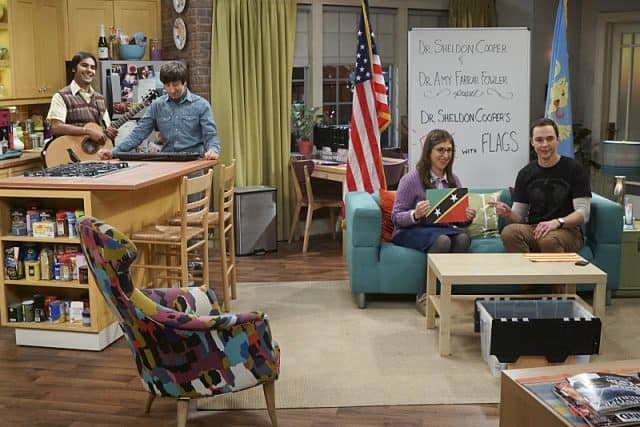 I'm not sure how The Big Bang Theory does it. After being on the air for 10 years, they're still able to keep stories fresh and entertaining. Every week, I expect an episode to fall flat, and it never happens. Even the bad ones have something redemptive within them. Since Sheldon's growth has been so slow and deliberate, they could keep going for a long time and still tell rich, funny, compelling stories.
This week on The Big Bang Theory: Amy's apartment has been ready for a couple of weeks, but she is lying to Sheldon in order to continue their living arrangement. This fact stumbles out of Bernadette, which stumbles out of Leonard, and then several other secrets break loose among the gang. Sheldon and Amy also shoot a new episode of "Fun with Flags", with Howard and Raj as their house band.
Not totally unheard of, but unusual for Big Bang is all of the cast being involved in a single story. Of course, it was sans-Stuart, but that's close enough. Usually, they are fractured in to two or three stories (see: last week) and that just doesn't jive as well. Howard and Raj are funny, but better when they feed off Leonard and Sheldon, and vice versa.
Big Bang Theory's best episodes, though, are momentous for Sheldon. The "Shamy" break-up episodes, Sheldon and Amy's first coital experience, and stories like that are what really make the show compelling and interesting for people who've gotten used to the biting Wolowitz sarcasm or the goofy Sheldon neuroses. There is still so much humanity within these episodes that it's easy to get wrapped up in. This show has been going on so long, and they're still finding new and interesting ways to tell compelling stories.
Sheldon, this week, had a crisis about leaving his old apartment and room. But in the visual manifestation of the crisis (standing between the two apartments), Sheldon meets Amy and they have a strong intellectual discussion. In that moment, Sheldon realizes that Amy is his equal in all walks. It was actually quite beautiful how he got wrapped up in a conversation (way over MY head) and absent-mindedly followed Amy into "their" apartment.
Few other thoughts:
I love me some "Fun with Flags", but it's 1000x better with a house band.
"And don't even ask about the consistency of my bowel movements"
Leonard, Sheldon, and Howard communicating in Klingon, which was met with Ubbi Dubbi from the girls was wonderful.
How single is Raj? He's "eating cake on the toilet" single. I've never been that single.
The move across the hall for Sheldon was eerily reminiscent of the Chandler/Monica switch off in Friends. But it worked. Great sitcoms last because the characters have room to grow. The other characters may be pretty close to their ceilings by now, but until Sheldon is married, there's plenty of story to tell.
What did you guys think? Did you enjoy the episode? Let us know in the comments!
The Big Bang Theory airs Thursdays at 8/7c on CBS
The Big Bang Theory Season 10 Episode 7 Review: "The Veracity Elasticity"
Summary
Sheldon and Amy's cohabitation experiment takes a turn as secrets fly in the best episode of The Big Bang Theory so far this season.