In its first episode back after the winter hiatus, The Big Bang Theory dove right into focusing on the current two lead couples of the show. Sheldon and Amy went on their first date night and things didn't go very well as Sheldon had to learn about the give and take involved in being a real boyfriend. While Howard and Bernadette came to realize that one of them has a major problem with something considered to be a standard step in building a life together: having children.
The shiny trinket maneuver
Following a bit of a disastrous date night, Sheldon enlisted the help of Penny and Leonard to try to figure out a way to make it up to Amy. He apparently hadn't learned the well-understood rule that one is supposed to at least try to take an interest in their significant other's own interests. So after a night of aimless wandering and digital alcohol guzzling during a game of Red Dead Redemption, Leonard suggested that Sheldon get Amy some sort of meaningless gift in order to avoid the real emotions at the center of the problem. No truer words have ever been spoken about that particular practice and, sure enough, it works with Amy. Loved the delivery from Mayim Bialik when she started tearing into Sheldon for being a shallow jerk until she could reveal that her gift was a shiny tiara–of course as most girls dreamed at one point of being a princess she completely freaked out and instantly forgave Sheldon.
It was nice to see Sheldon and Amy making a real go of it as well as run into the types of problems that couples without signed and notarized relationship agreements do. Their first major fight while in a relationship even led to some moments between the two that were very emotionally pure. When Amy received the tiara she not only flipped out but she also ran right to Sheldon and gave him a kiss and one death grip of a hug. That might not seem like much to most people but for these two it was like achieving the silver medal in the intimacy Olympics.
Bernadette vs. maternal instinct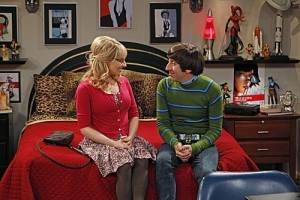 As for the engaged couple of the series, Howard and Bernadette come to find that having kids may not be something that winds up happening, much to Howard's chagrin. Howard volunteered to do a magic set at his cousin's birthday and during the act it became very clear that when Bernadette said she didn't really like kids, well she meant it. It turns out that she basically had to raise her own younger siblings and it was through that experience that she decided that having her own kids was so not for her. Of course, Howard is disappointed by this revelation and at one point even considered calling off the engagement entirely. Ultimately they come to a compromise of sorts as Bernadette declares she be the breadwinner and Howard be the stay-at-home dad if they wind up having children. Certainly made him change his mind about it a little if he ended up being the one having to change diapers and endure fussy screaming.
When so many female characters on television are unquestionably baby-crazy right away it was nice to see that The Big Bang Theory had a character who wasn't and with good reason. Of course there were a few efforts made to sort of nudge Bernadette into feeling guilty on her position so she would change her mind, but the solution to the storyline was perfect. It was easy for Howard and the guys to sit around and wonder why she wouldn't want children when guys don't make as many sacrifices for a baby as women naturally do. Ultimately Bernadette would find a way to win the argument without really having to keep saying no–turning things around on Howard was the best plan she could have come up with to get him to drop the issue for now. Howard's mother however, that will likely be a different story as she definitely wants little Wolowitz grand-kids running around at some point.
Fav. Quotes
"Oh I see why you're confused. No, her news sounded important but her achievement was in the field of Biology. That's all about yucky squishy things."–Sheldon to Penny about his lack of support toward Amy's big news.
"You skip over any attempt to repair your emotional connection and you win back her affection with an empty financial gesture." — Leonard explaining the nature of gift-giving in relationships to Sheldon.
"That's it! No cake for you, anyone else wanna join the no cake club?!"–Bernadette at a magic trick-ruining kid at the birthday party.
"Don't you think it'll be different when the child is ours?" "Right, when it's our kid that's ruined my body, and kept me up all night and I'll have no career and no future or anything to be happy about for the next twenty years? Sure, that'll be completely different!" "Well, yeah…"– Bernadette and Howard's discussion about having kids.
"Hey, just because a man shows caring for another man doesn't mean he's displaying the love that dare not speak its name!"–Raj defending his support for Howard.
"Yeah, you can watch Barney, and pull Cheerios out of their noses, and go on play-dates. And I'll work and have conversations with people my own age and enjoy my life!"–Bernadette's perfect solution to their problem, Howard can be the stay at home parent.