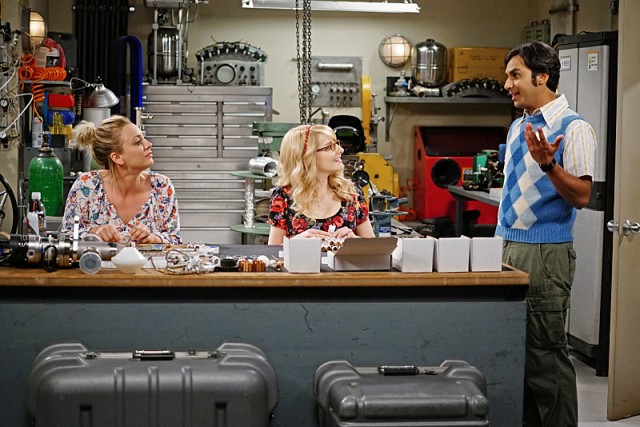 Back from a brief hiatus, I was really worried that The Big Bang Theory was going to present a half-hearted, hollow attempt to keep viewers watching until the end of the season. I was almost right, but as a matter of fact, "The Solder Excursion Diversion" still operated on a level of emotional depth that I didn't expect. But such as been the case for most of Big Bang's 9th season, which has tread into uncharted emotional territory for the show. Largely, it's paying off.
This week on The Big Bang Theory: Howard and Leonard are working on a project, and Penny and Bernadette decide to help them. Shortly into the project, Leonard and Howard leave to get more solder, and are derailed by an offered screening of a new movie. Sheldon's laptop dies, so Amy buys him a new one, but is startled when he won't get rid of his old one. Sheldon then reveals to Amy that all of his life, he's never thrown anything away…and he shows her where it's kept.
I know, it sounds a little hollow. At first, I agreed. I mean, come on. Leonard and Howard lying to their wives about the flat tire so they could see Suicide Squad – wreaks of sitcom trope. Even bragging to Raj while they're lying to the girls was amusing, but hokey. The only part of that story that I REALLY liked, was Leonard and Howard throwing Raj for a loop when they returned with flowers and apologizing for lying. I didn't see that coming at all, and I was expecting the hammer to drop. All the bits with Raj and the closet were pretty amusing, but I don't like seeing him back in that "sad-sack" role. Besides, Stuart is way better at that.
However, what I did find compelling was Sheldon's fortress of shame and his sheer embarrassment about it. He makes himself out to be so sure of himself most of the time, that to watch his vulnerability this season has been excellent, and this part of the episode was no exception. It was realistic, and his interactions with Amy about it were pretty darn funny.
Trope-filled or not, this episode still had quite a few funny moments. Here are some of my favorite quotes/moments from the episode:
"Soup, sandwiches, and emasculation. Just like my mom used to make."- Leonard
"Sometimes he solders at home with his shirt off. It's like a beer commercial."- Bernadette
"Knock it off, or I'll start making W-H sounds for words that just have a W."- Amy, with the best threat ever.
"I need to rub my genitals on their prototype."- Raj
"I have a Ziploc bag filled with all my old Ziploc bags."- Sheldon
"When I come out of the closet, I'm gonna nail those guys!"- Raj. I will never find "unintentional" homo-erotica not funny
"What good is having a girlfriend if you can't unload your psychological sewage on her?"- Sheldon
As you can see, there were still plenty of laughs to be had. While not the strongest episode this season, "The Solder Excursion Diversion" had some really great character moments. There have certainly been worse episodes of this show.
What did you guys think? Did you enjoy the episode? Let us know in the comments!
The Big Bang Theory Season 9 Episode 19 Review: "The Solder Excursion Diversion"
Summary
Sheldon reveals a secret to Amy, while Howard and Leonard leave the girls hanging on this week's The Big Bang Theory.