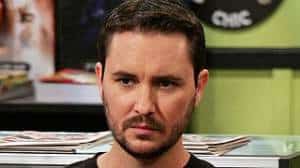 Sheldon and his nemesis, Evil Wil Wheaton, faced off for the second time this season, but "The Wheaton Recurrence" wasn't as funny as "The Creepy Candy Coating Corollary" because it was overshadowed by Leonard's heartbreak. The end of his relationship with Penny seemed inevitable after he told her "I love you" and she replied, "Thank you…Goodnight!"
The next day, Leonard was obviously upset, not wanting to take part in the guys' usual geeky conversation (this one about giant ants from the movie Them). Sheldon left when he thought Leonard might start talking about his feelings, while Raj and Howard attempted to figure out what had happened with Penny. The sad/scary thing was, their questions seemed to come from experience: "Did you pour maple syrup all over your body and ask her if she was in the mood for a short stack?…Did you think it would be funny to put on a pair of her panties and jump around but it wound up just creeping her out?…Did you ask her to start waxing?… Did you start waxing?…While making love did you accidentally spank your own ass and cry out 'Mommy!'? "
They ran into Penny later, and Sheldon reminded her that they had a bowling match against Stuart's team that night. Leonard was awkward around her, but he seemed to ease up that night at the bowling alley. Until he offered her a chili cheese fry and she said, "Yes, I looooove chili cheese fries." So now he knew she had no problem saying the l-word about food, just to him. She stormed off, angry at him for being pushy.
Sheldon had been determined to win the game because Stuart had brought Wil Wheaton to play, and Sheldon has been plotting revenge ever since he lost at the card tournament because of Evil Wil Wheaton's evil trick where he pretended to be sad over the death of grandmother. While bowling, Sheldon used his arsenal of trash talk, including, "Tweet that, Tweety Bird!"
When Penny left, however, they had to forfeit the game. Sheldon could not accept defeat, so he scheduled a rematch. He brought Penny ice cream (which the comic strip Cathy has taught him cheers up women who are distressed), and tried to get her to make up with Leonard so that she would play: "I'm not too proud to admit I cried myself to sleep. And let me tell you, sleep did not come easily with Leonard in the next room singing along to Alanis Morrisette–yet another woman in dire need of ice cream."
Penny went to talk to Leonard in the laundry room. It was a painful scene to watch because it was obvious that he was so scared of losing her, and he had now resorted to acting overly cheery, like everything was perfectly fine. He would settle for being with the woman he loved even if she wasn't sure how she felt about him. The conversation seemed to smooth things over, but at the bowling rematch that night, Evil Wil Wheaton took advantage of her emotions.
He told her he had once said "I love you" to a girl who didn't say it back, and then she strung him along for 2 years. He wished she had just ended things earlier and saved him the brutal pain. Sheldon noticed Penny talking to him and came over: "Did you let Wil Wheaton get in your head? He's evil, he plays evil mind games! Did he tell you his grandmother died? If he does, don't believe it! He's not above playing the dead memaw card." But it was too late–Penny was already feeling guilty and knew she wasn't being fair to Leonard. She started crying and ran off again.
This would have happened whether Wil Wheaton had said anything or not, but the fact that it happened in the middle of their game meant that Sheldon lost again. He had made a bet with Stuart, so at the end of the episode, the guys had to suffer the humiliation of walking into the comic book store dressed in super hero costumes…for women. Howard as Batgirl, Leonard as Supergirl, Raj as Catwoman (seeming pretty happy about the arrangement–"I feel empowered!"), and Sheldon as Wonder Woman.
The fact that Leonard and Penny care about each other is clear, and Season 3 has even shown them overcoming many of their differences to be together. When you really look at them, though, they have always been in two completely separate stages in their lives and their relationship. This show is still a comedy, so for the rest of the season, I expect the breakup will create lots of amusing situations as the guys try to comfort Leonard and Sheldon tries to adjust to life without Penny, who has become an important presence in his routine.