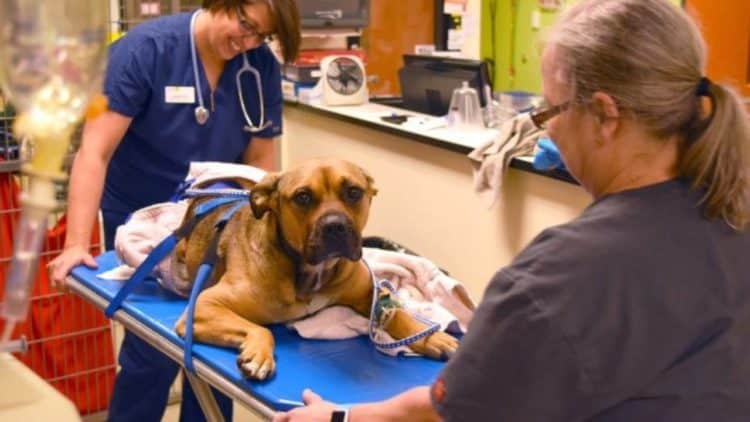 Animals have a wonderful ability to aide humans in being the best versions of themselves. They can help a shy child come out of their shell or give companionship to an elderly person. Animals teach us about the world, provide transportation, guard us and so much more. Animals seem to possess a universal wisdom on a deeper level than people in this crazy world. Or as Doctor Doolittle once said ″But I like animals better than the best people." It is natural then that every child at some point wants to be a veterinarian. They dream of spending their days with the animals and helping them. At some point, the actual reality of what being a veterinarian is creeps up on many. It's a lot of hard work. It's also kind of gross if you are squeamish. You have to do things like express anal glads. Veterinarians also have to see animals when they are sick and suffering, so many animals are not all that happy to see them. It's an important job but definitely not for everyone. Thankfully, a whole herd of veterinarian reality shows exist that can help you live out your childhood fantasy without having to stick your hands anywhere near an animal's bottom. These seven shows can entertain you and affirm you made the right career choice.
The Incredible Dr. Pol
This Nat Geo show follows Dr. Jan Pol and his practice, Pol Veterinary Services. Dr. Pol was born on a dairy farm in the Netherlands. After helping deliver a litter of piglets at age 12 he knew he wanted to become a vet. He studied at the Utrecht University Veterinary program and graduated in 1970. During high school he did a year long study abroad program in Mayville, Michigan. This is how he met Diane who would eventually become his wife. After graduating from veterinary school he moved back to the United States. He worked for awhile with another vet but decided he wanted his own practice. He started Pol Veterinary Services in Weidman, Michigan in 1981 out of his garage with now wife Diane. They now have over 25,000 clients. Dr. Pol is an energetic, straightforward yet compassionate man in his seventies. Dr. Pol runs the clinic with the help of Dr. Brenda, wife Diane, and son Charles.
Dr. K's Exotic Animal E.R.
Let's move on from Michigan and cows and head to Deerfield Beach Florida. Dr. Susan Kelleher got to Florida by escaping the cold temperature of her childhood in Buffalo New York. While volunteering at the Buffalo Zoo, she learned of her love of birds and exotic animals This lead her to attended Alfred University and received a dual degree in Chemistry and Biology. After that she attended veterinary school at the University of Tennessee College of Veterinary Medicine. From there she moved to Florida and worked for a few other vets before starting Broward Avian and Exotic in 1998. She treats everything but dogs and cats, if it will fit through the door, she will treat it. Dr. K along with Dr. Sara Stoneburg, and Dr. Veronica Pardini and their staff treat rabbits, reptiles, birds, ferrets, fish, marsupials, and more.
Dr. T, Lone Star Vet
A spin off of Dr. K's Exotic Animal E.R. is Dr. T, Lone Star Vet. Dr. T follows Dr. Lauren Thielen, who was featured on Dr. K but left to move back home to Texas. Dr. T got her start by studying at Texas A&M College of Veterinary Medicine in 2013. She worked at Broward Avian and Exotic Animal Hospital as both an intern and full Veterinarian. She also did a 2-year avian residency at the Veterinary Center for Birds & Exotics in New York. She is currently a Diplomate of the American Board of Veterinary Practitioners in avian practice, an adjunct professor at University of Miami Avian and Wildlife Laboratory, and practices at Texas Avian and Exotic Hospital in Grapevine, Texas.
Dr. Oakley Yukon Vet
From Texas, we travel to the Yukon. The Yukon is a territory of northwestern Canada with the State of Alaska on its West. Here we find Dr. Oakley and her family. Dr. Michelle Oakley has the challenge of treating animals in remote and rugged landscapes. She is often aided by her husband Shane and daughters Sierra and Mia. Dr. Oakley attended the Atlantic Veterinary College in Prince Edward Island, Canada. She would go on to intern at the Calgary Zoo. Her advice to young veterinary students: "Don't get too focused, keep things general, keep your options open and be open to new things." She is the only all-species vet in her region and this has let her do it all in her career.
Critter Fixers Country Vets
We are heading to Bonaire, Georgia viewers. Critter Fixer Country Vets follows buddy veterinarians Dr. Vernard L. Hodges and Dr. Terrence Ferguson, who own and operate Critter Fixer Veterinary Hospital. The pair met while studying at Tuskegee University School of Veterinary Medicine. Hodges has a background as a Fish Biologist and used to dream of being the next "Jacques Cousteau." Ferguson was always on the vet track completing his undergrad studies at Fort Valley State University in in Veterinary Technology. The pair now pride themselves in "providing compassionate and high quality veterinary care at fair value in a friendly and professional environment where our clients feel like family."
Rocky Mountain Animal Rescue
Humans are not always responsible pet owners. Animals deserve so much better than they sometimes get. Thankfully the animal law enforcement officers and staff of the Humane Society of the Pikes Peak Region work hard to ensure that every animal is rescued and found a loving home. The animals of Colorado Springs, Colorado area are in good hands.
Animal ER
Our final stop is in Houston, Texas. Animal ER follows the vets at Gulf Coast Veterinary Specialists. They see everything type of animal from everyday pets like cats and dogs to exotic animals. The first episode of season one follows Dr. Caleb Hudson as he and his team work on a white bengal tiger. Dr. Hudson studied Veterinary Medicine at the University of Missouri. He is now an an ACVS Founding Fellow in Minimally Invasive Surgery – Small Animal Orthopedics. The whole team at Gulf Coast had a great time filming this show. They loved showing the world their day to day lives. They stated: "The production crew was genuinely interested and emotionally invested in our cases. It was nice to have people with a wholly novel view and a clear respect for our passion and expertise see what goes on with patient care at a busy specialty hospital."
Tell us what's wrong with this post? How could we improve it? :)
Let us improve this post!