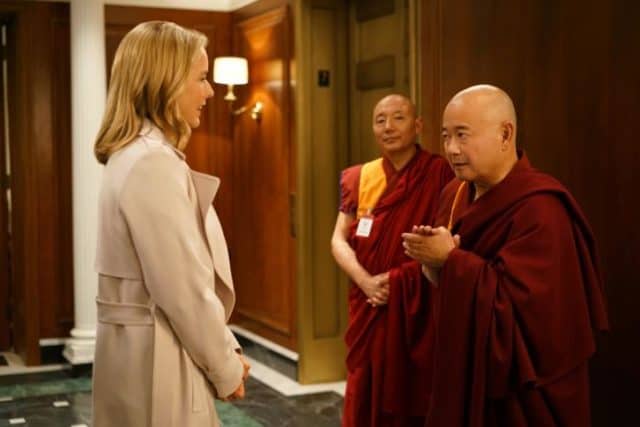 No one gave Al Gore the time of day when he told us about Global Warming. Maybe they will listen to an actress playing the Secretary of State? In this week's episode of Madam Secretary, Elizabeth tries her hardest to save the planet for future generations.
I am a bit miffed at China for their strong-arming in this episode. Why can't they learn to compromise? Not everything has to go their way. To be honest, Elizabeth's outburst to Minister Chen shocked me. It's not every day that you see someone like Elizabeth McCord explode with rage. Then again, the stress of trying to appease China to get on board with the climate change deal weighs heavily on her shoulders.
On the other hand, if the Dalai Lama hadn't named his successor before he passed away, this whole mess with China and India wouldn't happen. Though we cannot underestimate the lengths that the Chinese government will go to to get what it wants. If there's one thing I know for certain, it's that the Chinese have a lot of determination when it comes to reaching goals.
Meanwhile, Henry panics over the possibility that Ian's cover might be compromised. At least the man is still in one piece and not you know. When the religious cult's leader asked Ian to join him onstage, my mind immediately thought that Ian is a goner. The fear that went through his mind almost makes me want to pray to God. Thank goodness it didn't come to that. I breathed a sigh of immense relief after the cult leader named Ian one of the council members. Maybe with his new position, he can find the bomb and end this once and for all.
My heart went out to Jay as I watched tonight's episode. He tried his best to balance work and life. He even brought his daughter Chloe to work with him when the sitter canceled at the last minute. The part where Abby gave Jay papers in which the former will have sole custody of the little girl broke me. I could practically hear Jay's heart break anew as his wife handed him the manila envelope.
Despite that, I understand Abby's concern. She wants to give their daughter a life where she can be part of a family that's whole and not one that's slowly falling apart at the seams. In the end, Jay signed the custody papers, on condition that he and Abby continue to talk about it because he wants to be the best father that he could be to his little girl. I got my fingers crossed for you, Jay!
On a side note, I loved the sand mandala that the Tibetan monks were creating throughout this episode. The intricate design that takes hours, if not days, to complete. I was sad to see it get destroyed. They could have taken an aerial photo of it before starting the destruction ritual. I mean, we are living in a world where technology is all around us. Just saying.
Photo via CBS
Tell us what's wrong with this post? How could we improve it? :)
Let us improve this post!