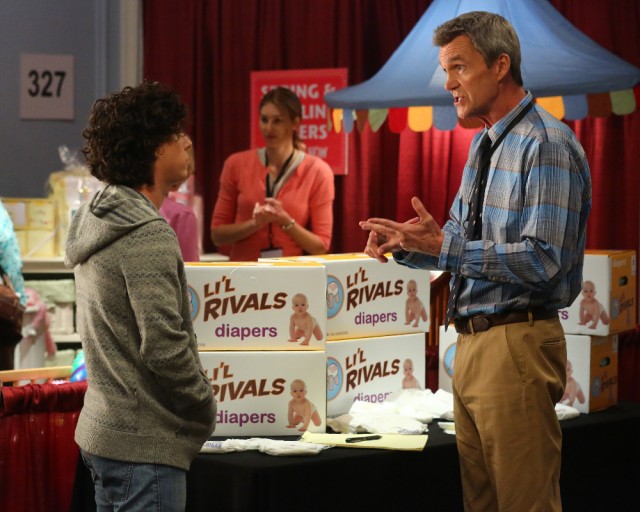 Welcome to 2016 – a fact Mike Heck needs to come to terms with as he's introduced to the world wide web in this new episode of The Middle. With Sue rushing sororities and Brick buying his own pants, big changes are on the horizon for all the Hecks.
Mike has always been a man of few words, so it's hard to imagine he would find himself in the middle of Twitter wars. The very idea of having to promote his diaper business any other way than sending out self-addressed stamped envelopes confounds him, but Axl teaches his dad a few key pointers. Speaking of Axl, he's busy at home preparing for internship interviews via Skype. For a minute there I really thought he would put two and two together and somehow be able to count "social media manager" for his dad and uncle's new company as his internship. Alas, Mike is on his own to run the Lil Rivals' online presence. He's already learned perhaps the toughest lesson of the internet: don't instigate the haters. With Twitter's newly proposed 10K character limit expansion, Mike could really have gotten himself into deep trouble, so it's best he sort of knows how to handle himself now.
Naturally, Sue would want to try everything in college, including sororities. The very best part about her character that makes her so lovable and downright inspirational is her relentless optimism. I wouldn't say she's immune to rejection; she just knows not to get her hopes up and to find the silver lining in everything. She tried every sport and club imaginable in high school, and if she could survive that with a smile, she's going to be just fine in college. She ends up not getting any pledges to sororities but made a nice friend in the process. Sue could learn a thing or two about self-confidence from Lexi now that they're friends. It was a little sad to see how Sue thinks of herself without realizing that Lexi actually admired how different and funny Sue was compared to the other pledges they met. She really was surprised that Lexi considered her a friend through their shared rushing experiences.
Frankie and Brick had their own, more symbolic storyline as Brick starts buying his own pants at the mall. This sends Frankie into a frantic tailspin, feeling that she's losing her kids too soon. Brick already has a girlfriend and new friends. If he's starting to shop for himself (granted, it is with her money), Frankie fears she's missed out on so many "last" opportunities. Now she's going to really pay attention and embrace her time left with Brick at home.
Frankie and Mike both come to realize they shouldn't be so worried about their kids. They're all turning out to be smart, savvy, and independent, which is probably every parent's dream.
What did you think about this episode of The Middle?
[Photo credit: Michael Ansell/ABC]
Tell us what's wrong with this post? How could we improve it? :)
Let us improve this post!