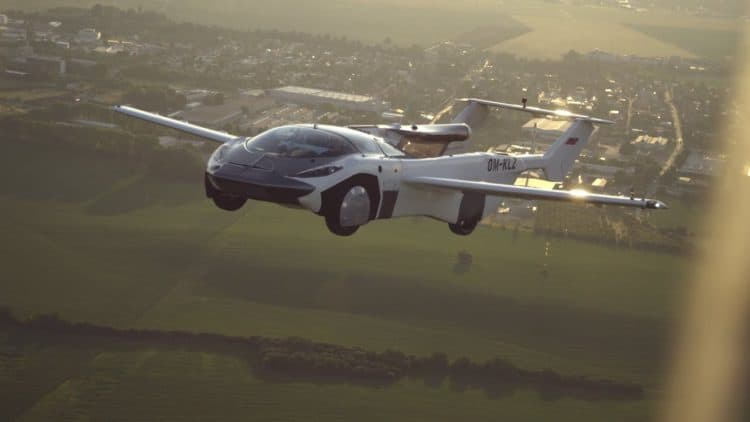 A flying car is definitely still something to be amazed by. The flight of this particular vehicle has become almost commonplace since it's been up in the air and touched down safely well over one hundred times and it might go up again and again until it starts a trend. The idea is something that people would no doubt be interested in, but one can only imagine the regulations that would come into play with something like this. A regular driver's license wouldn't cover flying this beauty, as a pilot's license would likely be the absolute minimum considering that training to fly this modern marvel would probably take a while, and it wouldn't be just anyone that would be allowed to do it. But the idea, now there's something that might catch on after a while, especially since plenty of people have been wondering where the flying cars are that were all but promised on the Jetsons and many other futuristic shows decades ago. The dynamics behind making a car fly and ensuring that every part is tested, sound, and can be made as reliable as possible, is something that many people might find the most amazing part.
Watching the car take off and then land makes it easier to think that this can happen since despite the fact that the wings and tail take up most of the interior once they've retracted it's a start to something that might very well catch on one of these days if the idea can be refined even more and turned into something that might be feasible for others. It's very likely that this idea could be shelved for a while and even considered to be something for the ultra-rich and trendy to collect, but it's still cool to watch since it's one of the many modern marvels of the world that's hard to ignore. Flying cars have been a science fiction fantasy for a lot of people through the years, but the idea of seeing too many cars in the air is one that kind of comes with a lot of problems as well.
This idea might end up being something that has just as many drawbacks as benefits since to start with, not everyone can possibly fly one of these no matter if such a claim is ever made. Enough drunk drivers exist on the roads, there don't need to be any in the air where the damages can only grow exponentially. Littering might not be the worst thing to think about for some folks, especially since at that altitude it's likely that no one would want to crack a window just to toss out a cigarette or something else. Yes it's disgusting and yes people still do it, but trying to do so at such an altitude isn't really a good idea. It's also very likely that each car would have to file a flight plan for nearly every trip, but it's possibly that this might be more fiction than truth. Imagine if there were multiple cars in the air, the kind of headache that air traffic controllers might have on their hands.
That's a lot of fantasy and conjecture at this point though since it's very easy to think that even if this idea did take off the preparation for it, the ability to build different cars that would be capable of carrying more than two people, would take a while to develop. It's a great fantasy and the reality of this car is impressive and definitely gets the the old thought processes running, but until it's made clear as to whether or not this would ever be a thing, or will remain a person goal for the pilot/driver. There's are images in my head now of cars with wings landing on freeways and causing maddening pile-ups or traffic jams. Let's hope something like that never happens since it would be a genuine mess. In the meantime, dreaming of flying cars and airways that are filled with these amazing machines still feels like a genuine hassle, even though it does sound cool to fly a car. It likely wouldn't be as easy as it sounds since while despite the fact that it does look rather easy, the hard truth is that it's likely something that takes a while to learn.
But sitting back in the safety and security of one's own home and watching something like this it's very easy to say 'wow' and just be impressed by something that likely took a while to accomplish in terms of engineering and actual flight. There are still times when it's possible to be amazed by what humanity can accomplish. But one does have to wonder whether it's a little chilly way up there or the pilot managed to think about such things.