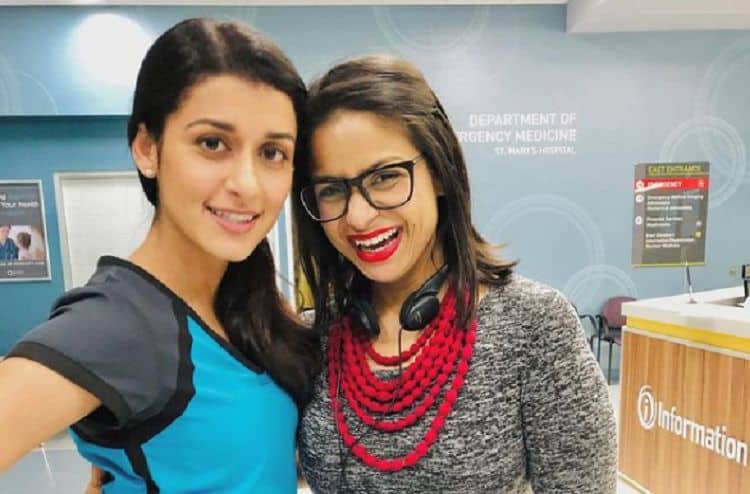 Sandy Sidu has been putting in work for well over a decade, and her time is officially here. In 2020, she began getting a lot of recognition for her role in the TV series Nurses. That year, she also appeared in the series Home Before Dark. Although some people may have thought Sandy was a new comer at the time, she has actually been doing her thing for a while. Her versatility as an actress and her commanding presence have shown to be wonderful assets during her career. All of her supporters are excited to see what she does in the future and there's no doubt she's going to have a long and successful career. Here are 10 things you didn't know about Sandy Sidhu.
1. She's A First Generation Canadian
Sandy was born and raised in Canada, but both of her parents immigrated to the country from India. She feels a close connection with both cultures and has always been proud of her roots. These days, however, it appears that she is living in the Los Angeles area.
2. She Started Acting As A Teenager
Many actors have stories about how they started acting before they could talk, but Sandy's story is a little different. She didn't start acting until she was 14-years-old and at first it was simply an outlet for her to express herself because she was very shy in her younger years. It didn't take long for her to realize that acting was truly her calling.
3. She Loves Spending Time In Nature
Working in the entertainment industry can be very hectic. When Sandy wants to clear her head or simply relax, she turns towards nature. She loves spending time outdoors and enjoys doing things like hiking. She is especially fond of the ocean and she spends a lot of time hanging out at the beach.
4. She Was Able To Draw Inspiration From Her Mother For Her Role In Nurses
When Sandy read the script for Nurses she knew that she wanted to be a part of the show. Sandy's mother worked as a nurse which gave her a special connection to the character. She told The Vancouver Sun, "they have a complete parallel in that they are both very courageous pioneers that had to move countries to find a new life. And there's a courage in that."
5. She Loves To Draw
The arts have always been a part of Sandy's life, but it was actually drawing that interested her first. She started drawing at a very early age and it became a great way for her to express herself. During an interview with The Nerdy Girl Express she said, "I have about 2321 sketchbooks still stored away at my parent's house. When I was a kid, it wasn't unusual for me to be found drawing endlessly for hours."
6. She Studied Science
Prior to pursuing an acting education, Sandy attended the University of British Columbia where she earned a degree in cell biology and genetics. After realizing that acting was what she wanted to do, Sarah did everything she could to make sure she was making the most of her talent. She went on to study acting at the Lee Strasberg Theatre and Film Institute in Los Angeles.
7. She's A Producer
When it comes to working in the entertainment industry, acting will always be Sandy's first love. As her career has progressed, however, it isn't the only thing she's interested in. She is also a producer who made her debut in 2013 with a short film called Fade Out.
8. She Once Made Her Own Comic Book
When people talk about the skills needed to be a great actor, they often forget one of the most important ones: having a great imagination. This is one area where Sandy has never lacked. When she was younger, she actually made a comic book called Blazer which was about an alien fighting female super hero.
9. She Was In An Episode Of Grey's Anatomy
Even after more than 15 years on the air, Grey's Anatomy remains one of the most popular shows on ABC. Working on a show like that is definitely a dream come true for almost every actor, and it's a dream that Sandy has gotten to experience. She appeared on an episode of the show in 2018.
10. She's A Big Believer In The Importance Of Following Your Dreams
Sandy knows a thing or two about following her dreams, and she wants other people to know that they can do it, too. She told Daily Hive, "I get very fired up about the topic of following your dreams though and I always hope that people are encouraged to follow their own passions with belief and vigor. I'm always the person telling you — you can do it — to never give up."