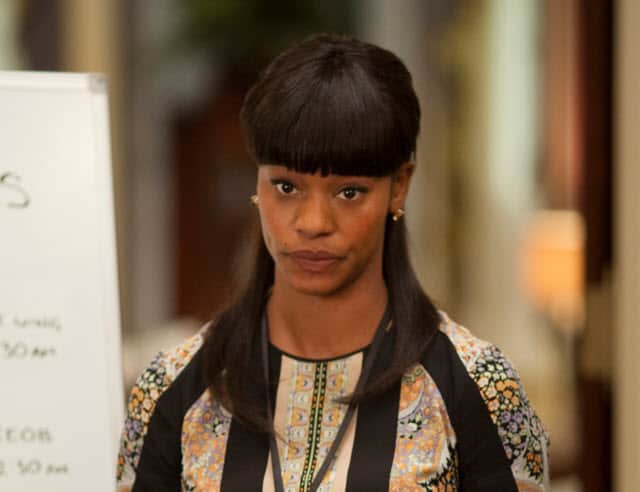 This episode of Veep reminds us that Selina Meyer's team isn't the only disaster on Capitol Hill. I had grown so used to the ineptitude of Gary, Mike and Amy that I didn't consider that this was just par for the course for DC. Where before Selina's opponents seemed untouchable, we begin see the crack in the facade.
The inevitable winner of the debate is Thornhill, ironically the only candidate without political ties. He successfully boxes out Selina during a debate question and glides past her accusations of infidelity. He also shares the folksy, down-to-earth demeanor that voters love. He's chock full of awful baseball analogies but the audience doesn't care. Thornhill is the candidate to beat at this point.
Maddox, who seemed like a front runner, takes a beating in the debate. He's caught off guard by Selina's unexplained eye twitch and misses the question he's being asked by the audience. He stumbles literally into a rat hole during the debate and can't dig himself out of it. Even Jonah fumbles after getting questioned by reporters about Maddox's answer. Note to self: make sure that Jonah is far away from the press room during a debate.
Mike's marriage also takes a hit when he tries to use his wife to spin a story about the Veep's hair. Selina Meyer's decided to get a drastic hair cut ala Kerri Russell in Felicity. No one is pleased. I even had an audible gasp at home because Julia Louis-Dreyfus has such a nice do. Let's hope she's just wearing a wig.
Dan emerges briefly as a changed man after his mental breakdown. He's calm and Zen until the Maddox campaign crumbles. Then his true self re-emerges and takes a verbal swat at Jonah.
The episode ends a net neutral for the Veep team, which was able to side step a hair story but will have to contend with Thornhill and his puff wisdom about coaching America.
[Photo via HBO]