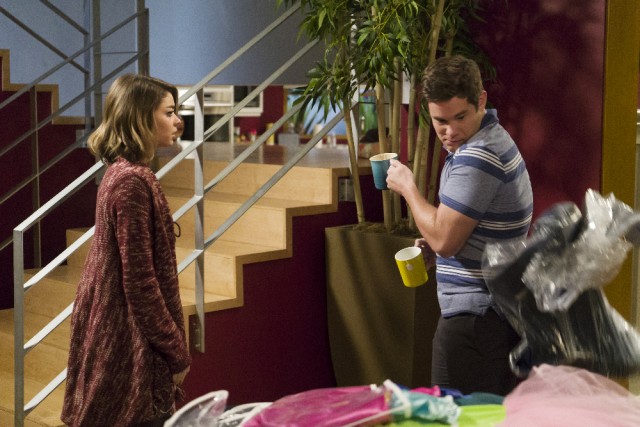 I've made the argument before about Modern Family and I'll make it again. Popular sitcoms always reach a point when they are in decline. It's just the nature of the business. I personally argue that it's generally after a 5th season. Even the greatest sitcoms in history have shown signs of slowing down. Was Cheers a good show in its final 2 seasons? Of course it was, but did it hold a candle to seasons 1 through 4? No chance. Seinfeld took a noticeable decline in its last 2 seasons. Friends got considerably worse. Remember how bad The Office got? And the funny thing is that it's not like these shows were even bad by sitcom standards in their final seasons. It's just that they didn't compare to earlier seasons. Why? Audience burnout. Let's say we never saw Modern Family before and season 7 was really season 1. All of us would absolutely love the show and think nothing of it. But since we've been watching it for seven seasons it gets harder and harder to stay fresh and to continue captivating audiences. That my friends, is the proverbial sitcom wall. It's an inevitable decline that takes place when there's nearly nothing left a show can do other than practically repeat itself.
And personally I think that the episode "The Storm" marked a major turning point in which the show has definitively shown its weakness. Again, I still think that Modern Family is a good show and I'll continue to watch it. However, my patience has worn thin and the same things that got me laughing three years ago just don't cut it anymore. So let's review some highlights of "The Storm" that support my theory that Modern Family might be nearing its end as a sitcom (of course ratings and advertising earnings will determine that).
Cam, Mitchell, and Lilly are getting a little tired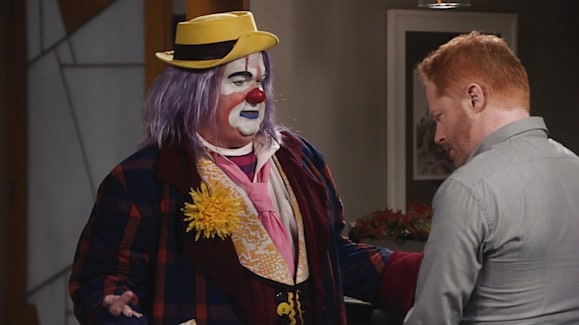 Did you realize how red Jesse Ferguson's hair was in "The Storm?" Now I'm not saying that Ferguson is old. But he's definitely old-er. And for some reason someone decided to make his hair a color of red you might see on an 80-year-old woman who is still trying to look young. I mean this was borderline carrot top. Or maybe it was just my TV screen having an off night? Does hair color signify a show's decline? Of course not. But let's get into it. Frankly I'm tired of seeing Cam dress up as clown and use references to his days on the farm. We get it. You're a clown. You were raised on a farm, and you milked cows. I just don't think it works anymore. And in this episode it was far and away the least I've ever laughed at Cam's clown antics. I mean look at his expression in the picture above. Even he knows it!
And how about Lilly? There's nothing wrong with Lilly in the technical sense of the word but she's getting older. It's that simple. Her one liners aren't as cute simply for the fact that she's older. Lilly still has some great zingers in there, but they just don't get as big a rise out of me as they used to. Maybe another adoption (as the show has explored) could bring new life into this family?
Luke and Manny
I think I mentioned this about 2 years ago and things haven't changed. Luke is getting too old and the show is pushing this "I'm a teenager and I like flirting with girls" thing a little too far. He's at that awkward pubescent age and unfortunately I think that Nolan Gould needs some acting lessons. It was cute when he was just a kid who looks like he was reading from cue cards, but it's not the same when you hear his voice cracking.
And Manny? Rico Rodriguez faces the same problem as Gould. He's not a particularly good actor and he's just older now. The days when he was a cute little pudgy guy that reminded you of a young Fred Savage were the good old days. Now he's just a gawky teenager. And the whole bit with him and Claire? Claire seeing him naked and references to her being sexy and Manny's man parts? I'm sorry but that did absolutely nothing for me.
Gloria, Jay, and Fulgencio
Fulgencio is one of the funniest names in the history of sitcoms. Too bad they only call the baby Joe. I think Joe is fine. He's still a little kid and they got a cuter actor to replace the original. Ed O'Neill can never go wrong as Jay. He's still awesome. Gloria is still Gloria and I've never gotten tired of her. Let's move on.
Claire
Still love Claire. I still like her mania in each episode. Though I will say this. Ever since she's become a working mom, I think they try and push the whole "I need to come home and have a glass of wine" thing a little too much. We get it. You're tired. You work hard. But you don't need to push the angle of Clair being husband and Phil being wife too hard. Still though, the adults definitely hold up the show which brings us to Phil.
Phil Dunphy
Nothing wrong there. I never get tired of Phil.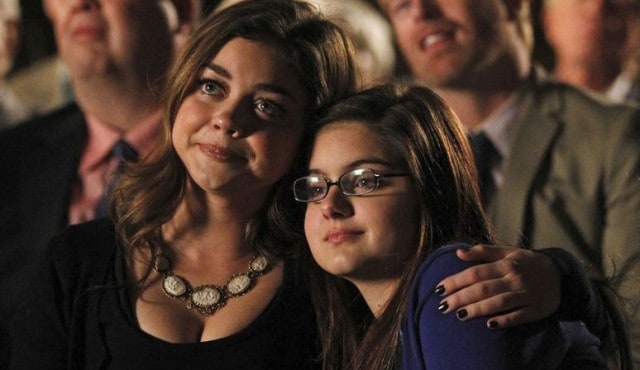 Alex and Haley Dunphy
They too are fine. Unlike Manny and Luke, I think that Ariel Winter and Sarah Hyland can act. Plus their relationship has always been entertaining with one being the brain and one not so much. It's always worked and I think it always will. The show tries to bring that bond to Manny and Luke but it just doesn't work. As long as they stick to what they've always known with Alex and Haley, the show will be fine.
I think Sarah Hyland is great and her relationship with Andy (Adam Devine) has brought a new and much needed element to the show. Just a great rocky relationship that we like to hope for. That formula always works. Devine is a fantastic comedic actor and the show can probably keep that relationship fresh for at least another season.
Can the wall can be torn down?
So has the show hit a wall? I will argue that yes, it has. However, that doesn't mean the show can't breathe new life into itself. Adding Andy was a great move. The adults are still fine. I think for the show to continue moving on and not moving backwards it needs a spark. Just what would that be? First of all, show less of Manny and Luke. Episodes where their roles are limited have always been great. They work out well when they have great one liners and that's it. Anything more is stretching it. Find more youth. Get Lilly a sibling. This would help a ton. And add some new characters. Remember Phil and Claire's neighbors? What happened to them? They were awesome. Sometimes the greatest part of a show is the ancillary characters. Modern Family needs more to sustain itself.
Thoughts?