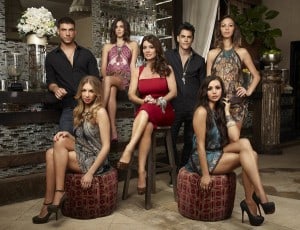 As predicted, Stassi Schroeder and Jax Taylor dominated the one-hour Vanderpump Rules reunion special with their torrid relationship and the trail of crap that transpired behind it. The other cast members had a chance to shine, but if their comments weren't in the realm of Jassi territory then they were given a quick gloss over before Andy Cohen returned to the couple of the hour/season. In short, this reunion sucked hard…
There could be a lot of reasons why most people felt that the Vanderpump Rules reunion was lackluster, but the numero uno reason for me was it had no choice but to focus mainly on Jax and Stassi. Why? Because the actual season did the exact same thing. Just when we thought there would be some sort of war between Stassi and Scheana Marie, we were served with a quick resolution and an about face from the latter party, who became Queen Stassi's newest lap dog (more on that later). Besides that and the "Who's Getting Fired" 'mystery' throughout Vanderpump Rule's eight-episode run, one can't help but have a feeling of "What Just Happened Here?" as the cast toasted us off for the night. And while this review can make an almost endless list of where Vanderpump Rules the series went wrong, I'm going to just list what new factoids we learned from the Stasi/Jax gabfest.
What We Learned:
1) Jax apparently loves to apologize. Seriously if there was a drinking game based on how many times the "mactor" was sorry for blatantly lying to his loved ones, and/or announcing how much he wanted to be with Stassi again, I would have been totally wasted by now. Thankfully, the gang caught on to Jax's "I'm sorry! Love me already!" routine and called him out on it, numerous of times, throughout the reunion. Plus, I could have hugged Andy Cohen for taking every opportunity possible to bomb the hell out of Jax for wearing that damn "chunky sweater" to the reunion. It's hot as hell in L.A., what could he possibly need with that damn thing?
2). As predicted, Jax was 'rehired' at SUR after filming wrapped, as if he ever quit in the first place. If I was Lisa Vanderpump, I would have told him to kick rocks till his toes bled if he even thought about asking for his job back. But I digress.
3). Scheana is Stassi's newest lap dog, which Kristen and Katie are not too fond of, and neither am I. The self-proclaimed Britney Spears look-a-like was relentless when she came for Kristen and Katie for not having Stassi's back during the Queen's time of need. Did this girl forget how Stassi tried to swallow her soul in the earlier part of the season? Scheana didn't want to have anything to do with her new bestie when they were at war, meaning she was nowhere in sight while Kristen, Katie, and Stassi were at odd with each other.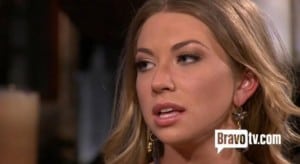 Kristen had to reiterate that point to Scheana time and time again throughout the night, but that didn't stop Stassi's latest minion from calling her former subjects horrible and totally unworthy of Queen Stassi's friendship. And all while Scheana was yapping off at the mouth, I was hoping for Brandi Glanville to pop in to shut her ass up.
4) Tom Sandoval apparently shaves not only his chin and mustache, but his entire face in order to shave off the dead skin cells. Although, his excuse for the unorthodox shaving habit made more sense than anything the rest of the cast had to say for the night.
5) Stassi still dated Frank up until recently. This, of course, was a dagger in Jax's psyche and heart, but mostly his ego.
6). Kristen stood by her claim of hearing that Stassi and Frank were screwing around before Stassi broke up with Jax. If that particular hook up did go down, then Jax and Stassi are technically even in the infidelity department.
7) Katie was not taking any more crap from Stassi, and by the looks of things, she was so dead ass serious about that, too. From calling both Jax and Stassi out on their crap to maintaining that she still had no remorse for not automatically accepting Frank with open arms, Katie remained #TeamKatie the entire night. Plus, the shady look she gave Scheana during the newbie's rants about being a better friend than she and Kristen combined? Priceless.
8) When it came to the ramifications of Jax's lies, it seemed that Tom was just as upset about being lied to as Stassi was. Still trying to figure out just why…
9) Kristen is apparently not scared to use the word "f*cking" when addressing Lisa Vanderpump, aka her boss. Simmer down, Ms. Doute, or it will be the unemployment line, section D for you.
10) Apparently the twins Tom Sandoval shared his apartment with before meeting Kristen were seniors in high school. He claimed that he didn't know that at the time and I'm going to just leave it at that.
11) Jax lied about Laura-Leigh being the best sex he ever had. Stassi was, and still is, the reigning champion of that title. Captain Suck-Up strikes again!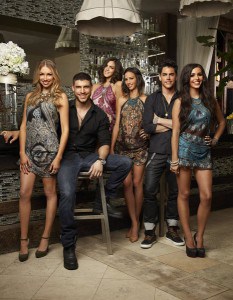 12) Speaking of Laura-Leigh, the entire cast felt that Jax was in the wrong for preying on that poor girl. Everyone that is except Stassi, who still hates the poor woman's guts and didn't regret sending those scathing text messages. Well, duh.
And finally we learned that while Stassi still loves Jax that doesn't mean she is in love with him at the time. So as far as a reconciliation goes, expect it to be a storyline during next season. If they get another season, that is.
As stated above, the rest of the episode was mostly about Stassi and Jax's relationship, a quandary which eventually backed Vanderpump Rules into a corner and shot itself in the foot. If the show does come back next year, I say Lisa should focus on other staffers like Peter and Tina, who actually have dreams to do it big in L.A. and not wrapped up in silly relationship drama. Plus, it should focus more on the inner workings of SUR and less on who's screwing who among the staff. With those few tips, maybe Vanderpump Rules can turn itself around from being The Stassi and Jax Hour next year and shine the light on more worthy staff members at SUR, Lisa Vanderpump included. Because there is not such thing as too much Lisa Vanderpump.
What did you think of the Vanderpump Rules reunion? Were you okay with it? Irked by it? Over it? Let us know!
Photo Credit: Bravo
Tell us what's wrong with this post? How could we improve it? :)
Let us improve this post!