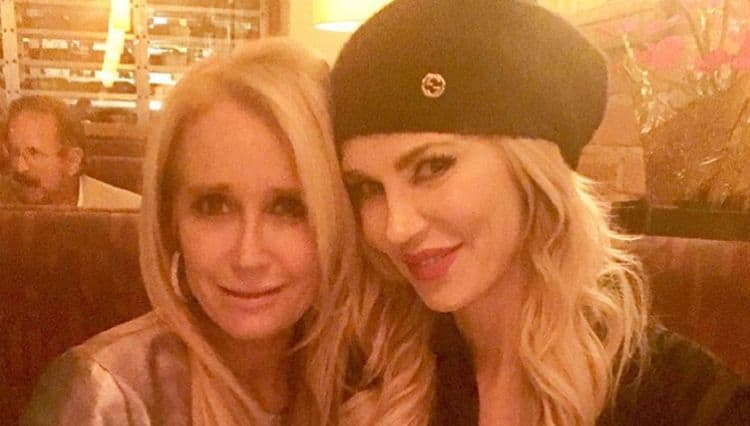 There are many reality TV stars that come and go throughout our lives, both making an impact on the world and not so much. One of the most infamous of reality TV stars that we have seen in recent years has been that of Brandi Glanville. The majority of fans will recognize this blonde bombshell from her time on Bravo's the 'Real Housewives of Beverly Hills'. Although we have seen the best and worst of Glanville from her time on the small screen, there are always things that we never know about who they are as a person. That's why we are here. Today, we are going to count down the ten things that you may or may not know about Brandi Glanville, so let's get right to our list.
1. Relationship History
This is probably one of the facts that she is most well known for, aside from her time on reality TV. Glanville was once married to Eddie Cibrian, with their marriage lasting nine years and giving them two children. However, Cibrian ended up having an affair and leaving Glanville to marry singer Leann Rimes. Glanville has never remarried since her split with Cibrian.
2. Began As A Model
Most don't actually realize that Glanville didn't just happen to make her way to reality TV, but rather began her way into stardom through the world of modeling. She began her modeling career at the age of 16 when she moved Paris and was signed with Elite Model Management. Her career took her all throughout the world, and lasted for 17 years. During that time, she worked with many designers, and also appeared on the covers of various magazines.
3. Strange Childhood
Glanville grew up in California with her parents and her two siblings. She has revealed in recent years that her father grew marijuana plants throughout her childhood. In fact, she also stated that her father would even have her sell the marijuana when she got older, and she often used that as blackmail to get money from her father when needed.
4. Wasn't Signed On Right Away
I'm sure that the majority of 'Real Housewives' fans would think that Brandi Glanville just made her way onto the show as an immediate cast members, just as many of the other series do. However, when Glanville first made her appearance on the 2011 season of the 'Real Housewives of Beverly Hills', she was actually cast as just a friend of the housewives. it wasn't until season three of the show that she was cast as a full time cast member, and remained on the show for three seasons.
5. Never Far Away
Although she left the series at the end of its fifth season in 2015, Glanville still remained close with the cast and with the show creators. She made several different appearances in the season that aired in 2016, but has begun to fade out from that specific limelight as the years and seasons have gone on.
6. Reality TV Diva
Maybe we can thank Bravo for her reality TV career, obviously, but just because she left the series that started it all doesn't mean she has slowed down in the years since. Glanville has made several appearances on other reality series, including Celebrity Apprentice, Famously Single, My Kitchen Rules, Celebrity Big Brother (Both in the United States and the United Kingdom editions), and Marriage Boot Camp: Reality Stars Family Edition. It looks as though she can't jump off the reality bandwagon.
7. Work In Podcast
Shortly after joining the 'Real Housewives' cast in 2013, Glanville began her own podcast which she calls 'Brandi Glanville Unfiltered'. On the podcast, she airs out all of her dirty laundry, talking about her own life and other effects that are popular within the world today. She also will interview and gets insight from other personalities that are upheld in the world today.
8. Other Works
Not only does she still work on reality television, and host her own podcast, but Glanville also writes for an Australian magazine entitled 'NW'. In the celebrity based magazine, she wrote a weekly column; However, it is not certain whether she is still writing for the magazine or not.
9. Best Selling Author
It seems as though many celebrities are finding their way to author status, and Glanville is no different. The reality star has authored two books since being on the 'Real Housewives' series, and her books have even hit #1 on the New York Times best seller list.
10. A Lot Of Life Ahead Of Her
It seems crazy to think, but Brandi Glanville is 46 years old. Times flies when you are having fun with the housewives. Glanville celebrates her birthday on November 16.
It is crazy to think that so much can come out of a simple spot on a series about women living in Beverly Hills. This reality star life has seemed to suit Glanville quite well throughout the years, and only time will tell where her next business venture lies. We hope you have enjoyed our list of the top ten things you probably didn't know about Brandi Glanville.