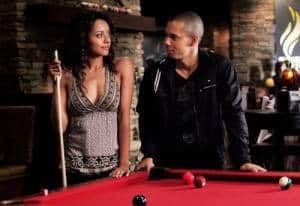 While reading a Top 10 list of the "worst things" about The Vampire Diaries compiled by BuddyTV, I came across the #7 item on the list, which read as follows:
The Bad #7 – Is Witchcraft Racist?

Bonnie, Luka, Jonas, Lucy, Bree, Grams and Emily are the only major recurring African-American characters on the show, and they are all witches. Not only that, but they are the only witches we've seen. It's not necessarily racist, but it's a little off-putting that every black character is a witch.
Excuse me?
As an African-American, I couldn't help but feel a bit upset after reading that entry, because I personally don't see what is "off-putting" about casting African-Americans as witches on the show. With the exception of Bree and the Martins, the other witches on the show have all been related to Bonnie, who just happens to be "black." So it would make sense for the Bennett lineage, which includes Emily, Grams, Lucy, and Bonnie, to be black as well. Now, I'm not going to try and rationalize the producers reasoning for their casting choice for Bree and the Martin Warlocks, because I honestly don't have an answer for that. However, I would like to know why this would be considered a 'problem', or most importantly, 'racist.'
Don't get me wrong. I, as well as other fans of The Vampire Diaries, have noticed that almost every African-American character who has waltzed into Mystic Falls are members of the Magically Inclined Coalition. We thought it was somewhat ironically funny when Damon's old fling Bree (Gina Torres) was revealed to be a witch, especially since she wasn't related to Bonnie. When the Martin Warlocks (Randy J. Goodwin and Bryton James) arrived this season, I received a lot of "Why are all the witches on TVD black?" on my Twitter account, but not in a hateful manner. In fact, none of the questions or comments I obtained ever used the words 'racist' or 'off-putting' in their queries on the subject. Maybe it's because both words have very negative connotations behind them; a fact that can possibly explain why I'm a little perturbed about the TVD countdown in question. It's just the use of the words 'racist' and 'off-putting' in this context could be considered the equivalent of yelling "Fire!" in a crowded public place. There's nothing to be alarmed about, at least not to the extent to bring the word "racist" into the equation.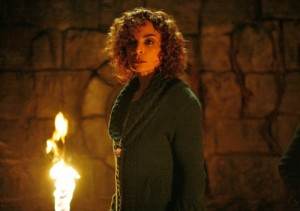 When I asked some friends about their thoughts on if TVD witches were being 'racially profiled' in a way, some said 'no' while others gave a resounding 'yes'. One friend felt as if the producers were "typecasting" when it came to casting black people as witches on the show. I don't see it that way. From my perspective, casting a black person as a witch on TVD isn't necessarily typecasting, since there is no existing stereotype of black people being labeled as being witches. Actually, it is a rarity to see African-Americans dabbling in the dark arts, except in notable films such as "Eve's Bayou", "The Feast of All Saints", and "The Skeleton Key" where magical African-Americans were prominent in the plots. Typecasting would be if the African-American residents of Mystic Falls were drug dealers and hip hop stars with no other basis than that. Then we would have a problem.
So from this (black) guy's perspective, there isn't anything wrong with the majority of the African Americans on The Vampire Diaries being witches. If we have to play that card, then I would have to pose the question of why is Gossip Girl without a prominent black Upper East Sider in it's main cast? Sure, Vanessa is black, but you barely notice and fans (for some unknown reason) highly loathe her to the point that it might never crossed their minds to even wonder what her nationality is.
Note: I do not think the writer of the Buddy TV article, 20 and 10: The Good and the Bad of The Vampire Diaries, is racist in any shape, way, or form. In the article, the writer backed away from the 'racist' bit, but it was still left in the entry. This is just my opinion on his opinion.
Thoughts?