This season of The Vampire Diaries has been difficult in places, much like Elena's (Nina Dobrev) transition from human to vampire. One thing that The Vampire Diaries has always been terrific at and this episode continues with this tradition is how the characters deal with the constant death that surrounds them.
We met Elena when she was still processing her parents' death and each season has had another member of her family killed (both her real family and people like Alaric). They have all had an impact, but Jeremy's (Steven R. McQueen) is the one that could send her over the edge and this episode dealt with Elena's grief and those around her trying to protect her in a magnificent fashion.
The fear is that Elena is in denial, something that she claims that she is not (but isn't that something someone who is in denial would say?). Elena knows that the ring is useless on Jeremy, but we have seen the impossible happen before. Stefan (Paul Wesley) brings in various people to help; Meredith (Torrey DeVitto) for her medical knowledge, but as Elena rationalizes how can science explain any of this? Matt (Zach Roerig) is there as the voice of hope and breaks my heart in the process as he tries to remain strong for Elena, but later crumples in his car. Caroline (Candice Accola) is Caroline, making lists and organizing and Stefan is there to stand steadfast until Damon (Ian Somerhalder) returns from the island with Bonnie (Kat Graham).
Tension builds throughout the episode and we know that an Elena meltdown is going to happen; when it does it is brutal (as in I can't see the screen brutal). The grief that pours out of Elena as she comes to terms with Jeremy actually being dead for real and the house they are in containing so many memories of those that they have lost is unbearable. It is why Damon's decision to use the sire bond to turn off Elena's emotions actually makes the most sense in that moment. In the long run it is a terrible idea to control Elena in this way and while I still have issues with the whole sire bond, at this point it is logical or "Damon logic" as it is now known. Nina Dobrev gives a stunning performance throughout the episode as she switches between the calm and reassuring state at the beginning, to raw grief and then devoid of any emotions after she has "turned it all off."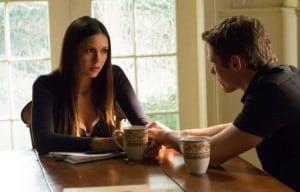 Despite their differences Stefan and Damon come together at this time and this is why their relationship will always be the one that is the most compelling to watch. Stefan disagrees with Damon using the bond to temporarily get rid of Elena's emotions, but he doesn't put up a fight. The Gilbert porch gets one last scene of true feelings discussed; not romantic feelings but a moment between brothers and while neither really says much, these thoughts don't need to be spoken out loud for them to be comprehended.
It's all about family on this show; no matter how many disagreements are had, family is what they fight for. Now Elena is without her family and this is obviously a huge blow that will drive the narrative for the rest of the season.
All of the action isn't just in Mystic Falls as Bonnie spends half of the episode on the island with Shane (David Alpay) who tells her a tale of how they can bring everyone back from supernatural purgatory, they just have to kill 12 more people. Oh and Shane isn't really Shane, but he's Silas instead and he now has his grips on Bonnie.
Other thoughts
-No more Gilbert kitchen of stabbing or Gilbert porch of first kisses/break-ups as Elena has torched the place. I'm sure there will be plenty more places for these kinds of things to occur.
-The items that they focus on burning tells a story; the sketches, Elena's Converse, her diary and of course Jeremy.
-The trip to the stoner pit shows how far Jeremy had come since the pilot.
-The conversation between Stefan and Meredith about how they are both surrounded by death is one of the episodes smaller moments, but it is one of my favorites as it is so effective.
-Matt's speech about hope was really beautiful and all the more tragic when we see Matt being consumed by grief in his car later. So. Many. Tears.
-Will Tyler (Michael Trevino) return Caroline's calls?
-The episode is called "Stand by Me" instantly making me think of the movie; a movie that explores the death of a sibling and the end of childhood, alongside themes of friendship and adventure.
-Of course Katherine has people everywhere including Vaughn (Charlie Bewley) the Hunter and Haley (Phoebe Tonkin) – who she met in New Orleans (Originals spinoff anyone?!).
-So long Jeremy, we will miss you and your ghost seeing powers.
This episode is one of this season's best; it is both heartbreaking and still manages to move the story along. We are on mini break until March 17 and when we return we will see what an Elena without emotions is like and you can check out a promo for this episode here.