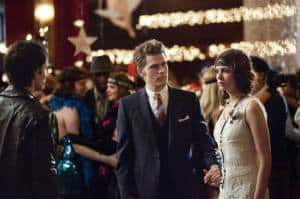 Big dance events are generally high on the danger list in Mystic Falls and the Decade Dance is one of the most perilous as the past two seasons of The Vampire Diaries has shown us. This is an eventful night and despite the previous occasions these characters still attend and organize the event with such gusto that you would hope that one of these times there won't be death and destruction. Last season at the 60s dance Alaric (Matt Davis) was possessed by Klaus (Joseph Morgan), but unfortunately for our favorite history teacher it looks like this will be an even worse night and he didn't even get to go to the dance this year.
The Alaric story was front and center of tonight's episode but the tragic resolution was not one that I would have predicted, even though the writing has been on the wall for this character after this whole evil alter-ego plot (and Matt Davis landing another show). Alaric is of course more than a history teacher; he is a friend, a guardian and a drinking buddy. He has been there for Elena (Nina Dobrev) and Jeremy (Steven R. McQueen) in some of their lowest moments and so it is understandable why they are both devastated by these turn of events. Alaric is yet another guardian that they have lost in a considerably short amount of time and there isn't a likely candidate to fill this hole that Alaric has left behind. Elena ends up sobbing on Stefan (Paul Wesley) and he reminds her that despite feeling alone in this moment she does still have him and Jeremy opts for a very Alaric reaction and has a drink with Matt (Zach Roerig). Jeremy's single man tear in this scene was all kinds of perfect and tragic.
The goodbye that Alaric got was excellently done as all those who cared about him came to the old cemetery to say farewell and it made sense that Damon (Ian Somerhalder) stuck with him to the end to share a drink. Damon was still his snarky self, but with sadness that we have seen before when he loses someone that he cares about and this one hits him hard.
This being The Vampire Diaries and with a few minutes left of the episode you know that there is still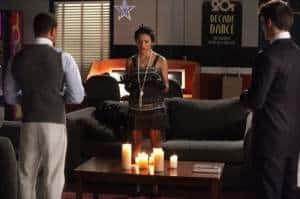 something to come, but it was still a surprise to see Alaric go from the peaceful dead to ultimate vampire in the final scene. This is of course no longer 'our' Alaric and these goodbyes suggest that he isn't long for this world no matter if he completes Esther's (Alice Evans) task. Bonnie (Kat Graham) didn't appear to be complicit and it seemed that Esther had put her in a trance. We know that her Bonnie has a difficult relationship with the vampire folk; will she be able to put these issues aside as she has done before to help out?
Alaric was the big overall story of "Do Not Go Gentle" but there were some other developments and non-developments in the whole love triangle saga. After last week's monumental kiss between Damon and Elena, we get some Elena and Stefan time. This in a way seems like it is trying to placate both sides of the fandom, though it was rather lovely to see the pair together in this episode and they really did look great dressed up in their 1920s costumes. The problem now is that it has been overtly declared that Elena has feelings for them both and we could end up being stuck with a back and forth between the brothers and it would help if Elena makes some sort of choice before the end of the season. Of course if Elena does make a choice there will be fans who will feel elation and ones who will be unhappy with the choice, but there are also viewers who are concerned with getting stuck in a back and forth pattern. Unfortunately they can't please all who watch in equal amounts and that is always a big conundrum in any epic love triangle.
This season has been a bit more muddled in the overall objective; there have been many little stories that make up the whole and it is still hard to see exactly where we are headed with the final two episodes. Killing Klaus is the main objective of course but there have been several other deviations from this path this year and these are needed to stop the show from becoming repetitive, however they also need to mesh together in a coherent manner. Some of the moments tonight felt a little bit like a convenient way to fit some of those earlier stories into this Esther one; this includes her being there each time Alaric dies to nurture his vampire hating self which seemed like a bit of a simple explanation.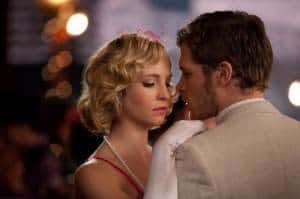 One aspect of Klaus' story that has remained consistent is that he is always looking for a connection with another person no matter how twisted it becomes. He thought he had a real friend in Stefan in the 1920s and so by bringing the Ripper out at the end of last season Klaus thought that he could get that friendship back. While in the 1920s those moments might have been real, by trying to manipulate Stefan in the present and destroying the happiness he had with Elena is a really terrible way to try and restart a friendship.
With Caroline (Candice Accola), Klaus believes that she will eventually be drawn to him because of all the worldly things he can offer and once again Klaus is looking at things in the wrong way. Klaus is more than 1000 years old but he still doesn't get how relationships work. There shouldn't be a superiority element and from the way Klaus has treated his brothers and sisters it is clear that he has no idea.
Other observations
-Rebekah (Claire Holt) didn't even get to go to the dance in body alone. Hopefully she will get to have her revenge on her mother on one plane of existence.
-Now that we no longer have the Alaric/Damon bromance are Matt and Jeremy jockeying for that position? And if so I am totally in.
-Bonnie got a few brief moments of happiness with Jamie (Robert Ri'chard) and it was good to see her smile and have fun dancing even if it was for short amount of time.
-Caroline proudly wears her 'Team Stelena' feelings and encourages Elena to ask him to the dance telling her that "Stefan is your epic love and I'm not going down without a fight." If Rose (Lauren Cohan) were still alive I feel like we might have a battle on our hands.
-Caroline also has to deal with her own relationship problems as Tyler (Michael Trevino) has to pretend that the sire bond is still there and has to not let his competitive and jealousy ruin this secret weapon against Klaus.
-Several mentions of Jenna (Sara Canning) in this episode, is this hinting at something that is to come?
-Stefan cites the Wickery Bridge incident and his general non-humanity behavior as the main reason he is being so Zen about the whole Damon/Elena situation. While this is the mature approach I hope we get to see some fight from Stefan even if he is back to his better self.
Another goodbye of sorts on The Vampire Diaries that definitely induced the misty eyes but was this moment somewhat diminished by the final scene? Or are you looking forward to seeing this terrifying version of Alaric? Let us know in the comments below.
For more coverage of the show, including sneak peeks, photos, spoilers, the latest Hulu episodes and more, browse and bookmark our Vampire Diaries page.