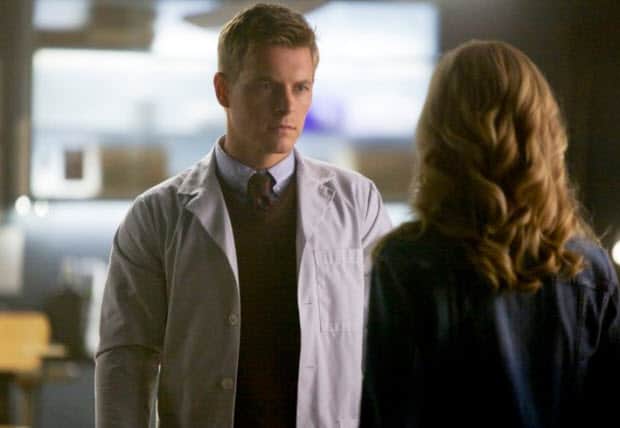 This was an important episode for this season of The Vampire Diaries. We saw major new players from the beginning of the season wrap their storylines up, with new plot twists introduced that will keep this season moving along.
Professor Maxfield breaks the bad news to Katherine that she's aging at an advanced speed. He predicts she only has a few months left to live at this rate. Naturally, this drives Katherine crazy. When she's summoned to help Tessa and the doppelgangers complete their spell, she first tries to bargain a deal with Tessa. It was interesting to note that Katherine couldn't even heal with the help of Caroline's vampire blood now that the cure is out of her system. I would imagine the cure died in Amara's blood when she died, so Katherine will need to resort to other means now, especially since Tessa was dead by the end of the episode.
Amara could see ghosts on the other side of the veil, so Jeremy proposed they swap her out with Bonnie. In what was possibly the coolest scene ever, the doppelgangers team up with Tessa to perform the switcheroo between Bonnie and Amara until Silas interrupts the spell. Amara goes missing, but it turns out Stefan took her to lure Silas to him.
The spell is complete just in time before Amara dies at her own hand after Stefan kills Silas. As the new anchor, Bonnie will feel every supernatural being's death as they essentially pass through her to the other side. It's no wonder Amara had gone crazy after years of physical pain inflicted on her as the anchor between realms. For the time being, it was sweet to see Bonnie reunite with Jeremy, Elena, and Caroline. It's only a matter of time before the repercussions of her new position in the supernatural world start to take a toll on her.
Things will be a little less confusing now that the two original doppelgangers are dead, but I will miss Silas. His sarcasm was a nice change of pace from what looks like a lot of torment in Stefan's future for the time being. Stefan revealed his disappointment to Elena and Damon that he wanted them to be the ones to save him from the bottom of the river. The previews for next week look like Stefan will start losing his mind from the torture of reliving his memories of drowning to death over and over.
I'll also miss Amara, even though we barely knew her. It's amazing to me that Nina Dobrev can play 3 drastically different characters so flawlessly. I know Tatiana Maslany does an incredible job playing multiple clones on Orphan Black, but it's about time Nina got some major recognition for her range of characters.
Nadia was trying to spend time with Katherine all episode, and by the end, Caroline learns of their connection. Katherine has privately accepted her inevitable death, so naturally she doesn't want her daughter to stick around and watch her die. She sends her packing by telling her she never wants to see her again. I hope Nadia doesn't give up on her that easily. There has to be some way that Nadia could save Katherine, right?! She's one of my favorite characters, especially as a human this season. I also don't think I can handle another funeral on this show.
It wasn't all doom and gloom, as Damon, Silas, and surprisingly even Tessa were pretty funny this week. When Tessa first got to the Salvatore mansion, she said "So you live in this giant mansion with two doppelgangers that are destined to end up with each other. I swear there's a sitcom in there." I have to agree that does sound like the beginning of a great sitcom when you also throw in the fact that they're all vampires! Silas was supposed to be at a bus stop in Philly (which, to be honest, the show didn't even try to make that look anything like Philly — trust me) and he was talking the ears off of two strangers sitting with him, until he used his witchy powers to turn the man's organs into mush. It only got better during his bus ride back to Mystic Falls when he delightfully turned down Damon's pleas for help, instead musing over the fact that people are shocked to see that gas is over $3 a gallon.
So, what'd you think?
[Photo via Facebook]