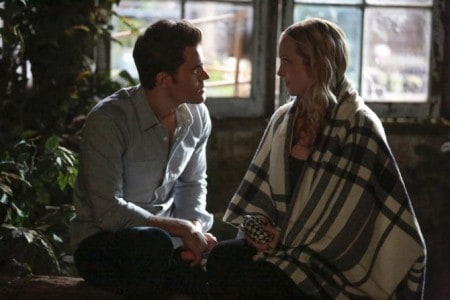 The Vampire Diaries delivered a wholly satisfying episode with the birth of Alaric's twins. A vampire C-section is never something you expect to see happen on television (outside of a Twilight movie on basic cable, of course) but the hospital scenes kept the characters grounded in reality.
Rayna Cruz made her official debut as The Huntress after being teased as the villain for so long now. Complete with flashbacks to the early 1800s when she was being trained by her father to be a vampire hunter, we now sort of know what we're dealing with here. She isn't immortal technically but she is working with a limited number of lives or so I came to believe. I'm not sure if that's an exact count of the sacrificed lives that she was granted after her father's death at her own hands (and Julian's compulsion).
We also know that she marks her victims with her sword, which makes sense for why she's after the Heretics. Beau was Rayna's first attempt at revenge on Julian for killing her father. Obviously she didn't succeed in killing Beau until the present day. Mary Louise and Nora are well aware of the danger she imposes on any vampire in her path, but if that were the truth, Caroline and Valerie would at least also be dead by now.
Stefan found himself marked by Rayna's sword when he was saving Damon from her in a fight. What terrible timing too, as his girlfriend just went through a traumatizing experience giving birth to these babies who almost literally sucked the life out of her. Now Stefan can't be anywhere near Caroline for fear of Rayna seeking him out in the most convenient location of his hometown. Next week Stefan crosses over onto The Originals (or at least it seems like Klaus and Elijah appear on TVD) to offer any help with the Huntress. For Stefan and Caroline's sake I hope they can figure this out sooner rather than later but I really don't see anything good happening. The cracks are already there in the Steroline relationship, and now with these babies, Caroline is totally going to fall into the role of adoptive mother/housewife for the new little Saltzman family. Welcome to the crazy world of Mystic Falls, Josie and Elizabeth! Perfect names for both their biological mom and Caroline's mom. I may have audibly "aww"ed when Alaric was handing the babies to her and telling her their names!
One last OMG moment to mention regarding Caroline: we already knew she's engaged to Alaric in 3 years. Now we also got to see that she's on the run from Texas to New Orleans with the twins to "visit Mommy's friend"! This should mean we're treated to a sneak peek of a future Klaus in the crossover next week! Very cool. If you're keeping track of all the Caroline "ships" this means there's still a potential for Klaroline, Steroline, or Calaric to happen. Yikes. I'm just excited to see Caroline and Klaus' daughters all meet each other. There's such fun potential for a whole new generation of supernatural beings with all their mixed backgrounds.
All that's left to discuss is Damon and the most boring "shocker" of the season: he didn't burn Elena alive! No freakin' duh! Enzo and Tyler have mutual friends in New York who are keeping her safe and sound from Damon and any harm he may pose to her. Honestly I'm a bit disappointed he found out so soon. I wanted to see him really revert back to his reckless bachelor days, and he was well on the way with his fling with Krystle. The only good thing to come out of that was the much-needed Bonnie and Damon bonding time which was hilarious. Now Damon vows to fix everything and kill Rayna himself so Stefan can come home to his girl. Good luck with that, bro.
What did you think of the episode?