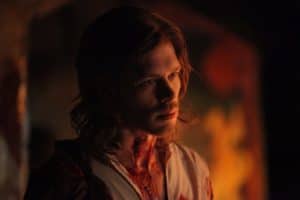 Elena's (Nina Dobrev) 'how to be a vampire' lessons continued this week on The Vampire Diaries and we took a trip down memory lane with Klaus (Joseph Morgan) and Rebekah (Claire Holt) .
There are fundamental differences between all of the vampires on this show and this is down to their human personalities, but there is also the natural vampire impulse to hunt and feed and it is all about controlling these aspects. Caroline (Candice Accola) is a natural at this because she is a control freak, Stefan (Paul Wesley) goes too far and Damon (Ian Somerhalder) lets himself enjoy these moments. Elena hasn't found out where she falls on this scale and it has been shown that vampires accidentally kill someone when they are new and there is a concern with what will happen if/when Elena kills someone. As we saw at the frat party Elena can let herself go the Damon route and enjoy it, but thanks to a look from Bonnie (Kat Graham) she reverts to shame. There are parallels to addiction when it comes to blood lust and the sequence of Damon and Elena dancing at the party definitely had a drug like quality to it and Bonnie snaps Elena back to reality.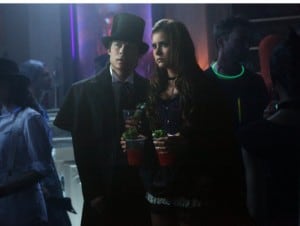 So what now for Elena? Stefan is the cautionary tale of what can wrong when feeding on humans, so should Damon's method of making it fun become Elena's too? This also reinforces the idea of the love triangle as the choice of Damon or Stefan exists beyond whose feeding method works. There is clearly chemistry between Elena and Damon and it looked like something could happen, either during the feeding ecstasy or on the porch of previous kisses. Nothing did and even though Elena told Stefan about getting caught up in the feed, Elena only told him about the negative aspects.
I understand that there is a difficult balancing act with this love triangle as there are fans of both and Elena's vampire status has obviously added something new to the mix. One thing that needs to be avoided is repetition and while Elena's path is still unclear, it needs to be more about Elena sometimes and less about the triangle.
There is also another factor to consider with the reveal of a cure. Yes that's right, there could be a cure and Elena might not even be a vampire by the end of the season. To take this reveal at face value would be to forget everything that has previously happened on The Vampire Diaries; remember the curse of the sun and the moon was a big smokescreen and this show loves a good twist. Having the idea of a cure going from being a theoretical prospect to one that could be a reality means the question of whether these characters would become human again will be asked. Stefan answers this and tells Rebekah that if it meant that he could have a regular life with Elena then yes he would. Interesting that he wouldn't under different circumstances. We find out that Rebekah also answered that question back in the twelfth century when she would also change for love.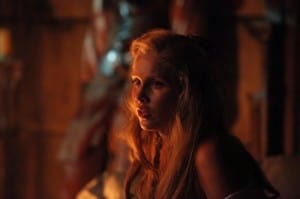 Rebekah as we know is a romantic and Klaus calls her a "hopeless fool" before daggering her yet again (can't the girl catch a break?). Yes Rebekah is "the girl who loved too easily" but she rightly points out that she'd rather be this than a coward like Klaus. The Rebekah/Klaus dynamic is one of my favorites on the show and I'm hoping that Stefan doesn't keep his word to Klaus and goes ahead and undaggers Rebekah.
The mystery of Connor's tattoo has been revealed; it's a map to the cure (the cure that I'm still sceptical about). The problem is that Connor's tattoo is not complete and it grows every time he kills a vampire. Connor is not the kind of guy to just sit there and hatches an escape plan that is not for the faint of heart; first he bites the ear of the hybrid and steals his piercing and then he decapitates said hybrid with the chains he has been tied up with. Now Jeremy (Steven R. McQueen) this is what a badass looks like. Connor is confused by Jeremy and how he can see that tattoo when he is a sympathizer. Jeremy isn't pro all vampires and really isn't the biggest Klaus fan, but now that Connor is free will he try and get Jeremy on his side?
We also find out why Connor has been sent to Mystic Falls and it was thanks to Bonnie's new professor friend who isn't as friendly or helpful as he seems. What is he going to teach Bonnie and what are his motives?
Other Thoughts:
-Even though Stefan can think of a million people he'd rather be having dinner with, the banter between Stefan, Klaus and Rebekah is always a joy to watch.
-Damon's Jack the Ripper costume was rather inspired and very Damon in making a sly dig at this brother.
-Stoners and nerdy girls do not make good snatch and grab feeding targets. Noted.
-When Damon, Bonnie and Elena pull up at the college they leave their car in the middle of the campus in a place that really doesn't look like a car park. Will Damon just compel his way out of a ticket?
-April (Grace Phipps) pops up tonight and is still hanging out with Rebekah, so Rebekah does have one real friend who will miss her now that she has been daggered.
-While Matt (Zach Roerig) still won't forgive Rebekah, he will accept her 'I'm sorry' present.
-Wigs and velvet clothes are what make an Originals flashback and we had both of these.
-Damon wins the quip of the night with "Witchipedia" during the lecture.
-"The Girl Who Loved Too Easily" sounds like a sequel to "The Girl with the Dragon Tattoo" – possible Rebekah spinoff idea?
This episode once again felt like a table setter and one that was once again intended to show the struggles that Elena is having with becoming a vampire and all that comes with it. The choices she must make are now beyond just Stefan or Damon, but also how she wants to live. We learnt another layer of mythology and while it is impressive that the backstory of The Vampire Diaries is vast, I am also not going to take the idea of a cure at face value. Would you even want to see Elena becoming human again?
Next week Connor makes a bold move and you can watch the promo here and browse the photos here.