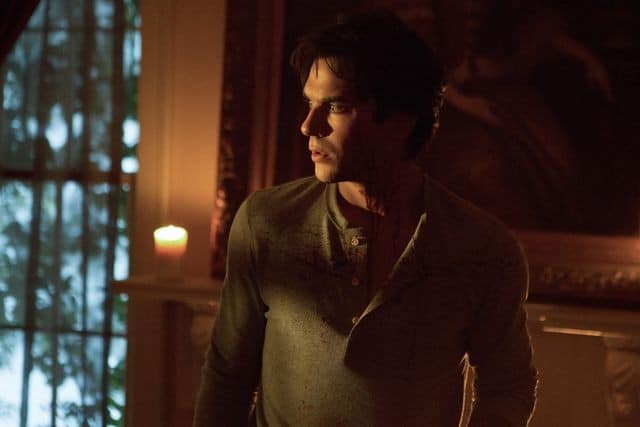 Since The Vampire Diaries received its Season 8 renewal last month, there's been a lot of speculation about the series' end date and if the long-running drama will finally conclude next year. Series star Ian Somerhalder's comments last week at WalkerStalkerCon in Nashville seemed to confirm viewers suspicions, as the actor told the crowd that "We have decided to one last season to really do the story justice." However, after The CW stated this week that "no decision has been made" yet about the show's future, Somehalder is now backtracking on those Vampire Diaries final season comments.
Somerhalder wrote a lengthy post on Twitter clarifying his words from this weekend and encouraging fans (and himself) to focus on the present before looking too far ahead into the future. Here's his official statement:
Hey all, so… Last weekend I talked to an audience at a Q&A about the end of #TVD and how excited I was to make what I believe – my last year – be as great as possible. Somehow in my infinite wisdom and end-of-season foggy brain, I managed to make it sound like the show was coming to an end. Cut-to the press running stories that the show would be done after Season 8. Thing is, the people who actually make that decision (the CW and WB) haven't made it yet! So let's take things one step at a time: Season 7 wrap, vacation, lots of sleep, let the writers get started on Season 8, and then we'll all see where we go from there. Until then, much love ;)
Love,
Ian
Somerhalder's comments last weekend only added more fuel to the speculation fire about Season 8 being The Vampire Diaries' final season. His costar, Kat Graham, who plays Bonnie Bennett on the CW series, already told Us Weekly that, no matter what The CW decides, she will be leaving after Season 8.
"Season 8 will be my last season," Graham said. "I just hope that whatever I do after, the crew can come with me. If the crew can come with me, then we'll be good. The crew is going to be the hardest thing to let go, because we are a family. But you know what, another season is a whole other year, and we're going to blow it out."
The Vampire Diaries airs Fridays at 8 p.m. on The CW.
Vampire Diaries fans, should Season 8 be the show's final season? Comment below and let us know.
[Photo via The CW]