The Vampire Diaries is nearing the end of its sixth season, and as it gets closer and closer to the Season 6 finale, fans of the show are preparing to say goodbye to Elena and to Nina Dobrev as a series regular. And even though it's still not yet known how exactly Dobrev's character will exit The Vampire Diaries, these photos from the show's sixth season finale, "I'm Thinking of You All the While," don't seem to indicate a very joyful farewell for Elena.
In fact, judging by the looks on everyone's faces (particularly the ones on Damon, Caroline, and Bonnie's), it appears that the worst could be happening to Elena. Giving even more evidence to this theory is that "an uninvited guest" at Alaric and Jo's wedding puts Elena in "terrible jeopardy," and that "a devastating chain of events" causes Damon to "make the most difficult decision of his life." Could what's so devastating be Elena's death?
We'll have to wait until the finale to actually see what happens. However, until then, check out the rest of the photos from "I'm Thinking of You All the While," along with The CW's official description for the episode, and let us know what you think will happen.
Make sure to watch The Vampire Diaries Season 6 finale when it airs on Thursday, May 14, at 8 p.m. on The CW.
GOODBYE, MYSTIC FALLS — In the aftermath of Alaric (Matt Davis) and Jo's (guest star Jodi Lyn O'Keefe) powerful nuptials, things take a dramatic turn when an uninvited guest shows up, leaving Elena (Nina Dobrev) in terrible jeopardy. Despite Matt's (Zach Roerig) advice to leave town to protect herself, a defiant Bonnie (Kat Graham) takes matters into her own hands after finding herself on the receiving end of a twisted plan. As Stefan (Paul Wesley) and Caroline (Candice Accola) reach an emotional crossroad in their relationship, a reunion with Liv (guest star Penelope Mitchell) leaves Tyler (Michael Trevino) faced with a decision that could change his life forever. Meanwhile, Lily's (guest star Annie Wersching) reckless actions cause Stefan to realize the lengths to which his mother will go to reunite with her "family." Finally, after a devastating chain of events, Damon (Ian Somerhalder) is forced to make the most difficult decision of his life. Michael Malarkey also stars. Chris Grismer directed the episode written by Julie Plec & Caroline Dries.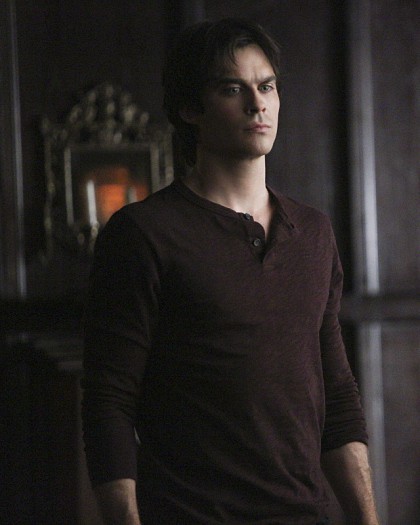 [Photo credit: Annette Brown]