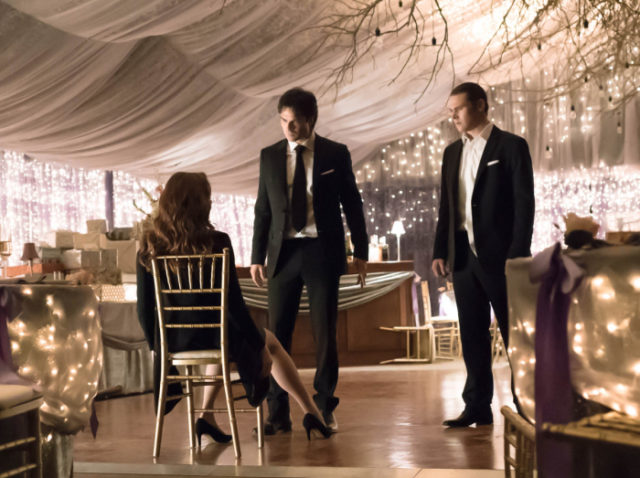 The moment that Vampire Diaries fans have been waiting for is finally arriving on March 10th. It's been over 2 years since we've gotten to see Damon and Elena reunited and all the hype is going to finally be a reality in the series finale. As much as it's been a roller coaster for Nina Dobrev in the past few months, it feels like for fans it's been equally as stressful. First Dobrev teases us that she might return. Then she tells us why she quit in the first place. Then she shows us a piece of the script to announce her return. And finally she shares some cast pictures. All of this done on Instagram by the way. The suspense is killing us! But we finally have some info for you guys:
The "Delena" reunion goes down during the CW drama's March 10 series finale (9/8c), and TVLine has an exclusive first look at the long-awaited moment – which appears to catch Damon by surprise. (You know, unless that stunned look is just his way of saying, "Good morning!")
Of course, Elena isn't the only Mystic Falls resident making a triumphant return over the course of the series' final episodes. It was recently revealed that Melinda Clarke will reprise the role of Kelly Donovan – yes, as in Matt and Vicki's mom – in the March 3 episode (8/7c), which will also feature Stefan and Caroline's (somewhat rushed) nuptials.
Thank you TVline for the trailer and info!
Save
Tell us what's wrong with this post? How could we improve it? :)
Let us improve this post!