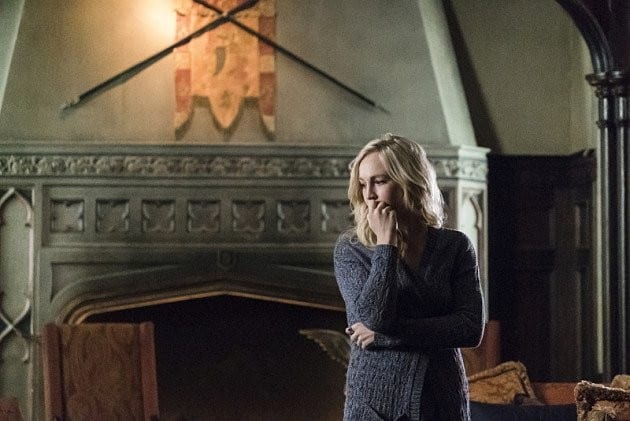 Every show has to have its valleys to be appreciated for its peaks. More than halfway through its sixth season, The Vampire Diaries is finally back on track. Unfortunately, we had to say goodbye to a beloved character in order to reach this point but the palpable grief after death often makes for the most memorable episodes. Not to mention the best music choices, too.
Caroline gets by with more than a little help from her friends. Elena especially relates to losing a parent, as she's lost virtually every parent and parental figure in her life. Her advice about having different answers to questions from different categories of people in her life was interesting. Caroline and Stefan are both wondering where they stand now that they've kissed, and both take separate approaches to dealing with it. Caroline needs something to hold onto in her life, someone to rely on now more than ever, and it's so obvious she wants Stefan to be that person. Meanwhile, he's being overly sensitive, which leads to her making a drastic decision.
I wish the humanity switch concept was never introduced. It has been such a cheat in these later seasons, acting as a crutch for any character to just turn off their emotions. Heightened emotions are indeed a huge part of vampirism, and for once I want to see a vampire be strong enough to deal with the most basic human emotion of grief. Caroline called Elena out on flipping her switch after Jeremy died and going one step further to erase all her good memories of Damon when he was presumed dead. Now that she's choosing to do the same thing after her mom's death, Caroline will act carelessly and probably bite and/or kill a few innocents until Stefan and/or Elena can calm her down. As if we've never seen this before. For a second there when Elena was worried about Caroline, I got a little scared that maybe Caroline was going to kill herself instead. Looking at it that way, turning off her emotions isn't so bad but still slightly disappointing. And hey, at least we got a break from Enzo this week!
As promised, Damon wrote and delivered the eulogy for Liz's funeral. He struggled with it, much like he did with his own mother's eulogy. In the end, he made it short, sweet, and to the point. Now, there's lots to discuss about Mama Salvatore. Flashbacks to the day of her funeral showed a child actor as Stefan with Somerhalder supposedly as a teenage Damon. There's an 8 year age difference between Stefan and Damon, but this was a bit of a stretch to believe. Naturally, Liz's death would bring up issues about their own mother lately. When Bonnie was traveling through space and time of multiple Gemini coven prison worlds (where was the Tardis when she needed it?!) she captured a brief video of a woman that Damon identified as his mother! I had a feeling all the mentions of her would pay off, and now I can't wait to see what happens next.
Oh yes, Bonnie is back! Appropriately enough, she went right to the Salvatore house and prepared her and Damon's staple breakfast to surprise him. Her running into Damon's open arms was so sweet. Their new found friendship is really one of the best things to come from this season.
A couple other huge developments happened. Matt found his calling in life after being so inspired by the show of respect for Sheriff Forbes at her funeral. He picked up applications for the Mystic Falls police officer training program for him and Tyler. It's understandable that Tyler's had his fair share of supernatural problems in this town, so this could be a good way to make him relevant again.
Last but not least, Alaric and Jo are engaged and pregnant! Immediately after Jo was seen suffering from "food poisoning," I knew where this was headed. Ric popping the question was a surprise though! It's not even out of pity after finding out Jo was pregnant. After everything Ric has been through in his life (lives, technically), he deserves this. Way back when we first met him and learned of his (un)dead wife Isobel, we knew he always wanted a family. Of course, a family with the Gemini coven won't come without strings attached. What do you want to bet Jo will have twins, who will carry on the traditional merge in another 22 years? That's assuming the pregnancy goes smoothly and Jo doesn't die before giving birth. Let's just let Alaric have his peace now before drama complicates matters.
What did you think of this episode? Don't forget we have a few weeks to wait until The Vampire Diaries returns on March 12th!
[Photo via The CW]