Oh. My. God!!!
The Vampire Diaries went there tonight and boy was it a game changer! Tonight's episode was like last year's "The Turning Point" as the game has been completely turned on its head. It's as if the season finale was tonight and not next May!
Teaser
Caroline reports to Damon and Stefan what happened at the Grill earlier that day. It's so bad that Caroline needs a drink of blood to calm her nerves. Here's the scoop:
Caroline went to stalk Matt at the Grill, but encounters Katherine, who wants to send a message to the Salvatores. We all know Katherine's "messages" are a bit messy and someone always dies, so I can understand Caroline's fear. The message to the Salvatore brothers? Bring her the moonstone at the masquerade ball tonight or she will get a little kill happy.
The Salvatores smell a bit of fear in Katherine's latest ploys and Damon is sick of it. He declares to kill Katherine once and for all, but Stefan tells his brother that's not going to happen because he's going to kill Katherine.
Word?!
Act I
After bringing Jenna home, Jeremy asks Elena what they plan on doing about Katherine. Elena stands firm on her decision to not cross Katherine anymore and demands Jeremy do the same so no one else will be hurt. Jeremy is not wanting to hear that and leaves. Do I even have to tell you where he went? Oh, all right. He went to the Salvatore mansion to meet up with the other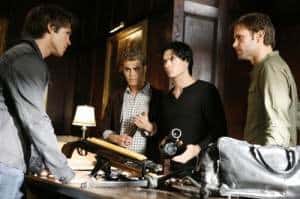 participants in Operation: Take Katherine Down. It's like the Super Friends of vampire shows in the Salvatore mansion with Stefan, Damn, Alaric, Caroline, Jeremy, and now Bonnie. The Mystic Falls witch's part in the big plan is a crucial one and they want to make sure she's good for it. After hearing that Katherine is out for (more) blood, Bonnie throws her hat into the ring as well.
But there's someone missing. Oh, wait. Elena! Stefan doesn't want Elena to have anything to do with the plan, so he has Alaric make sure Elena doesn't make her way to the dance.
Meanwhile, Katherine is preparing for the dance as well and she has a plus one to attend the gala with. Enter Lucy, who goes way back with Katherine and is a witch! The sad part about this? She seems like she can run circles around Bonnie. When Lucy asks what Katherine needs the moonstone for, she answers her own question with a question. "You want me to break the curse?" Katherine tells her friend to not jump ahead of herself and just focus on getting the thing without a hitch, because she knows Stefan and Damon have a plan. And they do.
Stefan wants to get Katherine away from the crowd so he can take her out. They need a place where Bonnie can seal them in so Katherine can't escape, like the tomb. Will this dastardly plan work? Or will Katherine's work first?
Act II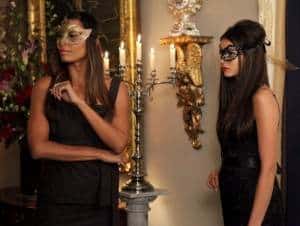 The Masquerade Ball is under way at the Lockwoods' as Katherine and Lucy show up ready to raise hell. Katherine immediately sets off the time bomb to turn Tyler into a werewolf by compelling Matt into action. He meets up with Tyler and the Gruesome Twosome aka Amy and Sarah. In an upstairs room, Bonnie and Jeremy began work on securing the place with the spell. While doing so, Jeremy asks Bonnie about her powers and whatnot, which quickly turns to "bonding". Bonnie laments about how she wants no part in this mess, but can't seem to find a way to stay out of it. Aww.
At the Gilberts', Jenna unintentionally reveals Jeremy is at the ball. Elena's Nancy Drew senses finally starts to tingle and she corners Alaric for answers. The only thing he reveals is that Stefan is at the party. He then suggests Elena stay out of it.
Bonnie and Jeremy leave to give the Salvatores the go ahead, but she senses something odd. She follows her gut and it takes her directly to Lucy. When Bonnie asks if they know each other, Lucy says no and walks off. Bonnie knows something is up.
Stefan finds Katherine and the two begin dancing and bantering with each other about the moonstone. When Stefan demands that Katherine come with him to fetch the moonstone, she grabs the nearest person, who just happens to be Amy, and kills her by breaking her spine into several pieces. "Tick tock," Katherine warns Stefan. Damn, that was one of the coldest deaths ever.
Act III
At the party, Stefan is having second thoughts and wants to call off the attack, but Damon is not backing down and tells his brother tonight is do or die.
Bonnie and Jeremy continue their growing flirtation with each other until Damon sends them a text saying the con is on. Meanwhile, Lucy finds Katherine and is pissed that the vamp didn't tell her another witch was involved. As Lucy claims this addition to the equation changes the game, Katherine ignores her when Jeremy stops by, asking to talk to his '"sister". Jeremy relays the message to meet Stefan on the lake, but Katherine knows something is up. Jeremy leaves and is stopped by Elena who demands to know what's going on.
Katherine finds Caroline and forces the real deal out of the scared girl. Caroline directs her tormentor to the room Bonnie put the spell on and leaves Katherine with Stefan. Katherine laughs as Stefan produces a stake, but gets caught off guard as Damon comes in from behind and shoots a stake into her back.
Outside, Elena howls in pain as blood protrudes out her back in the same spot Katherine was shot! O.M.G!!!
Bonnie quickly deduces that Katherine and Elena are linked by a spell, so she sends Jeremy to stop the assault on Katherine immediately. In the sealed room, Salvatores and furniture are being flung left and right. The fight goes on for a good minute and I wonder how no one has heard this smackdown going on upstairs. I know the music is loud, but geez! Anyway, Damon gets the upper hand on Katherine and is about to deliver the final blow when Jeremy stops them to report about the linkage spell.
Damon's look is pure anguish, because he almost had her. As Katherine toys with the Salvatore brothers by harming herself, they beg for her to stop for Elena's sake. When Jeremy reaches Bonnie and Elena, he tells them about Lucy. Bonnie has had it and goes off to fight Lucy.
In the sealed room, the Salvatore brothers try to get Katherine to reveal why she needs the moonstone, but she only toys with their minds and gets on their nerves. Stefan asks why Katherine needed Mason, who Damon chimes in is good as dead so she best come clean. Katherine reveals her plan D (or E? Who's counting?).
Downstairs in the Mayor's study, a drunken Matt begins egging Tyler on, using Mayor Lockwood as the means to spark Taylor's anger. When it does, the two guys go at it, with Sarah watching from afar. Caroline hears the scuffle and runs to stop it. When she realizes Matt's compelled, she knocks him out cold. What Caroline doesn't know is that she has triggered the other sleeper agent in Katherine's operation: Sarah. As Sarah stabs Tyler, he shoves her hard and she falls and cracks her skull on Mayor Lockwood's desk. Caroline watches in horror as Tyler is overcome by the curse.
Act V
The guys try again with Katherine, but Stefan pieces together that Katherine gave George Lockwood the moonstone as a part of the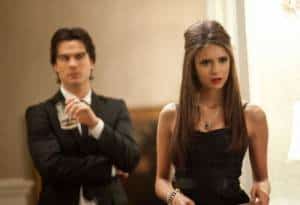 deal to fake her death. Next, he deduces why Katherine needed the moonstone back, which could only mean that it didn't belong to her in the first place. Damon's love fueled quest to save her ruined things. In short, someone is hot on Katherine's trail and they want the moonstone. Katherine answers by toying with Stefan and Damon about how she used to check in on Stefan a few times. This pisses Damon off to no end.
At the party, Bonnie finds Lucy, who isn't surprised, claiming she knew she would run into "a Bennett" if she came to Mystic Falls. Bonnie demands for Lucy to stop the spell, but Lucy won't budge due to a debt owed to Katherine for saving her life. Funny thing is Lucy doesn't want to be a part of this mess either, but must pay off her debt. Bonnie stands her ground and threatens to take down Lucy, but the older witch senses the moonstone on Bonnie. She grabs Bonnie's arms and stuff starts happening. Lucy coaxes Bonnie into trusting her and giving her the moonstone. What in the…?
Upstairs, Damon has had it with Katherine and is about to drive a stake into her heart, but Lucy shows up claiming that the seal spell was broken and has the moonstone. She tells Katherine that her hands are washed clean of everything and her debt is cleared. Lucy then hands Katherine the moonstone and watches as she drops to the ground in agony! As Damon and Stefan stare in confusion, Lucy explains that Katherine double-crossed her by not saying there would be another witch involved, especially a Bennett witch. She then apologizes to the guys for her meddling and leaves.
Act VI
Caroline gives Mrs. Lockwood an "explanation" of what happened (without compelling her), citing Sarah's death as a horrible accident. Tyler enters to inform his mom that the police are there, but stays to ask Caroline why she is doing this since he killed Sarah. Caroline explains that she knows everything, which bugs Tyler out even more.
Bonnie catches up to Lucy and begins to ask questions about their connection, which is where Lucy reveals that they are related by blood! Lucy then thanks Bonnie for helping her realize she needs to stop getting caught up in vampire drama and change her life around. Bonnie wants to do the same, but Lucy advises Bonnie that she is the perfect witch to be in the center right now. Before leaving, Lucy tells Bonnie to hang in there and that she will return one day (thank God!). Jeremy shows up and offers a ride home to Bonnie, who marvels at how much Jeremy has grown and how she's just noticing. She graciously accepts his offer. This looks like the beginning of a beautiful relationship.
Too bad the one beautiful relationship we had is no more as Elena tells Stefan she's still not cool about dating, despite Katherine being gone. Although Katherine technically isn't gone. She's locked up in the tomb where the vampires were kept and can't get out due to a new seal spell. Damon watches from the other side and is about to close the door on Katherine (who still has the moonstone), when she reveals that Elena is in trouble due to her being Katherine's doppleganger. Damon smirks, declaring that he will protect Elena. Then he slams the tomb door into Katherine's screaming face. Gob. Smacked!
Elena walks away from the Lockwood house talking to Jeremy on her phone. Someone in a masquerade masks corners her and drags her off.
Boom. The Vampire Diaries.
You've gotta be freaking kidding me!
Now read Emma Fraser's thought-provoking review of this episode!