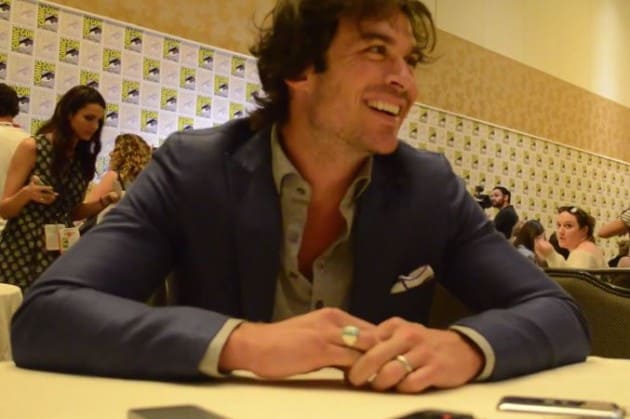 The Vampire Diaries is heading into new, uncharted territory when it returns for Season 7 this fall. The series, whether you liked her or not, was always anchored by Nina Dobrev's Elena, who was the main character throughout The Vampire Diaries' first six seasons. So what does the show look like without her? It's apparently going to be a lot more like the first three seasons of The Vampire Diaries, according to Ian Somerhalder, who we spoke to last week at San Diego Comic-Con.
In our roundtable interview with Somerhalder, as we and other journalists spoke to him about the upcoming season, the actor discussed where Damon will be when Season 7 begins (spoiler alert: it involves lots of drinking); his relationship with Bonnie and if it could ever become something romantic; and how this new season is getting back to the type of storytelling we saw from The Vampire Diaries in its early years, during its breakneck-paced, terrific second and third seasons, when the series was not just the best show on The CW but one of the best shows on TV, period.
Watch our interview with Ian Somerhalder below, and be sure to check back in over the next couple of days for more Comic-Con scoop about what's happening in the next seasons of both The Vampire Diaries and The Originals, including what the creators think of possible spin-offs between the two shows now that they'll both be airing on Thursday nights this fall.
The Vampire Diaries Season 7 premieres on Thursday, Oct. 8, at 8 p.m. on The CW.
[Photo via YouTube]