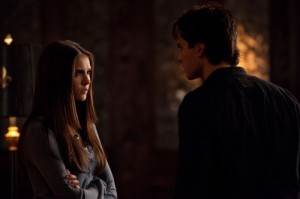 It's been a long time but we're back! In true TVD fashion we start hard and fast with an episode jam packed with action, drama, heartache and suspense. The night belonged to Ian Somerhalder and it is hard to believe that he had walking pneumonia during the filming of this episode.
For a longer look at the episode be sure to check out the always excellent Mark O Estes recap here.
Starting with the big story of the night, the descent in to madness (wolf bite=vampire syphilis? Catch VD eh?) that the wolf bite from Jules gave Rose which turned my ambivalence of this character in to sadness at her demise. This ambivalence mirrored her existence of her life on the run where she chose just to be and not get attached for fear of what would happen when Klaus finally caught her, which he never did. What made her death effective of course was the emotional impact that it had on Damon who has tried for so long to not care about anything and who clearly ended up having a significant response to his time with Rose and his feelings for Elena making things all the more complicated.
The scene in which Damon controls Rose in a dream state to return her to her humanity and home in England was a kind gesture from Damon to make the end a more pleasant affair for Rose. Was this compounded by guilt? Most likely as he was the intended bite target but it still showed compassion, the essence to humanity that Damon is trying so hard to hold off. The scene was beautifully shot and excellently performed, with the switch to reality and Damon's tears the weight of the situation was obvious. On a more frivolous and smutty note I'm sure there are many who would love Damon to play nurse maid to them in their hour of need, especially in that giant bed of his. I'm also sure that many viewers will be happy to spend more time in his spacious bedroom that is not so brimming with belongings as Stefan's, less sentimental I guess. Except for the Gone With The Wind book, who knew he was a fan?!
The other importance of the Rose story was to get Elena to see that she should fight, rather than lie down and martyr herself for the sake of her loved ones and I think that this message finally got through. Not sure how happy she is by the return of John to the fray and considering how relations were with him and Stefan when we last saw him, it will be rather interesting to see if and how they work together. I for one am glad to see the return of John, even if he is a weasel I think the conflict between his feelings towards vampires and his desire to help Elena will lead us in an interesting direction.
Jules has shown that she is a werewolf not to be messed with, not only did she infect Rose with her bite, but she killed a heap of campers and possibly a sheriff (or was it just assault?). I find it interesting that she is not afraid of vampires considering there is only when night a month that she has more power, but she definitely held her own against Damon. Not content with this, Jules also informed Tyler that she knows who she is, who Caroline is, that there are more vampires in Mystic Falls, and more werewolves are heading to town, big battle any one? If things weren't complicated between Tyler and Caroline as it is this information is sure to set their relationship in to a tailspin.
Ah Caroline, two guys after you, one knows your secret, one doesn't and they both kiss you, what's a girl to do? The scenes between Caroline, Tyler and Matt were all very sweet and awkward and it's hard to pick who out of the two she should decide on. Her response to run away from both at this time seems the most sensible, though I fear there is heartbreak on the horizon for all involved in this triangle.
A strong return from those in Mystic Falls, with an especially powerhouse performance from Ian Somerhalder. Damon's confession to his 'existential crisis' about missing being human will provide a conflict of two fields of thought that could send him spiralling out of control, when control is needed to face both the problem of Klaus and of the werewolf pack that is heading to town. A-
What did you all think? Was Damon's confession what you expected? Conflicted as Caroline is between Tyler and Matt? Wonder what secrets John will reveal whilst he is back? Let us know in the comments below or in our TVD forum.