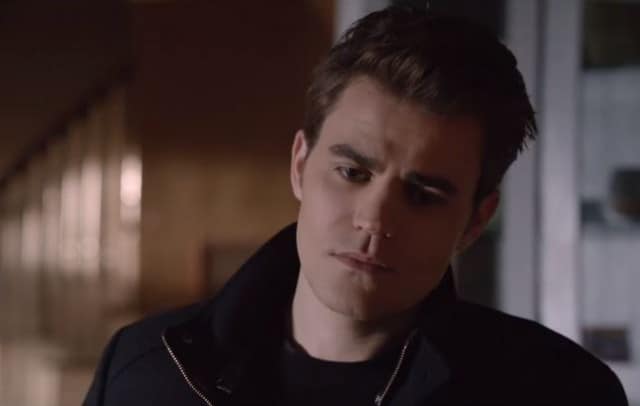 It's always a little awkward trying to reconnect with an old friend that you haven't seen in a while, but it becomes even more difficult when that former friend is now about to marry your ex-girlfriend, who you clearly still love. That's the complicated situation that Stefan finds himself in on The Vampire Diaries this week, as Alaric invites him back to his and Caroline's house. The two of them can barely have a conversation, and things only get more awkward after Stefan sees an important date on a calendar that Ric mistakenly left out.
Of course, the tension between Stefan and Alaric is all about Caroline in this Friday's episode of The Vampire Diaries, titled "Somebody That I Used to Know." It's clear that Ric is still angry with Stefan for how he treated Caroline, and every time that Stefan gets a glimpse at their wedding plans or hears about their kids, he's reminded of the life that he could have had with his ex but wasn't able to. Now that Valerie has gone off on her own, will Stefan finally get a second chance? We'll have to wait and see.
The Vampire Diaries airs Fridays at 8 p.m. on The CW. Check out the sneak peek clip from "Somebody That I Used to Know" below:
THE TEAM WORKS WITH RAYNA TO SAVE BONNIE'S LIFE — When Enzo's (Michael Malarkey) efforts to protect Bonnie (Kat Graham) end up putting her life in jeopardy, they learn that Rayna (guest star Leslie Anne-Huff) may hold the key to her survival. With time running out and Rayna at the reins, Enzo and Bonnie reluctantly team up with Damon (Ian Somerhalder), who is desperate to save Bonnie's life and to repair their broken friendship. Elsewhere, when Stefan (Paul Wesley) travels to Dallas and comes face to face with Alaric (Matt Davis), tensions escalate and they are forced to confront the fallout from Stefan's absence in Caroline's (Candice King) life. Finally, Enzo learns The Armory's true motives behind their search for Bonnie. Chris Grismer directed the episode with teleplay by Holly Brix and story by Matthew D'Ambrosio.
[Photo via YouTube]
Tell us what's wrong with this post? How could we improve it? :)
Let us improve this post!